Calling for Climate Solutions: A Story of Solidarity Across the Asia Pacific 
From the Pacific Islands to Nepal, people are demanding stronger climate action as part of the Power Up month of action leading up to COP28.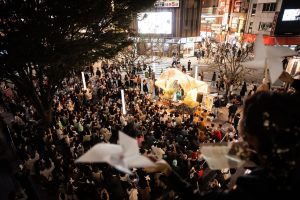 We stand at a collectively pivotal moment: While the impacts of the climate crisis are ravaging our world – and the Asia-Pacific region with particular potency – communities are uniting in unprecedented numbers across islands, archipelagos, and continents, calling on leaders to implement the solutions we have on hand.
As the world's hottest year in recorded history comes to a close, frontline communities are bearing the brunt of climate and cost of living chaos while fossil fuel companies continue to announce obscene profits raked in at the expense of people and the planet.
In the first wave of the global Power Up month of action leading up to the United Nations' climate talks in December, these communities and civil society groups set in motion a story of collaborative empowerment, knowledge sharing, and celebration for the clean, just, renewables-powered world that we all know is possible.
Well-known climate champions the Pacific Climate Warriors joined the traditional owners of Gomeroi Country in New South Wales on a three-day tour of coal and gas extraction sites, where local Indigenous communities have been resisting the Whitehaven coal mines and Santos Gas projects on their traditional lands.
While Australia's new Labor government positions itself as a climate leader, touting ambitious renewable energy goals and leaning on a commitment to achieve net-zero emissions by 2050, they consistently block renewable energy ambitions in the Pacific and look to water down fossil fuel phaseout agreements while continuing to open new coal mines.
This week marks the start of the Pacific Island Forum Leaders Meeting in Rarotonga, with hosts the Pacific Elder's Voice having already expressed concern based on Australia's failure to match its words with its actions when it comes to climate. As Australia looks to secure Pacific support for their bid to host the U.N. climate talks in 2031 in partnership with Pacific nations, the Pacific Climate Warriors highlighted the government's hypocrisy and shone a light on the burdens placed by fossil fuel dependency onto Australian Indigenous communities. Events also took place in Fiji, New Caledonia, Niue, Papua New Guinea, and Aotearoa New Zealand.
While contributing a mere 0.03 percent to global greenhouse gas emissions, Pacific communities are some of the hardest hit by runaway climate impacts. But Pacific communities are also known throughout the world for their unapologetic conviction, leadership, and resilience. They share enormous potential for community-led energy that would alleviate economic burdens and bolster energy security. The role of Pacific leaders in solidifying the Paris Agreement is a legacy that was reiterated this year in the form of the Port Vila Call for a Just Transition to a Fossil Fuel Free Pacific.
Other parts of the Asia-Pacific likewise have significant potential for renewables-led economic development and climate resilience. In Indonesia, the Philippines, Thailand, Japan, Taiwan, Malaysia, Mongolia, Bangladesh, Nepal, and Turkey, this weekend, groups called on national governments to tax fossil fuel corporations, financial institutions to redirect finance away from fossil fuels, and international actors to contribute their fair share in facilitating a just transition.
Governments in South Asia are often targeted by wealthy nations in the region such as China and Japan, which finance and profit off of fossil fuel developments like gas fields, mega-dams, nuclear plants, and coal to gas technologies – projects that bring about significant adverse health impacts for communities and result in stranded assets. In Savar, Bangladesh, a student group at Jahangirnagar University commenced their demonstration by constructing a windmill installation calling for China and Japan to end fossil fuel finance and invest into renewables.
In Pokhara, Nepal, a group of activists formed a sun with traditional boats. Nepal was struck by a deadly earthquake on the day of the action – while all participants are safe, climate change significantly increases the likelihood of glacial landslides, and impedes rescue efforts when earthquakes hit the region.
Concurrently, more than 800 people gathered in Tokyo to express support for their government to embrace a renewable energy powered future for Japan, and financial recipient countries like Bangladesh. At the famous Shinjuku Station crossing, people came together in a song that reverberated throughout the urban city center. The event culminated in the unraveling of a parachute banner symbolizing their vision for a clean energy powered future.
On November 1, Indonesia announced plans to increase its share of renewable energy generation to 44 percent under its Just Energy Transition Partnership, a scheme funded by G-7 member states. The JETP has come under domestic scrutiny due to concerns around transparency, accountability, and the extent to which the national energy transition will improve access at the community level.
As Indonesia prepares for a presidential election in early 2024, constituents gathered to spotlight the role that fossil fuel corporations and associated oligarchs have traditionally played in providing funding to presidential campaigns and animated hopes for a real climate candidate. A convoy of hundreds of participants took part in a march through Jakarta's business district to Indonesia's Office of the General Election Commission, calling for presidential candidates to implement a just energy transition for Indonesia and reject fossil fuel industry funding.
Striking images were produced across the continent from the remote village of Pokhara in Nepal, to the urban metropolis of Istanbul in Turkey; the diversity of demonstrations highlighting the diverse yet interconnected nature of the climate movement.
To drive this message home ​​over 200 actions will be held across 63 countries across the month of Power Up, culminating in the COP28 Day of Action on December 9. There is a growing recognition that comprehensive systemic change is the global response we urgently need: We possess the tools, technology, and knowledge to drive this transformation.
As COP28 draws near, pressure is mounting from the bottom up – the global community is ready for meaningful action. It's time for leadership to enable the conditions for climate solutions to thrive.