Documented or Not, Afghan Refugees in Pakistan Face Humiliation and Abuse
"If you are Afghan, you have no rights, and actually, your status does not make much difference."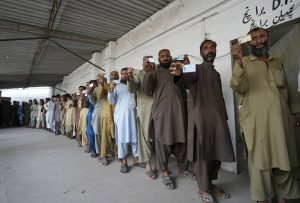 On November 1, Pakistan commenced the forcible deportation of 1.73 million undocumented Afghans, leading to yet another humanitarian catastrophe. 
Seeking refuge is an essential human right, and the humiliation experienced by undocumented Afghan refugees at the hands of Pakistani security personnel, as supported by numerous reports and firsthand witness accounts, constitutes a significant violation of this fundamental right.
The frail elderly, pregnant women, and sick children – no one has been spared. They have been herded like cattle, their homes demolished by bulldozers, subjected to beatings, shoving, and derogatory language. Afghans living in Pakistan have reported being forced to pay bribes, and, in many instances, they have seen their personal belongings, even wristwatches, confiscated.
The forced exodus has led to widespread condemnation from both Afghans and various international human rights organizations.
The plan, which Pakistani authorities claim targets all illegal foreign migrants, not just Afghans, has subjected vulnerable undocumented Afghan refugee families to the agony of being arrested at any time of day or night, witnessing the demolition of their homes, having their belongings confiscated, and being confined to detention centers prior to deportation to Afghanistan. The harsh new orders sent waves of despair throughout millions of Afghans – including individuals like Jamila and Arif, who have lived in Pakistan for decades and obtained residency permits.
Nearly two decades ago, when Jamila was getting ready to marry Arif, a Pakistani-born Afghan, her only impression of Pakistan was of a neighboring country known for sweltering weather and spicy food. She felt uneasy about adjusting to life in Lahore, Pakistan's second largest city, where average high temperatures regularly exceed 40 degrees Celsius.
"Throw a fish into a frying pan, and that's precisely how I felt when I first landed in Lahore," Jamila said as she described her struggle to adjust to life as a refugee after leaving her village in Afghanistan. In her hometown, she added, winters brought knee-high snow and summers were deliciously breezy. 
As she started exploring life for Afghan refugees in Pakistan, the now 38-year-old mother of five grew more and more concerned about raising children in a country that she, like many of her compatriots, saw as hostile to Afghanistan and its citizens.
The reality of life in Pakistan proved to be significantly grimmer than she had initially anticipated. 
In Lahore, she became a part of a resilient Afghan community that often undertook the most low-paying and arduous jobs. They labored in brick factories, constructed buildings under the blazing sun, operated street stalls, and served as domestic helpers in affluent Pakistani households. Since many of them lacked legal status, they were forced to work in the informal black market labor sector and lead an undocumented life, devoid of human rights or refugee rights, including the right to obtain documentation and be permitted to work legally.
Even if they become the victims of crimes, Afghan families fear approaching the police. Doing so usually results in years of dealing with various police stations where people are coerced into paying bribes or thrown in jail.
Jamil's apprehension is evident in her every choice. She prefers Signal over WhatsApp, for example, because she believes Pakistani officials are monitoring WhatsApp during this humanitarian crisis, despite the lack of specific evidence. She also only uses her first name when speaking due to her fear.
"Everyone is afraid. It is so easy for them [Pakistani security] to label you as a terrorist and disappear you," she said. 
"Young men would vanish, and officials would arbitrarily charge them with crimes they had never committed, such as involvement in terrorist operations. If you are Afghan, you have no rights, and actually, your status does not make much difference."
Over the years, many Pakistanis, including government officials, have leveled claims against Afghans, accusing them of involvement in terrorism. 
These claims were often made without substantial evidence. 
Meanwhile, Afghanistan, India, and the U.S. government have all accused Pakistan of harboring and nurturing certain regionally-oriented terrorist groups.  
While Pakistan has consistently asserted its victimhood in the fight against terrorism, the U.S. State Department's 2019 country report pointed out that Pakistan allowed groups targeting Afghanistan, as well as groups targeting India, such as Lashkar-e-Taiba and its affiliated front organizations as well as Jaish-e-Mohammed, to operate from its territory.
Despite the harsh reception in Pakistan, the country has still attracted millions of Afghan refugees over the decades, like Jamila and her husband, Arif. That speaks to the even more dire conditions in Afghanistan.
Arif, now in his mid-40s, saw Afghanistan, his ancestral homeland, embroiled in a slew of conflicts that had forced his parents and grandparents to flee for safety following the Soviet invasion of Afghanistan in 1979. Thousands of Afghan families sought refuge in Pakistan at the time, out of fear and helplessness.
According to a survey conducted by the U.S. Committee for Refugees and Immigrants, roughly 1.2 million refugees, including those who were unregistered, were present in Pakistan by 1998. The fall of the Soviet Union, which led to the demise of Afghanistan's pro-communist government, initially provided a glimmer of hope for Afghans longing to return to their villages and towns. 
However, the civil war in the 1990s dashed those hopes completely. Thousands of Afghans fled the civil war and sought refuge in Pakistan, increasing the number of Afghans already residing there. 
Over the years, Pakistan has received significant funding for hosting Afghan refugees. According to the U.S. Embassy in Islamabad, for example, Washington has donated approximately $273 million in humanitarian assistance to Afghan refugees in Pakistan since 2002. The U.S. alone gave Pakistan about $60 million in help to refugees and host communities in 2022.
Currently, the Norwegian Refugee Council estimates that there are 4.4 million Afghan refugees residing in Pakistan. Of this population, 1.73 million lack legal documents to remain in the country. Over 600,000 are Afghans who provided support to U.S. and NATO military and civilian forces in Afghanistan, and are now seeking refuge in Pakistan after the Afghan government fell to the Taliban in August 2021.
Subsequently, the United Nations' refugee agency UNHCR issued non-return advice for Afghanistan, which was reaffirmed in February 2023. The agency called for an end to the forced return of Afghan nationals, including asylum seekers whose claims have been denied. 
So far, Pakistan's leadership has ignored international appeals for caution and compassion. The current situation in Pakistan involves an unprecedented door-to-door campaign targeting undocumented Afghan refugees. 
Jamila said that her teenage son stopped attending the local mosque after security personnel warned all males against renting homes to undocumented Afghans. People face a stark choice: comply with the rule or face treatment similar to undocumented Afghans, they were told. 
Even Afghan men in Lahore with valid residency permits tend to stay indoors, avoiding going out. 
However, at the core of this crisis are young Afghan women and girls in Pakistan, estimated by Human Rights Watch to number around 850,000. 
At least one lawyer who is well-acquainted with the situation has raised concerns about the potential for rape and sexual abuse in refugee detention centers.
The plan to deport undocumented Afghans was made public last month, providing a window of opportunity for a voluntary return as authorities in Pakistan claim. However, security personnel had already been on the lookout for unauthorized Afghan refugees for months, locking them up in detention centers. Horrific images of children and women, including pregnant women, shackled and behind bars emerged from refugee detention centers over the summer, causing outrage among human rights organizations.  
Moniza Kakar, a Pakistani rights activist and lawyer who previously handled cases involving Afghan refugee children in Pakistan's detention centers, voiced grave concern about the potential for rape, human trafficking, and other abuses against women and girls in facilities where undocumented Afghan are detained before their deportation to Afghanistan. 
"Lawyers, media, and other civil society members are not allowed in these facilities," she wrote on X, formerly Twitter, where she continues publishing photographs, videos, and testimonies of Afghans who have obtained legitimate documentation to stay in Pakistan but are still being held in detention centers alongside children and women.
This contradicts Pakistan's assertion that they solely aim at deporting undocumented Afghans to Afghanistan that is largely abandoned by the rest of the world.
Afghanistan seems poorly equipped to effectively handle a substantial influx of returnees, particularly when the majority of them are women and children.  
The decision to undertake mass deportations, which Pakistan maintains was taken mainly for security and economic reasons, means that thousands of families with children are returning to a country where more than 90 percent of the population is already facing extreme hunger.
Afghanistan is grappling with economic turmoil due to global sanctions, central bank assets frozen by the United States, the departure of nearly all international organizations, and an alarming spike in unemployment after the Taliban takeover of the country in 2021. 
Making matters worse, a brutal winter is awaiting those forced to return. Most of them have no jobs or shelter lined up, sparking a deadly race: Soon, entire villages will be shut off by mountains of snow and ice in certain sections of the country.
As if that wasn't enough, thousands of families are yet to recover after an enormous earthquake that wrecked entire villages and forced thousands of families to flee their homes. The exact extent of the devastation caused by the 6.3-magnitude earthquake is yet unknown as many are still missing beneath the rubble of collapsed walls and ceilings. 
The Taliban's acting defense minister, Mullah Mohammad Yaqoob Mujahid, admonished Pakistan for its brutal treatment of Afghans, stating, "Be ready to reap what you sow," without further elaboration. 
Other Taliban officials have made earnest appeals to Pakistani authorities not to deport Afghans at this time. It is challenging to envision the Taliban adopting a more assertive stance that could potentially bring about a change in the grim reality for Afghan families returning, considering the political and economic challenges they are facing. 
With the world's attention focused on the crisis in Gaza, the troubling absence of international humanitarian agencies emphasizes the uncertain prospects for thousands of refugees that daily arrive at the Torkham and Chaman crossings with their entire lives crammed into overcrowded vehicles.
Some refugee families who were able to sell their household items and other belongings were told that they could only carry 50,000 Pakistani rupees, which is less than $200, out of the country. 
They carry not just the physical anguish and humiliation of being beaten and shoved by Pakistani security agents, but also the weight of anxiety about their future. The suffering is evident in the sorrowful expressions of adults, the cries of children, and the terrified women. 
They leave behind the building blocks of a new life, some erected over the course of decades, but all but destroyed in the blink of an eye.