Hamas Will Release Thai Hostages When Ceasefire Declared, Officials Say
A team of Muslim Thai officials have been in contact with the Palestinian militant Hamas since last month.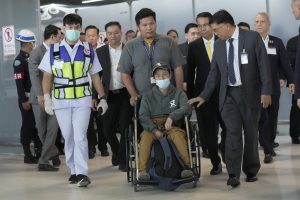 Thai-Muslim politicians have received assurances from the Palestinian Islamist group Hamas that all the Thai hostages being held will be among those released if and when a ceasefire occurs. The announcement was made to reporters yesterday by Lepong Syed, the president of the Thai-Iran Alumni Association, part of a team of Thai-Muslim politicians that has been in contact with Hamas since last month.
"Any ceasefire either three days or five days … Hamas will release hostages, including all Thais being held, which they promised," Lepong said outside Bangkok's parliament building.
Hamas fighters took some 240 people hostage on October 7, when they launched brutal incursions into southern Israel, killing more than 1,200 people, according to the Israeli government's figures. Thai nationals were the largest foreign contingent to fall victim to the attacks, with the country's Ministry of Foreign Affairs claiming that 39 were killed and 25 captured in the raids.
Those captured by Hamas were part of a population of around 30,000 Thai citizens working in Israel's agriculture sector, more than 7,200 of which have returned to Thailand since the crisis erupted. The presence of the large Thai population dates from the end of the First Intifada in the late 1980s, when due to security concerns Israel began to replace Palestinian farm workers with foreign nationals from further afield, including Thailand and the Philippines.
Thailand has utilized numerous channels in a bid to secure the release of its hostages in Gaza. Earlier this month, the Ministry of Foreign Affairs said that Qatar, Iran, and Egypt had agreed to formally convey to Hamas a request that the hostages be released. It has also assembled a team of Thai-Muslim politicians, headed by House Speaker Wan Muhamad Noor Matha, who have held meetings with Hamas officials.
Earlier this month, Areepen Uttarasin, a former education minister, said that he traveled to the Iranian capital Tehran and met senior Hamas officials there for over two hours on October 26, to request their safe release.
"I asked them to release them because they are innocent," he said, according to the news agency AFP. "They assured me that they were taking good care of them, but they couldn't tell me the release date… They were waiting for the right time."
Given its overriding concern to secure the release of the hostages, Bangkok's response to the outbreak of the war has been relatively muted. Despite an early post on X (formerly Twitter) from Prime Minister Srettha Thavisin, in which he extended his "deepest condolences to the Government and the people of the State of Israel," and strongly condemned the Hamas attack, the Thai Ministry of Foreign Affairs has taken a position of "neutrality." Deputy Foreign Affairs Minister Jakkapong Sangmanee said that Thailand "promotes a solution that would allow Palestine and Israel to coexist," as The Nation paraphrased it.
At the same time, public sentiment in Thailand appears to be on the side of Israel, due to the fact that so many Thais fell victim to Hamas. According to a recent article in Nikkei Asia by Daungyewa Utarasint, the war "has significantly heightened awareness in Thailand about the large number of workers from the country present in Israel – and turned many Thais hostile to the Palestinian cause."