How Will Thailand's Foreign Policy Shift Under Srettha Thavisin?
The country's traditional diplomatic finesse has been tested by domestic political upheaval and the rapidly shifting global strategic landscape.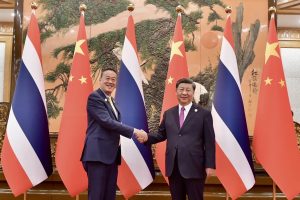 Since coming to office in September, Thai Prime Minister Srettha Thavisin has quickly recorded some significant international mileage, with trips not just to neighboring Southeast Asian states but also further abroad to the Middle East and major destinations like Beijing and New York. As Srettha's international agenda takes hold, this will raise the broader question of the shape of Thailand's foreign policy under the new government in the coming months and years.
Thailand has long been seen as a notable foreign policy actor in Southeast Asia and the Indo-Pacific given its status as a U.S. treaty ally, Southeast Asia's second-largest economy, and a traditional diplomatic balancer of major powers in the region. Thailand has been viewed as a power in its own right within mainland Southeast Asia, a key player within the Association of Southeast Asian Nations (ASEAN), a major influence on some of Southeast Asia's regional developments including the Vietnam War, and a hub for contemporary security cooperation as evidenced by the Cobra Gold exercises.
At the same time, over the past decade or so, Thailand's foreign policy context has become more challenging as it has been consumed by domestic politics at home and an array of concerning regional and global trends abroad including COVID-19, intensifying major power competition, and the civil war in Myanmar. During this period, we have still seen periodic initiatives in Thailand's foreign policy, including recent ones like its hosting of a new ASEAN regional health emergencies center and its creation of the Bio-Circular Green economy concept as 2022 APEC chair. However, it has become difficult to assess Thailand's position on longer-term and strategic issues such as U.S.-China rivalry or global supply chain reconfigurations.
The recent change in government offers Thailand an opportunity to recalibrate its foreign policy following months of maneuvering after elections in May. Srettha and his team have already been signaling some of their key international priorities both at home and amid some of his visits abroad, including drawing foreign investment from key countries like China and the United States and boosting connectivity with some of Thailand's Southeast Asian neighbors. Yet with a more uncertain geopolitical and geoeconomic outlook facing Southeast Asia as a region, questions will naturally arise about how Thailand's foreign policy is likely to play out more comprehensively and widely across the region and the world in the coming years.
By way of proximity, part of the foreign policy focus will be on the geopolitical role Thailand plays in its neighborhood in mainland Southeast Asia, given troubling trends such as the Mekong river's travails, Myanmar's civil war across Thailand's border, and the more malign manifestations of China's influence. These issues have already featured in discussions during some of Srettha's visits to mainland Southeast Asian states.
Within Southeast Asia more generally, the central strategic variable is the extent to which Thailand's own development priorities will affect the dynamics of cooperation and competition with ASEAN countries on a similar quest for post-pandemic growth at a challenging time for the grouping, which Thailand will next chair in 2028. Regionally and globally, observers will be watching how this affects Thailand's alignment with major powers like Australia, China, India, Japan, and the United States, even as it reacts to global challenges such as the Israel-Hamas war or Russia's invasion of Ukraine and shapes its role in key bodies like the United Nations.
Articulating and sustaining this foreign policy agenda will not be without its challenges. In mainland Southeast Asia, China's economic cooperation with Thailand's smaller neighbors is already beginning to spill into security inroads, thereby reshaping how Bangkok thinks about its neighborhood beyond its leadership through institutions like the Ayeyawady-Chao Phraya-Mekong Economic Cooperation Strategy. Within ASEAN, as much as the regional grouping is engaged in shared initiatives around key economic sectors like electric vehicles, it is also a reality that these same Southeast Asian countries are also competing with Thailand for limited investment in a more fractured geoeconomic landscape.
Regionally and globally, a multi-theater, crisis-ridden context – as we have seen with growing anxieties over the Israel-Hamas conflict, the Russia-Ukraine War, the South China Sea, and Taiwan – will also add pressure to Bangkok about the role of principles and alignments in its foreign policy even as it seeks space to advance its own national ambitions. Though the U.S.-Thailand treaty alliance is now on firmer footing since the post-2014 coup drift, Bangkok's approach to these broader issues will nonetheless also take place in the shadow of intensifying U.S.-China competition, ensuring that Thailand's choices will be scrutinized even more closely.
These challenges are of course by no means insurmountable. But in a context of a challenging geopolitical and geoeconomic context abroad and uncertainties about domestic politics at home, charting a foreign policy path, let alone sustaining it, will certainly be no easy feat for Thailand. Nonetheless, given Thailand's strategic relevance, how Bangkok navigates the balance of opportunities and challenges abroad will have implications not just for Thais, but for Southeast Asia, the Indo-Pacific, and the world.