Indonesian Chief Justice Dismissed for 'Serious' Ethics Violation
Anwar Usman should have recused himself from a Constitutional Court ruling that allowed President Joko Widodo's son, his nephew by marriage, to run in next year's presidential election.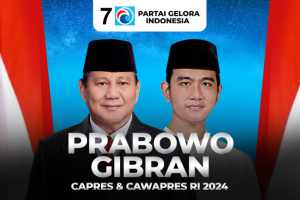 The chief justice of Indonesia's Constitutional Court was dismissed from his post after an ethics council yesterday found him guilty of committing a "serious violation" in connection with a ruling on the minimum age for presidential and vice-presidential candidates.
The violation in question involved Constitutional Court Chief Justice Anwar Usman's failure to recuse himself from an October 16 ruling that cleared the way for President Joko "Jokowi" Widodo's eldest son, his nephew by marriage, to run in next year's presidential election.
In a majority decision, the council ruled that Anwar "was proven to have violated judges' ethical code specifically the principle of neutrality and integrity as he did not recuse himself," Reuters reported. It stated that Anwar "had purposely opened a room for intervention from an external party" and thus had "violated the principle of independence."
The Constitutional Court ruling, which was handed down last month, created an exception to the legal minimum age of 40 for presidential and vice-presidential candidates, allowing younger officials who have held elected office at lower levels of government to run. This was widely viewed as a carve-out for Jokowi's 36-year-old son, Gibran Rakabuming Raka, who was subsequently announced as the running-mate of Defense Minister Prabowo Subianto. In 2020, Gibran was elected as mayor of Surakarta, a post once held by his father.
The ruling caused a huge stir in Indonesia and prompted allegations the president was using his influence to advantage his son and ensure that his power persists after he leaves office next year.
Indonesian activists and legal experts subsequently filed a number of complaints with the Court, effectively accusing its nine judges of issuing a politically motivated ruling to benefit Jokowi's son. They took aim at the fact that Anwar Usman, who had recused himself from previous cases involving conflicts of interest, had refused to do so in this case.
While the three-judge ethics panel removed Usman as chief justice, it allowed him to remain on the court under certain conditions, though he is barred from taking part in any rulings related to election disputes, given his conflict of interest. However, while many of the complaints filed about the October 16 ruling requested that it be thrown out, Jimly Asshiddiqie, the chief of the ethics council, argued that the ethics panel did not have the authority to overturn a court decision.
As The Associated Press reports, the Constitutional Court is expected to issue its rulings today on several pending cases that seek to tighten the age exception by only permitting underage candidates who have served two terms in office as provincial governors. If approved, this would block Gibran from running.
What impact Gibran's participation will have on the race between now and February 14 remains to be seen. Prabowo's selection of Gibran as his running-mate could help the former general, who lost to Jokowi in presidential races in 2014 and 2019, harness the astonishing popularity that the Indonesian president still commands. It is conceivable that some voters will be angered by alleged political machinations of Jokowi, whose popularity has been based at least in part on the fact that he hailed from outside the circles of Indonesian elites.
Recent polls show Prabowo neck-and-neck with Ganjar Pranowo, the candidate of the ruling Indonesian Democratic Party of Struggle, under whose banner Jokowi ran in the past two presidential elections. A survey released by Charta Politika on Monday showed Ganjar edging ahead of the ex-general, with the support of 36.8 percent of the 2,400 respondents compared to 34.7 percent for Prabowo. The previous batch of surveys showed Prabowo holding a slight lead.
Either way, we are headed for a tight race – one that could be easily swayed in either direction by the recent controversies.