Indonesia's Coming Geothermal Boom
The country has long experience with geothermal energy, making it one of Jakarta's preferred forms of renewable energy.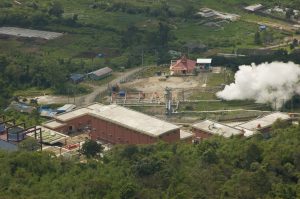 Indonesia's investment plan for the $20 billion Just Energy Transition Partnership (JETP) calls for rapid growth in renewable energy of all kinds. This includes variable renewables such as solar and wind, and also what are called dispatchable renewables like geothermal and hydropower.
Solar and wind are intermittent sources of power generation, because they depend on whether the sun is shining or the wind is blowing. Geothermal and hydro can supply the grid with steadier and more predictable forms of electricity generation.
According to the JETP scenario, by 2030 solar and wind together will be generating 14 percent of Indonesia's electricity. In the same year, geothermal and hydro will produce 22 percent. To achieve these goals (which are, it must be said, wildly optimistic) both variable and dispatchable renewables need to grow rapidly over the next seven years.
But there is another important difference between these two types of renewable energies, at least in Indonesia. Only one has a proven track record and has been successfully built at scale before, and that is the dispatchable kind.
While wind and solar have a very limited existing footprint in Indonesia's energy mix, geothermal and hydropower have been around for decades. Moreover, the Indonesian state has often taken a leading role in developing them, especially geothermal.
There is, for instance, the geothermal developer Geo Dipa, which is 94.5 percent owned by the government of Indonesia, and 4.5 percent owned by state-owned electric utility PLN. In addition to Geo Dipa, PLN has its own geothermal subsidiary, and state-owned oil and gas company Pertamina is also a major developer of geothermal power.
From my reading of the JETP investment plan, it seems like the Indonesian state wants to prioritize the development of geothermal and hydropower in the near term. And they probably want to do this because it's something they have done before; they know how to do it, and big state-owned energy firms like Pertamina and PLN are already actively involved in the sector and would stand to benefit from accelerated investment and development.
It seems like the foreign partners in the JETP, on the other hand, want to open Indonesia up for a big investment boom in solar. And they are hoping that a number of pro-market reforms will help make that happen. I don't know if this market-based approach will increase investment in solar power in the way planners are hoping.
What I do know is that, given the political economy of energy production in Indonesia and the existing incentive structures for key actors like PLN and Pertamina, geothermal is likely to see a big development boom in the next few years.
In 2022, Pertamina announced plans to add about 600 MW of new geothermal capacity by 2028, at an anticipated cost of around $4 billion. Pertamina currently operates 700 MW or so of geothermal energy, mostly through a subsidiary called PGE. In anticipation of this stepped up development, PGE was listed on the Indonesia Stock Exchange in early 2023 and raised 9 trillion Indonesian rupiah (approximately $580 million) for a quarter of its equity.
This includes a big investment from Masdar, a United Arab Emirates energy firm that is also involved in some big solar projects in Indonesia. Masdar now owns 15 percent of PGE, and the capital raised from the IPO will go toward exploration and development of new geothermal capacity.
PGE's ability to raise over $500 million on the domestic stock exchange shows that, although the $20 billion headline figure of the JETP is eye-catching, it is hardly the only source of clean energy financing in town.
Developing geothermal is both expensive and time-consuming. For this reason, the JETP investment roadmap suggests the Indonesian government undertake a drilling program to collect data and identify viable working sites before tendering them to private developers. Companies like Geo Dipa and PGE would be well-suited to this kind of activity. They can develop the sites on their own, or facilitate private investment through cooperation agreements or do the exploratory work.
Over the long-term, the JETP envisions solar becoming the major source of Indonesia's electricity production because it is less expensive to build and operate than most other forms of renewable energy, including geothermal. But the supply chains for building solar at scale in Indonesia are still developing, and PLN has limited experience identifying and procuring bankable solar projects.
On the other hand, PLN has decades of experience with geothermal, and state-owned firms have a proven track record exploring and developing it, and also stand to benefit from increased investment. In terms of what can be built right now, and what aligns with the existing incentive structure for key actors in the Indonesian energy sector, geothermal might be the better bet for rapid growth in the near term.