Operation 1027 is Changing Myanmar's Frontier Geographies. Is India Ready?
India's junta-focused diplomacy and lack of abiding relationships with armed groups in Myanmar have limited its response to the fluid situation in the war-torn country.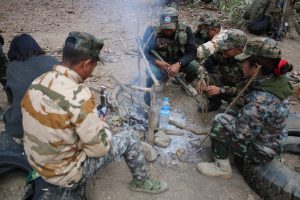 On August 27, 2021, a cargo shipment arrived at the rail port in Chengdu, the capital of China's southeastern Sichuan province, by rail. It was no ordinary consignment. The "test cargo" traveled on a brand-new rail line from Lincang, a town right next to the border with Myanmar in Yunnan province. But Lincang is not where the shipment originated.
Before entering China, the cargo traveled all the way by road from the port of Yangon near Myanmar's southern coastline to Chin Shwe Haw, a border town in northern Shan State. Just like that, China had inaugurated its first overland corridor to the Indian Ocean. Less than a year later, another "test cargo" originating in southeastern China's Chongqing municipality crossed Chin Shwe Haw by rail before proceeding towards the bustling northwestern Burmese city of Mandalay.
This otherwise quiet frontier settlement in what is known as the Kokang Self-Administered Zone (SAZ) had suddenly transformed into a centerpiece of Beijing's Belt and Road Initiative (BRI), thanks to its location on a strategic route that, according to The Irrawaddy, is "expected to become the lifeblood of international trade for China and Myanmar."
But, two years after that first cargo shipment from Yangon crossed Chin Shwe Haw, a dramatic power shift hit the border town. On October 27, a three-member ethnic armed alliance in Myanmar, known as the "Three Brotherhood Alliance (3BA)," captured Chin Shwe Haw as part of a fierce coordinated offensive against the military junta. Made up of the Myanmar National Democratic Alliance Army (MNDAA), Ta'ang National Liberation Army (TNLA) and the Arakan Army (AA), the 3BA's sweeping campaign, christened "Operation 1027", left the junta stunned.
Hundreds of kilometers to the southwest of Chin Shwe Haw, grazing Myanmar's border with India in Sagaing Region, lies the small town of Khampat. It sits right along Asian Highway 1 (AH-1), which, after emerging out of Mandalay, crosses the Chindwin River to the west before taking a sharp turn north and snaking right up to Tamu, a border trading town opposite Moreh in India's Manipur state.
The whole route constitutes a key section of the India-Myanmar-Thailand Trilateral (or Trans-Asian) Highway, an ambitious India-funded connectivity project that is still to take off. Just earlier this year, India's Union Minister for Road Transport and Highways Nitin Gadkari told the media that "70% [of the] construction work" on the trans-regional highway was complete. Four months later, the local People's Defense Forces (PDF) captured Khampat from the junta as part of Operation 1027.
Some 90 km southwest of Khampat, in neighboring Chin State, lies Reh Khaw Da (or Rikhawdar). Sitting right opposite Zokhawthar in India's Mizoram state, it forms one of the only two formal trading points along the India-Myanmar border. The Indian government formalized trade along this busy crossing in 2015 by establishing a customs station.
A week after resistance forces took Khampat, the Chin National Front/Army (CNF/A), a powerful ethnic armed organization in Chin State, seized Reh Khaw Da. The fighting not only triggered an outflux of Chin civilians into India, but also forced regime soldiers to scurry across the border to seek shelter.
The capture of Chin Shwe Haw, Khampat and Reh Khaw Da by anti-junta revolutionary forces reflects the rapidly shifting geographies of power and control across Myanmar's frontiers. They show how quickly the junta led by Min Aung Hlaing, faced with a resistance that is getting serious about internal coordination, is losing its grip over the country.
By wresting control over border towns with two of Myanmar's largest neighbors, the resistance is not just undermining the junta's economic pivots, but also creating a geopolitical incentive for regional powers to disengage the regime. Yet, a lot depends on how China and India respond. Fundamentally, both have similar stakes around the captured border towns. But they have vastly divergent levels of influence and incentives to act.
China attaches strong economic value to the border, not just to advance its BRI plans (including the China Myanmar Economic Corridor), but also to maintain overland trade that accounts for about 12 percent of overall Sino-Myanmar trade (much more if informal trade is included). In fact, as per the latest data released by the junta-controlled commerce ministry, Chin Shwe Haw saw the second highest trade (by volume) among all Sino-Myanmar border crossing points in the last quarter, constituting about 30 percent of overall bilateral border trade between both.
On the other hand, India's border trade with Myanmar constitutes less than 1 percent of its overall bilateral trade with the country, according to a 2019 study by the Indian Council for Research on International Economic Relations (ICRIER). Pandemic-induced border closures further constricted trade routes. Currently, both the formal trade crossings along the India-Myanmar border are inactive. While the Land Customs Station in Zokhawthar is dysfunctional, the last time any cargo moved through the land port in Moreh was in 2019-2020. Add to this the ongoing ethnic conflagration in Manipur, which has defenestrated Moreh as a bustling entrepôt.
In that sense, China has a much more pressing economic incentive to ensure stability along its border with Myanmar than India. For New Delhi, cross-border connectivity initiatives, like the Trans-Asian Highway and Kaladan projects, are important. But they lack the financial muscle and internal political incentive structure of China's BRI, which as far as Myanmar is concerned, is as critical for the Yunnan provincial administration as for the party in Beijing.
China has also shown that it is willing to promptly tweak its border strategy depending on shifts on the ground. It has been working closely with its old partners in the 3BA, especially the MNDAA, to fulfill its border security needs. This includes repatriating Chinese victims and operators of illicit cyber scam rackets in the Kokang SAZ, which the junta has failed to do.
India, on the other hand, hasn't shown such agility. Unlike China, it does not have abiding relationships with influential armed groups, such as the CNF/A and AA, that now control vast swathes of territory along its border with Myanmar. India's junta-focused diplomacy has, in fact, complicated its outreach to these groups. Further, the only illicit network that victimizes Indians is a Chinese-run cyber scam racket that operates not along its own border, but near the Myanmar-Thailand border in Karen State, where India has negligible influence.
Consequently, the Narendra Modi government today finds itself in an unpredictable situation. It is struggling to put together a comprehensive political strategy to stabilize the border. There is still time, though.
As a strong regional power, it has leverage that it needs to use to engage the emerging power brokers in Sagaing Region, Chin State and Rakhine State. Inert diplomacy driven by a risk-averse security policy and preoccupation with China is no longer an option.