Taliban Leaders Get Medical Treatment Abroad While Afghan Women and Children Lack Basic Care 
Why are sanctioned Taliban leaders allowed to travel abroad for medical treatment while their policies push Afghanistan's healthcare system to the edge of collapse?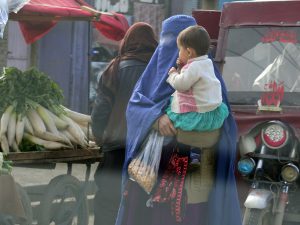 Imagine you are a mother, with your child so malnourished that their tiny body can barely function, as severe cold, clean water shortages, and sustained hunger ravage their immune system and infections like pneumonia and acute watery diarrhea take hold.
Local clinics don't function due to corruption and funding shortfalls. Seeking help is complicated because a male chaperone must accompany you down the street, let alone to a larger town or city where services might be available.
Afghan women struggle each day to access basic medical care for themselves and their families, as innocent children and desperate mothers are left to shoulder the horrific and unnecessary burdens of preventable and treatable illnesses. But, at the same time, Taliban leaders responsible for the healthcare system's decay have no problem accessing care overseas, even though many of them are under international sanctions. 
This is inexcusable. Through the sadistic imposition of gender apartheid, these power-hungry men and their peers have been relentless in suffocating the agency, well-being, and rights of Afghan women and girls. The United Nations and its member states must fully enforce the existing international sanctions regime and use it as leverage to induce Taliban leadership to improve conditions for Afghan women. 
Over the past three months, the U.N. Security Council has granted temporary travel ban and asset freeze exemptions allowing three internationally sanctioned Taliban leaders to travel to Turkey for medical treatment. These include acting Foreign Minister Amir Khan Muttaqi; Abdul Baqi Bashir Abdul Shah (also known as Abdul Baqi Haqqani), the acting head of Afghanistan's National Examination Authority; and Hedayatullah Badri, the head of Afghanistan's central bank and former acting finance minister.
There may be some precedent for U.N.-sanctioned individuals receiving travel ban exemptions to seek medical care on humanitarian grounds, but permitting sanctioned members of the Taliban to do so is a grave injustice when the people of Afghanistan are suffering a dire humanitarian crisis that has only been exacerbated by the Taliban's actions.  
For example, medical staff shortages have exploded due to Taliban bans on women's employment, education, and freedom of movement. Female medical students have been barred from taking exit exams (by the National Examination Authority that Abdul Baqi Haqqani oversees), preventing most from accessing specialty courses and necessary certifications. 
Worse still, Afghanistan's healthcare system teeters on the edge of collapse, as the Taliban channel most state resources toward defense and intelligence services, despite collecting record levels of tax and customs revenue. Prohibiting nonprofits and U.N. entities from employing female Afghans and humanitarian assistance funding shortfalls have limited the reach of aid organizations. In turn, vital community lifelines – like rural clinics and nutrition centers – have closed. 
Inadequate access to health services has triggered catastrophic consequences for vulnerable Afghans, especially mothers and their children facing pregnancy and childbirth complications, malnourishment, and preventable or treatable infectious disease (like measles, COVID-19, cholera, and dengue). Most haunting, UNICEF estimates at least 167 Afghan children die every day from treatable health issues. Moreover, one of the world's worst maternal mortality rates continues to rise, with approximately one woman dying every two hours from preventable pre- and postnatal complications in Afghanistan. 
Women and children comprised more than 90 percent of the victims killed and more than two-thirds of those injured in the earthquakes that devastated Herat province in October, according to UNICEF and the World Health Organization. This skewed impact was no doubt exacerbated by Taliban edicts that restrict women to their homes. 
The Taliban's extremist ideology is hurting the Afghan population at the same time that Taliban members are filling their personal coffers. So it's a grave mistake for the United Nations to permit Taliban leaders to travel abroad and access the financial assets they have stashed in other countries. 
Outwardly, the Taliban portray themselves as reformers who can guarantee Afghanistan's stability. But they continue to profit from drug, weapons, and human trafficking, as well as the exploitation of humanitarian aid distribution and natural resources. 
The U.N. list of sanctioned Taliban leaders and entities hasn't been comprehensively updated since the Taliban captured Afghanistan in 2021. The list's leverage is further weakened by member states that fail to uphold the travel ban or follow proper exemption request procedures. 
To incentivize greater compliance and accountability, the Security Council Sanctions Monitoring Committee should publish a detailed and permanent record of exceptions granted, which are currently only available during the period when an exemption is active. The United Nations and the U.S. government should also update their respective sanctions lists to include new Taliban leaders who have risen in the ranks since August 2021.
The Afghan people deserve better than life under the Taliban's brutal rules. Although the international community's leverage has changed, it still has a role to play holding the Taliban accountable.