The Long Evolution of India-US Space Relations
New Delhi and Washington have gone from apprehension to close collaboration on the development of India's space program.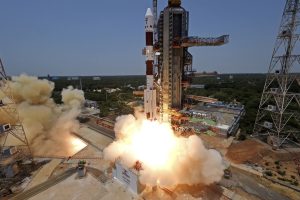 India's tryst with scientific and technological advancement can be traced back to its post-independence objective of creating a scientific society that reflects European positivism through technological advances rather than the Gandhian vision of a peasant society. India's space program is the outcome of this idea, and was embarked upon by some of the country's most significant technological and visionary minds in the 1960s, namely the physicists Vikram Sarabhai and Homi J. Bhabha, and Prime Minister Jawaharlal Nehru. 
When the Soviet Union launched the world's first satellite, Sputnik, into space in 1950, it triggered a massive space race between the USSR and the United States. In India, the "Sputnik moment" inspired leaders, particularly Nehru and Sarabhai, who were already avid believers that scientific advancements could solve humanity's problems, to become obsessed with the prospect of developing communications satellites that could make a real difference in people's lives.
The early years of India's space program were crucial for developing an institutional and technological base for space research in the country and showcased the active interest and willingness of the country's scientists and visionaries. On the world stage, India began forging collaborative ties with different states, including the United States, in order to advance its space program. Although Washington was generally apprehensive of New Delhi's non-aligned ideology and strategic lean toward the Soviet Union, it respected India's choices when it came to scientific advancement. India's scientific elites reached out to world powers for help and were open to all forms of collaborations, which the United States saw as an opportunity. The U.S., being a great power, has a tendency of expanding its influence wherever possible and through any means, whether hard power or soft. 
India's space industry was seen as a chance for the U.S. to utilize its soft power capabilities. Thus, the United States helped India create bases for sounding rockets and developed institutions along the way to shape a space program dedicated to hastening the country's development. American help in establishing the Thumba Equatorial Rocket Launching Station (TERLS) was the most crucial contribution of the United States to India's space program. 
However, relations with the U.S. often come with strings attached. Washington was happy to help India by donating sound rockets and loaning rocket launchers as part of the TERLS program, since these aimed to launch Indian satellites for civilian and national development purposes. However, one of the tenets of India's space program has always been the desire for indigenization rather than a permanent dependence on external help. This was not appreciated by the United States, especially in the early years. This dynamic was on display when the U.S. denied Homi Bhabha's request for more advanced rockets in 1965, for testing and a possible technology transfer. 
Even though the U.S. appreciated India's interest in space tech advancement and did not seem to mind India collaborating with multiple partners, including the USSR, the increasing hostilities between the two superpowers – and India's very obvious tilt toward the Soviet Union during the Cold War, despite practicing non-alignment as a foreign policy – had some U.S. policymakers concerned about India's intentions. As a result, India-U.S. space collaboration after 1965 suffered a great deal. 
As an example, India's decision to import cryogenic technology from the Soviet Union rather than the United States or France became a prominent bone of contention for both sides. India's rationale for buying from the Soviet Union (lower price and technology transfer) was not accepted by the U.S., which subjected the Indian Space Research Organization (ISRO) to a range of sanctions and restrictions.
However, the most significant issue that soured India-U.S. space collaboration throughout the late 1960s and beyond was India's refusal to sign the nuclear non-proliferation treat (NPT). Relations soured even further after India conducted its first peaceful nuclear test in 1974, which the U.S. viewed as a direct violation of the NPT , even though India was never a signatory. As a result, cooperation in the core strategic sector of civilian nuclear energy, and subsequently in space technology, suffered greatly.
In a similar vein, critics in the U.S. raised objections over India's growing missile capabilities. Detractors claimed that India-U.S. space cooperation was boosting India's key missile and warhead expertise, since missile technology has a dual-use nature. As an example, critics cited the possibility of India arming Multiple Independently Targetable Re-entry Vehicles with nuclear warheads instead of using the same technology for dispensing satellites. This fear took a toll on meaningful and more profound levels of engagement between India and the U.S. 
Meanwhile, the private sector in the U.S. was once enthusiastic about newer opportunities in India's blossoming space program, especially with its human space capabilities, in particular, the launching of the first Indian, Rakesh Sharma, into space in 1984. However, U.S. companies were left high and dry by India's reluctance to continue any such future programs and its relentless focus on using space technology for the direct benefit of India's National Development Goals. They felt that India had lost the sense of exploration and innovation and had limited itself to fulfilling social development goals.
It was only through years of extensive interactions at the highest official levels that India and the U.S. could overcome the inhibitions of the past. Other factors such as the end of the Cold War, the liberalization of the Indian economy, and China's rapidly expanding space program, brought India and the U.S. closer, especially in the context of India's space program. 
The beginning of this radical shift from apprehension to appreciation and collaboration was witnessed in 2004, when the Bush administration pushed for improvement in strategic ties with India by launching the Next Steps in Strategic Partnership (NSSP). American scholars opined that with India showing signs of becoming a long-term strategic and economic partner of the U.S., it was in the U.S. national interest to see India develop its future space activities in close collaboration with Washington.
With India emerging as a regional hegemon and a global economic hub, with its strategic positioning making it a possible balancer against China's rising aggression in the Asia-Pacific region, the U.S. now sees that it has an interest in helping India grow exponentially as a major power, with space cooperation highlighted as a way of keeping pace with China's space capabilities. Keeping this in mind, throughout the 21st century, the United States has been steadily supporting ISRO in three significant areas of space tech advancement, namely civilian, military, and economic. 
In the civilian domain, ISRO and the United States' National Aeronautics and Space Administration (NASA) recently completed development of a Synthetic Aperture Radar (SAR) capable of producing extremely high-resolution imagery for a joint-earth observation satellite mission called NISAR. It will be the first satellite mission to use two different radar frequencies (L-band and S-band) to measure changes in the planet's surface, with a plethora of other capabilities including disaster management, observing ice sheet, glacier behavior, vegetation, biomass distribution, measuring changes in groundwater reserves, and studying floods. ISRO is also collaborating with NASA on its Mars Orbiter Mission, and a data sharing arrangement between ISRO and the National Oceanic and Atmospheric Administration of the U.S. for weather systems and applications has been signed.
In the economic domain, U.S. private sector companies have become particularly significant players, especially with the launch of ISRO's commercial wing, New Space India Limited (NSIL). Accordingly, as a contract between several U.S. private companies and NSIL, ISRO's highly reliable Polar Satellite Launch Vehicle launched several satellites built by American private companies, including 13 nano-satellites, in their designated orbits. This was followed by agreements on small satellite-related ventures and technology transfers between ISRO's commercial arm and U.S. companies. This was again a radical shift from the previous U.S. position in the 1960s, which was reluctant to include technology transfer as part of its cooperation with ISRO. 
However, it is in the defense sector that India's space collaborations with the U.S. have seen a significant and unprecedented shift. The current geopolitical security environment and India's willingness to be a part of that environment has assured complete U.S. collaboration with India. In 2022, India and the U.S. signed the bilateral Space Situational Agreement to create a framework for sharing data and services, with the goal of ensuring the long-term sustainability of outer space activities and protecting each other's satellites from artificial or natural threats. Such collaboration has happened irrespective of India's stance in the Russia-Ukraine crisis; Indo-U.S. space cooperation has reached to such an extent that not even opposing viewpoints in an international crisis will decrease crucial space ties. 
Other venues of defense cooperation in space include collaboration between the U.S. Department of Defense and India's Defense Space Agency. For example, the recently announced Basic Exchange and Cooperation Agreement for Geospatial Cooperation between India's Defense Ministry and the U.S. National Geospatial Intelligence Agency and Department of Defense aims to reinforce mutual interest in enhancing penetration of geospatial technologies and space security. Information exchanges could help India keeps tabs on China's dam-building spree on the upper reaches of the Brahmaputra River and its growing assertiveness in the Indian Ocean Region, for example.
India-U.S. cooperation in the space sector has undergone various ups and downs, with significant consequences for India. However, rising global threats and challenges have warranted closer Indo-U.S. space ties, which have benefited India greatly while also ensuring that the United States gets a balancer to China in the form of a rapidly growing economic and space power.