Vietnamese TikToker Faces Cambodia Entry Ban Over Angkor Video
While minor, the incident showed how disputes over Southeast Asian culture and cuisine are often infused with nationalistic meaning.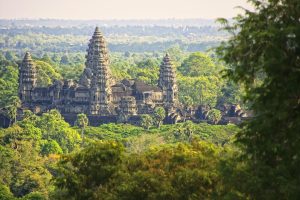 Last week, the Vietnamese media outlet VnExpress reported that a Vietnamese TikTok personality could be banned from entering Cambodia for 10 years for "defaming" the temples of Angkor Wat, a potent totem of the country's national identity.
According to the VnExpress report, Hua Quoc Anh made a video at the Angkor Wat temple complex that "had a negative impact on the image of Cambodian tourism," in the words of Prak Chandar, a deputy secretary of state at the Cambodian Ministry of Tourism. Chandar added that the Cambodian authorities were considering imposing on Anh an entry ban of five to 10 years.
The transgression in question was contained in a video that the Ho Chi Minh City-based influencer posted to his TikTok account while visiting Cambodia last month. The video featured a young woman in a traditional Thai costume walking around Angkor Wat, interspersed with images of the Thai flag and images of past Thai kings and accompanied by the words "Hello Thailand."
Whether or not it was supposed to be a joke, the video prompted fierce criticism – and numerous retaliatory TikTok videos – from both Vietnamese and Cambodian netizens.
On November 12, the Apsara Authority, the Cambodian government agency that manages the Angkor temples, felt obliged to announce that it had requested that TikTok remove the video due to its "inappropriate costume and content." According to a report in the Khmer Times, the Authority also expressed its "deepest regrets" for not preventing the video from being shot at the site and pledged to bolster efforts "to maintain the cherished image of Angkor." TikTok then obliged in removing the video from the platform, though some parts of it can be seen in the various video news reports of the incident.
Anh later posted a response in which he apologized for the original video and pronounced that Angkor "belongs to Cambodia," while holding up the country's flag.
While the incident was minor, it reflects the degree to which nationalist passions run swift beneath the surface of politics in mainland Southeast Asia, giving minor slights about culture and cuisine the potential to have real-world impacts.
In this particular case, questions about the "ownership" or cultural provenance of Angkor Wat is an issue with a long and contentious history. In the late eighteenth century, the kingdom of Siam (as it then was) extended its suzerainty over the western Cambodian provinces of Battambang, Sisophon, and Siem Reap, including the great temple city and its surrounding stone ruins.
The western provinces were only returned to Cambodia in 1907 under the pressure of the French Protectorate that then governed Cambodia, an episode that was marked by the erection of a colorful shrine at the foot of Wat Phnom, the hilltop temple that gives the Cambodian capital its name. (The west of Cambodia was then briefly annexed again by Thailand during World War II, after its victory in the Franco-Thai War of 1940-41 – the same victory commemorated by the imposing Victory Monument in central Bangkok.)
As Penny Edwards wrote in her book "Cambodge: Cultivation of a Nation, 1860-1945," it was during these years of French colonial rule, and by the efforts of "French and Cambodian literati" that a Cambodian "national" culture was elaborated – with Angkor Wat as its touchstone. "Idealized in national anthems, flags, and ceremony, this emblem of antiquity has come to signify Cambodian sovereignty," Edwards wrote. "Today, its tricorn towers stand as political shorthand for two enduring nationalist tropes, symbolizing faith in Cambodia's past glory and fears of that country's future disappearance."
This fear of national extinction – Anthony Barnett observed in 1991 that "there can be few countries where the theme has been accorded such weight both by its inhabitants and by foreigners" – means that offhand or mundane remarks about Angkor Wat can have deadly serious consequences.
In early 2003, the Khmer-language press printed reports claiming that a Thai actress said that Cambodia had "stolen" Angkor Wat, and that she would not visit the country until it was "returned" to Thailand. Her alleged comments prompted thousands of protesters to sack and burn down the Thai Embassy and numerous Thai businesses, causing millions of dollars in damage. While the riots may have been inflamed by then Cambodian Prime Minister Hun Sen for his own political purposes, he was working with easily combustible materials – a fierce national pride poised delicately between past glories and present fears.
This prickly defensiveness was also encapsulated by the Cambodian government's recent excessive reaction to the Malaysian comedian Nigel Ng, better known as Uncle Roger, after he made disparaging remarks about Cambodian cuisine on YouTube.
During a video published on July 30 that featured Filipino-American chef Leah Cohen, Uncle Roger remarked that "not all Southeast Asian countries have good food," adding that "you don't want food from Laos and Cambodia."
While the comments were obviously a joke – Uncle Roger's narrow Malaysian-Chinese parochialism and disdain for less developed countries is part of the act – the humor was lost on the Cambodian Ministry of Tourism.
In early August, it issued a lengthy statement in which it said that it was "extremely disappointed" in the video, which it said "completely deviates from the reality of the prestige and identity of Khmer food" and had "seriously affected Cambodian food tourism."
It concluded by saying that it was "working closely with relevant stakeholders and requests Mr. Nigel Ng or Uncle Roger, born on 15th March 1991, to make a public apology to the Cambodian people and immediately edit the posted video on its social media channel."
While the gravitas of the Ministry's statement, which read like formal diplomatic demarche, veered into farce, it was another reminder that disputes over culture and cuisine in many parts of Southeast Asia are no laughing matter.