Xinjiang vs Gaza: The West's Shifting Definition of 'Genocide'
The Global North's foreign policy has a glaring contradiction regarding China's abuses in Xinjiang and Israel's in Palestine.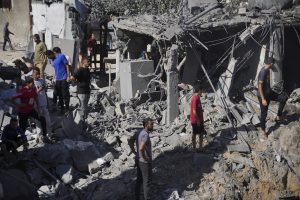 An editorial in the Global Times on October 19 took aim at Western double standards in defending the human rights of Muslims in Xinjiang and Palestine. The article quoted James Kariuki, the United Kingdom's deputy permanent representative to the United Nations, who, as the spokesperson for a group of 51 countries, criticized that "Members of Uyghur and other predominantly Muslim minorities in Xinjiang continue to suffer serious violations of their human rights by the authorities of the People's Republic of China."
This happened a day before U.K. Prime Minister Rishi Sunak's visit to Israel, which included a friendly exchange with Israeli Prime Minister Benjamin Netanyahu, to whom Sunak confessed: "We want you to win." Sunak was referring to Israel's military operation in Gaza, which aims at defeating the militant group Hamas after a devastating attack in southern Israel. However, Israel's relentless bombing campaign has killed far more than Hamas militants, with estimates putting the civilian death toll at over 11,000 – including over 4,000 children. Meanwhile, attacks against Palestinians are also on the rise in the West Bank, where Hamas does not exist and where Israel has been  in contravention of international law for decades, leading to further casualties and ongoing human rights violations.
Indeed, the timing of these two events – the statements against China at the U.N. General Assembly's Third Committee and the visit of Sunak to Israel – could not have been more striking. On the one hand, the United Kingdom and, particularly, the United States, along with Ursula von der Leyen and other European leaders, were not only offering verbal support but also material support to Israel either through direct action (such as the United States' offering aid and military equipment to Israel) or inaction (for example, by not enacting sanctions after clear abuses of international law). Meanwhile, the physical destruction of Gaza, the loss of thousands of innocent Palestinian lives, and the forced exodus of its population have been often referred to as ethnic cleansing and even as a potential case of genocide by different experts and members of international organizations, an opinion not shared by the governments of the Global North. 
Officials in the United States and its European allies have refused to even confirm that Israel is violating international law in its indiscriminate attacks on the civilian population in Gaza. On the other hand, the narrative that China had committed nothing less than genocide in Xinjiang – where nothing matching the severity of the Israeli attacks on Gaza has happened – persists in the official statements of those same governments.
In a chapter of a recently published book titled "Culture of Enmity: The Discursive Struggle for Taiwan in the Making of the New Cold War," Alain Brossat and I examine the discursive practices surrounding the "genocide" narrative in Xinjiang. On his final day of service as secretary of state in January 2021, Mike Pompeo disregarded the conventional tradition of exercising restraint before handing over his office. He became the first prominent voice to declare that China was perpetrating an "ongoing genocide" against the Uyghur minority in Xinjiang. Pompeo's statement was particularly surprising because, at that time, the United States had not yet acknowledged the genocide of the Rohingya in Myanmar, despite ample well-documented evidence. 
Nonetheless, this significant departure from established diplomatic protocol was quickly embraced as the "truth" and subsequently echoed by many other politicians and journalists, mainly in the Global North. 
In fact, by March of the same year, Pompeo's successor, Antony Blinken, doubled down on this dubious claim and labeled China's actions in Xinjiang as "genocide" in a report issued by his office. Importantly, this decision contradicted the conclusions of State Department lawyers, who had recently determined that there was not sufficient evidence to support the genocide claims. International media of the Global North propagated news of this alleged genocide without further critical examination, as they do most negative news stories about China. 
In contrast to what is contended in the aforementioned Global Times editorial, which defines these accusations as a "political plot to destabilize Xinjiang," the human rights abuses perpetrated by the Chinese government against Muslim minorities in the Xinjiang region are undeniable. However, the same governments claiming the right to hold China to account for those abuses are willing to give the Israeli government a pass. 
The United States, Israel, and China have all experienced terrorist attacks by radicalized Islamist groups. Compared to the deadly anti-terrorist policies, which have resulted in hundreds of thousands of deaths, pursued by the United States in Afghanistan and Iraq, among others, and by Israel in Gaza and the West Bank, China's policies of forced assimilation in Xinjiang do not seem worse in terms of violence and destruction. It goes without saying that neither response is commendable, of course. But it is surprising that while the United States sanctioned China and labeled its actions in Xinjiang as genocide, it supports and justifies Israel's actions in Gaza, which are undeniably much more destructive and deadly, as the necessary use of self-defense to impede future terrorist attacks – the same argument CCP made to defend its "re-education" policy in Xinjiang. 
The clear illustration of double standards regarding the legitimacy of counterterrorism tactics and the defense of Muslims in different regions of the world is providing the Chinese Communist Party with strong excuses and valid arguments to continue its abuses and criticize Western hypocrisy. And although China's lack of credibility in the Global North may hinder the acceptance of its viewpoints there, individuals in the Global South tend to be more sensitive to these blatant instances of hypocrisy and inequality. The same applies to the accusations against Vladimir Putin and Russia for war crimes after bombing civilian facilities and buildings in Ukraine and the absence of the same criticism against Netanyahu and Israel for analogous actions in Gaza.
At the same time, while many voices within Western governments have openly condemned China's actions as genocide, including the White House, the U.S. House of Representatives voted on November 7 to censure Democratic Representative Rashida Tlaib for her criticism of Israel and support of the Palestinian people. The noticeable disparity between the encouragement of exaggeration against perceived "enemies" and the implementation of censorship on free speech when dealing with criticism of strategic allies, reminiscent of the practices of McCarthyism from the past, is seldom emphasized as a growing concern in the new Cold War.
Palestine and Xinjiang have sparked comparisons in the academic literature for decades. For much of this time, scholars worried that China might someday adopt tactics as harsh as Israel had taken against the Palestinians. Dru C. Gladney contended in 2002 that Xinjiang could become like Palestine: "If China does not explore other options besides repression, restriction and investment, millions of Uyghur Muslims might become disenfranchised, encouraging some to look to the intifada, the Taliban or al-Qaeda for inspiration." 
In a 2015 article published on Middle East Policy, Michael Clarke referred to this and suggested that "the beginnings of the Palestinization of the region are discernible at three levels": the hardening of political and ethnic boundaries, several major terrorist attacks in the region in recent years, and that the conflict between Uyghurs and the Chinese state had become internationalized within the framework of the United States' "war on terror." 
Clarke predicted that CCP policies in Xinjiang would prove "counterproductive" among Uyghurs and that, more significantly, China's approach was "not only being questioned by Western governments and human-rights organizations," but it was "potentially complicating its diplomacy in Central Asia and the Middle East." However, recent developments, such as China's involvement in fostering better relations between Iran and Saudi Arabia, indicate that these forecasts were inaccurate.
Ironically, China's Xinjiang policy received a stamp of approval from none other than Palestinian Authority President Mahmoud Abbas. During his July 2023 to Beijing, Abbas met with Xi Jinping and "expressed support for China's treatment of Muslim Uyghurs in Xinjiang" Although Abbas' remarks sparked strong criticism from Uyghur exiles, who argued that "Abbas' statements 'further legitimize' Uyghur genocide," taking a step back, one can see why, from Abbas' perspective, what China has done in Xinjiang may not equate to the long-standing apartheid and the ongoing destruction and violence that has plagued Palestine for decades.
The underlying issue is the use of the term "genocide" to describe the human right abuses that took place in Xinjiang during the 2010s (the situation appears to be less severe now). The United Nations' own long-awaited report used the term "crimes against humanity" and the "genocide" label has been hotly contested. Stretching the conventional definition of the term to apply it to China's actions makes it even more glaring when politicians refuse to use the term in even more dire circumstances. 
If we genuinely aspire to evaluate international actors using the same criteria, prioritize human rights over geopolitical interests, and establish a consistent international order that is currently lacking, we must be willing to accuse all parties without bias. 
In this context, it is equally noteworthy that while critiques of Israel's abuses are often dismissed as "antisemitic," including emotional references to the Holocaust intended to discourage criticism, disproportionate condemnation of China is not commonly labeled as sinophobic. However, it seems evident that these double standards are not solely driven by geopolitical motives (i.e. supporting Israel because it serves as a proxy in the Middle East and endorsing the Uyghurs in Xinjiang because they undermine a common enemy). There are also deeply rooted Orientalist and White supremacist viewpoints that are firmly entrenched in the so-called "rules-based international order," hierarchically dominated by the Global North.
The Global North should reassess its geopolitical vs. democratic priorities and engage in more self-reflection regarding its recent counterterrorism policies and support for Israel. The current mild criticisms of Israel's actions seem even more hypocritical when contrasted with the strong statements and significant sanctions imposed on China as a response to human right abuses in Xinjiang. When compared with their own anti-terrorist policies in, for instance, Afghanistan and Palestine, the Global North is unintentionally making China's severe oppression of the Uyghurs appear reasonable and legitimate for many in the Global South. 
If those in a position of dominance within the global hierarchy of the "rules-based international order" fail to lead by example and act with integrity and respect for the lives of all people, how can they expect other countries to do differently?