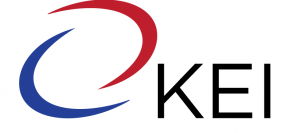 KEI
The Korea Economic Institute (KEI) is a U.S. policy institute and public outreach organization that informs U.S. policymakers and the public of the security, economic, and political implications of developments in the Korean Peninsula.
The institute produces analysis, drawing on the expertise of its resident staff; provides a platform for leading academics, policy practitioners, observers to share their views; promotes research by emerging scholars; and hosts public and off-the-record conversations with policymakers and opinion leaders.
It also engages directly with the public-at-large throughout the United States. In partnership with the World Affairs Councils of America and other local organizations, KEI brings Korean and American diplomats to venues across the country to discuss current events and regional developments.
Please visit KEI's website at www.keia.org and follow them on twitter at @KoreaEconInst
KEI is partnered with the Korea Institute for International Economic Policy (KIEP), a public policy research institute funded by the Government of the Republic of Korea. KEI is registered under the Foreign Agents Registration Act (FARA) as an agent of KIEP. KEI is not engaged in the practice of law, does not render legal services, and is not a lobbying organization.