Creative Deadlines
Standard
Advertiser created: Three working days pre-campaign start date. The Diplomat created: Ten working days pre campaign start date.
Sponsored Content
Editorial content needs to be submitted five working days prior to publishing to be reviewed.
Expandable
Advertiser created: Five working days pre-campaign start date. The Diplomat created: Fifteen working days pre-campaign start date.
Standard Specifications
All ads with a white or light background must include a 1x1 pixel border (except Leaderboards). Please note that newsletters have no flash / rich media capabilities.
Images
File Types accepted: GIF, JPG, PNG.
Files should be no larger than 1MB.
Please provide a click URL.
Flash
Versions 9 or earlier preferred.
SWF with click_tag, backup GIF/ JPEG and click URL required.
SWF file must have getURL(_root.clickTAG, "_blank");
embedded on the button.
Recommended Max Frames Per Second (FPS) = 25 fps.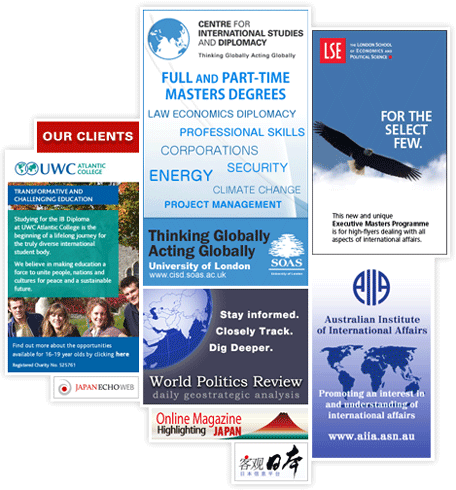 Expanding Creative / Video / Sound
Expanding creative must be 3rd party served.
Mouse over for initial expansion (or click), then click initiation for additional expansions within the same page view.
Expanded creative must close when mouse rolled off expanded area.
Close button to be present in expanded creative with text "CLOSE [x]".
Video/Sound asset must not exceed 1MB in file size.
Sound is strictly user initiated via click (off by default).
Sound disable button to be present in expanded creative.
Sound must stop on mouse off/close.
Maximum expanded size for 728x90: 728x180
Maximum expanded size for 240x400: 600x400
Maximum expanded size for 250x520 / 300x250: 600x250
Maximum expanded size for 300x600: 600x600
Home Page OPA Push Down Unit
Dimensions: Collapsed State: 980x70, Expanded State: 980x400
File Size: 100k initial load max, 200k subsequent load max
Expansion: Auto expansion frequency capped at 1 per user per day, subsequent expansions must be user initiated on click. Expansion speed time should be .9 seconds and the auto expand set to "Priority". Video accepted in expanded panel.
Duration: Eight seconds on frequency capped auto expansion, 8 seconds max for subsequent user initiated expansions.
Must contain a clearly defined expand & close click button - user initiated expansion on rollover not allowed.
The ad must collapse if the user clicks the close button OR if the user does not interact with the user imitated expanded ad for eight seconds.
Interstitial
Any animation must cease after 10 seconds since interstitial page only pauses 10 seconds before forwarding user to initially requested page.
CNN World
A stellar international current-affairs magazine.
The FT's 'Beyond BRICS' blog
What we're reading – The Diplomat
Wall Street Journal
One of the best online reactions to Hatoyama's resignation
Foreign Policy
An intriguing essay in The Diplomat