Not to be Missed, in Bali
When in Bali, there's one gallery any art enthusiast must visit. And it's the place to go if you want to know what's going on in Indonesian art.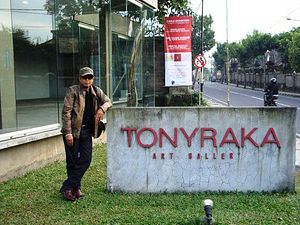 When you hear the same name over and over, you know it's a place you have to go. In New York it's Broadway, in Tokyo it's Tsukiji market to see the tuna auction. In Bali, all of the artists I met told me I had to go to the Tony Raka Gallery in Ubud. Once I got there, I understood why.
The gallery at Jl. Raya Mas No. 86 Mas in Ubud is huge. Imagine an art gallery the same size as the large automobile showrooms found in North America. It must be more than 600 metres long, with high ceilings and show windows that look out onto the street. But it's not the size of the place that's most impressive—it's the art. Ida Agus Putu Purwa, whom I wrote about last week, had a one-man show there, as have many of the top names in Indonesian art. If you want to see what's going on in Indonesian art, this is the place to go.
On the day that I visited, there were three one-man shows going on at the same time. (This can only happen in a huge space.) I saw works by I Made Arya Palguna, Peter Dittmar and Stefan Buana—who was my favourite. Buana is from Yogyakarta, has shown throughout Indonesia, Singapore and this past year had a show in New York City. My first thought when I saw his work was 'this guy can do everything.'
In his show, there were portraits of people, abstract works and paintings of animals. It's very rare to see someone who does such a variety of works simultaneously. Usually, artists have periods where they paint abstract or figurative and then change to other styles. The texture of Buana's works is impressive. All of the works were on canvas, but these were works with raised shapes, ridges and scratches.
They are all in a muted palate that draws you in. The colours are subtle but the works can't be passed over. They are like a lion stalking in the grass—pass over them at your own peril. These are works you need to get up close to fully see and appreciate.
In the brochure that accompanied the show, I saw a photo of the artist at work, stapling on the canvas in order to create the ridge effects. Several of his works reminded me of the Indonesian artist Yunizar, whose works we had in our gallery and who is now a star in contemporary Indonesian art. But when I looked at the show's price list, I saw one big difference—the works of Stefan Buana are still very affordable.
I was lucky enough to meet Tony Raka himself when I visited as well. He designed the gallery space and the entire compound where he lives with his family. Tony is one of those gallerists who loves all kinds of art and has a great eye not only for contemporary art, but for design and antiques as well. When we toured the grounds, he showed me some older pieces, including a large selection of Indonesian ceramic works that that had a very contemporary look and were priced at only about $200-$300.
Tony is true to his curatorial vision too—he chooses works from which you can really feel the emotion emanating. We talked about several Indonesian artists that have become popular in the auction sales, but Tony told me honestly that they 'lack heart.' Undoubtedly he could easily exhibit these works in his large space, but he sticks with what he knows and loves—works that move him and his clients. This kind of approach is what makes a great gallerist—choosing works that fit with a particular vision, not choosing works only because they'll sell.
After spending time at Tony Raka Gallery, I also made a stop at a newer gallery with a growing reputation, Kendra Gallery in Seminyak. This is another must-see place for those interested in the best of Indonesian art. On the day that I visited, there was a show of artists from Bandung, including Irman A Rahman, whose works we will feature in our Indonesian show in January.
I left Bali satisfied with my visit. I'd met interesting people and seen some great art.
My next stop: Jogjakarta, known as the art capital of Indonesia.