China's 'Mystery Warriors'
Each year, the PLA gets millions of new recruits. For a few weeks anyway.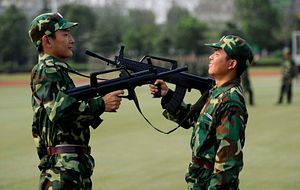 There's a joke among students here at Northeastern University in China's northeast city of Shenyang.
Every fall, it begins, America's intelligence agencies are baffled by the sudden and drastic increase in the ranks of China's People's Liberation Army (PLA). For a few brief weeks, the PLA's numbers are swelled with new recruits – 6 million last year – curiously all on college campuses.
But within a month, the new recruits have vanished, nowhere to be seen. The Americans are left scratching their heads, wondering what happened to these mystery warriors and when they might reappear.
The "mystery warriors" are really just college freshmen. Every year, first-year university students all across China participate in their mandatory regimen of military training before the start of classes. The training, held either on campus or at the nearest military base, lasts a few weeks prior to the start of classes.
Students may be equipped with firearms and dispatched to a shooting range for target practice. Or they may be given gas masks and medical equipment to run an emergency response drill.
There are compulsory lecture series – closed to international students and foreign teachers – in which students are introduced to national defense strategy and the latest in Party doctrine.
The foundation of the training is its most conspicuous element: hundreds if not thousands of young students, separated into squads, clad in camouflage fatigues, and marched in formation across campus. In the early morning, they learn to stand at attention and to salute. The evening is dominated by the singing of patriotic songs and old barracks tunes from the PLA. Throughout, trainees are subjected to regular dorm inspections and pre-dawn workouts.
On many campuses, the training ends with a grand ceremony at which newly minted trainees can showcase their marching skills for school officials and military personnel. Trainees goosestep around a stadium or presenting ground.
Why is a country with a reported military 2.3 million people strong and the second highest military expenditures in the world teaching its college freshmen how to goosestep?
Some form of military training has existed in some Chinese schools since after reunification under Communist rule, although today's incarnation was established about three decades ago. In 1985, a year that saw sweeping reforms within China's military, a pilot university military training program was established in a few dozen schools. Since then the program has been expanded to thousands of campuses so that today nearly every one of China's roughly 6 million college freshmen participate. Middle school and high school students also take part in a similar program during their first days at school.
The program has been used to satisfy the perceived needs of the Party. In the year following the 1989 demonstrations at Tiananmen Square, for instance, freshmen students at Beijing University, then considered a hotbed for democratic activism, were forced to undergo a full year of military training before even starting their official college curriculum.
At the time, a Ministry of Education official explained the decision saying, "We want to guide students so that they become close to the workers and peasants. During the unrest and counterrevolutionary turmoil, we painfully saw how students had gone farther and farther along the road of bourgeois liberalism."
The goal most commonly cited by both trainers and trainees was the cultivation of self-discipline. The same discipline required to weather early morning drill formations, so the logic goes, will also help students succeed in the classroom and cope with their newfound independence.
"I think it's definitely necessary to have this kind of training," says Shen Guangxie, a senior student studying information technology in the Northeastern University National Defense College, who led a group of 60 freshmen in military training last year. "If you walk into the college students' dormitory, you will find things are very messy. It's especially necessary these days because the basic aim is to cultivate people's mind and to help them learn to manage their daily lives."
Students also said the training allowed them to build bonds with their new classmates and better acclimate to their new homes.
But some see less sanguine motives in the training. Foreign teachers arriving on a Chinese university campus for the first time are often taken aback by the squads of young students goose-stepping across the campus and the conspicuous displays of nationalism. Internet postings, secure in their anonymity, are awash in the term "brainwashing."
Few students interviewed for this story, however, acknowledged a political side to the training. One bristled angrily at the term "brainwashing," while another said the training was more akin to "summer camp" than anything else. But a closer look at the content suggests the training may not be all sing-alongs and campfires.
A textbook used in some of last year's training on some northeastern campuses provides a telling snapshot into China's relations with other world powers and its attempt to pass that worldview onto young trainees. In a chapter describing the international security environment, for instance, Japan is portrayed nearly as a puppet state which, "in foreign affairs, has attached itself to the United States. It merely follows America's lead, blindly following every step of the way."
The United States is depicted as a predatory superpower bent solely on maintaining its preeminent status in the world. In pursuit of that goal "[The United States] forces other countries to liberalize domestic markets to no end, exploiting advanced technology and unequal economic exchanges in order to exploit developing nations."
In the evening, trainees participate in singing competitions to see which group can best belt out the lyrics of such patriotic standbys as "Strict Discipline," "Patriotism and Sacrifices," and "Without the Communist Party There Would Be No New China." Students are sometimes drilled to the tunes, which emphasize the virtues of the Party and the need for individual sacrifice:
The People's Army has iron discipline
It is a solemn duty to obey orders
Rules and regulations must be kept in mind
Every order carried out, every prohibition heeded
Consciousness coalescing into a fighting collective
The People's Liberation Army is no stranger to political and ideological education.
In fact, it is one of the PLA's stated goals. According to Lt. Col. (Ret.) Dennis Blasko, Senior Research Scientist at the Center for Naval Analyses and an expert on Chinese military and defense policy, the PLA stipulates that units must devote 20 to 30 percent of their training on political and ideological sessions. During induction training, that share rises to 40 percent. "The PLA states outright that political and ideological education is one of its top priorities. It's up there with military training," says Blasko, a former Army attaché in both Beijing and Hong Kong.
"This political training is about how to be a good communist," he adds. "How to love the Party, how to love the people. How to serve the Party, how to serve the people. Every PLA soldier takes a pledge to the Party, not to the country."
The Ministry of Education's own internal guidelines for military training state that part of the purpose of the program is to "promote patriotism, collectivism, and revolutionary heroism."
That students do not identify the ideological elements may make them all the more perilous.
Though, if the quality of the training is measured by ideological indoctrination, the program has not been entirely successful, as students generally seemed averse – or at least inured to – the more overtly political components.
For one, students here reported that, last year, their military training textbooks were weeks late, arriving after the training session had officially concluded. Not one student reported ever having cracked the book. "I actually think nobody reads it," says Ma Linxi, a sophomore English major at Northeastern University. "But we must buy it, even if we don't want to. I just didn't find it interesting. Nobody did."
The classroom sessions that accompanied the training are roundly panned by students. "I didn't like the class. It's just like the other mandatory basic classes, like the Marxism class or the politics class," explains Ge Ming, a graduate English interpretation student at Northeastern University. "We usually just slept in the class or had some snacks or read other books."
The evolution of military training and students' responses to it over the past 20 years also illuminates China's growing generation gap, including a nagging sense by older generations that today's students, coming of age amidst unbridled economic growth and the trappings of an increasingly modern, imported culture, just can't cut it.
Following last year's military training, The Global Times reported that, at Peking University, nearly 1300 of the roughly 3500 total participants went to the hospital at least once. Last year, data from the National Students' Physical Health Survey documented the continued deterioration in the physical fitness of the country's university students. According to reports, some students have attempted to forge doctors notes or pay classmates to stand-in for them in order to avoid the training. Commentators have decried today's students as "lazy" and "weak."
Ge, the interpretation student, notes that today's military training at her school is nearly half as short as the training she underwent just six years ago. She and her classmates learned how to handle, load and shoot a rifle, including target practice sessions at a shooting range set up behind the school's Business Administration building. The closest today's students get to equipment training is a laser tag battle. Things have changed and, the implication was, today's students couldn't handle the old-school training.
"Maybe the students born in the 90s are more fragile," Ge says. "They are too spoiled. After the 1990s and the one-child policy, every family had one child so they are very spoiled. They are not used to discipline. They can't take it."
One freshman student derisively described today's training as "just practicing how to stand in the sun for long periods."
In many ways, the moniker "military training" belies how increasingly ordinary the present day incarnation is becoming. Interviews with recent and past participants and reviews of online reports suggests that, increasingly, the training is eschewing training with equipment or firearms and focusing more on discipline and organization. Students are less likely to drill at the nearest military base and more likely to stay on campus.
"I think that the college training should be more difficult. It's not difficult at all," says Shen, the trainer from the Northeastern National Defense College. "No matter how old you are, even a child, you can complete the college training. It's just walk, stand, walk, stand."
Part of the difficulty in providing more truly "military" training is logistical. Trainers are ill-equipped and unprepared. One student described the military base on which she trained as "dirty" and "sad." Often, the trainers are recent conscripts who typically serve for only two years and have only received the most basic of training themselves. Sometimes, as in the case of Shen, they are still students, just one year out of their own training.
"These guys may have been the best and brightest out of their basic training and know how to march but they don't know how to do much more," Blasko notes. "They certainly aren't tacticians or able to teach the students about the finer arts of military strategy. The trainers are just one step removed from the trainees."
The youth and, perhaps, immaturity of some trainers revealed itself in an awkward development following the completion of military training by freshmen at the Northeastern Foreign Studies College. Former trainers, all young men, started calling their trainees, mostly young women. Some were looking for dates.
"At their base, there are no women, no girls. So they always called us and texted us because our Foreign Studies College is full of girls and we were the same age," says Ge. "My trainer was one year younger than us actually. We had nothing to talk about. After a few months I just changed my phone number."
David Logan is a Shenyang, China-based writer.