ELLE Magazine Declares North Korea a Fashion Trend
The influential lifestyle magazine is promoting "North Korea Chic" as a top international fashion trend this fall.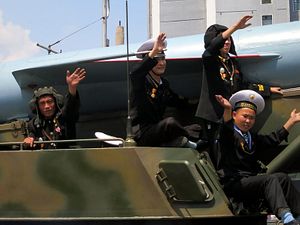 The Washington Post's Max Fisher flags a new article on the website of ELLE magazine, an influential fashion publication, which declares the North Korean military to be a top international fashion trend.
The article, entitled "A to Zee: Joe See Spells Out Fall's 2013 Top Fashion Trends," presents a slideshow of fashion styles that ELLE's creative director, Joe Zee, sees as the top trends of this fall. One such trend, according to Zee, is the North Korea Chic.
"Some iteration of the military trend stomps the runways every few seasons. This time, it's edgier, even dangerous, with sharp buckles and clasps and take-no-prisoners tailoring," Zee writes of the so-called "North Korea Chic" style. The picture above this description is of a North Korean soldier.
A second slide labeled North Korea Chic is a picture from Shop Bop of a woman wearing "R13 X Over Camo Pants," which Shop Bop is selling for a whopping $425. That's nearly half a year income for the average North Korean, according to some estimates of Pyongyang's per capita income.
It's not entirely clear, at least to this author, why Zee decided to connect the fashion style to North Korea. Shop Bop doesn't seem to have intended the pants in the Elle's article to be connected to North Korea in anyway. Indeed, a description of the pants on Shop Bop states:
"The flag of the original 13 US colonies inspired the defiant style of R13, a luxury denim brand that launched in 2009. The label's edgy aesthetic recalls the attitude of that iconic flag, which featured a rattlesnake and the words 'Don't Tread on Me.'"
Thus, how Zee got to North Korea from $425 pants roughly modeled off the U.S. military seems a mystery. Think Progress' Alyssa Rosenberg notes that authoritarian regimes and the fashion world have a fairly long history. Mao Zedong and Che Guevara are just two examples. Vogue briefly flirted with the idea of holding up Syria's Bashar al-Assad's wife as a fashion symbol in 2011. In general, Rosenberg writes:
"Designers have often been drawn to the elegant simplicity of uniforms, official and otherwise, and to the artistic challenges posed by the extreme constraints of such assignments. Hugo Boss acknowledged in 1997 that the company, which began as a uniform manufacturer for police forces and postal workers, had designed and produced SA, SS, and Hitler Youth uniforms, before continuing on to become an international men's retailer. Coco Chanel, whose carefully chosen personal uniform still influences the way women dress today, was registered as Abwehr Agent 7124, a legacy that didn't keep her from moving back to France after World War II and continuing to build her fashion empire."
It's worth noting that North Korea itself has been trying to step up its fashion game. Indeed, the North Korean regime has been trying to depict Kim Jong-Un's wife, Ri Sol-ju, as a fashion symbol for North Korean women to emulate.
Zachary Keck is Associate Editor of The Diplomat. He is on Twitter: @ZacharyKeck.