Pervez Musharraf To Be Prosecuted For Treason
Nawaz Sharif's government will pursue a treason prosecution against Musharraf.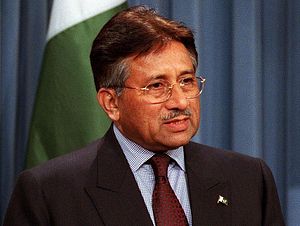 When earlier this year, Pervez Musharraf returned to Pakistan, he seemed to see himself as a messiah figure – back from self-imposed exile to run in this year's election. Since then, he's managed to get himself wrapped up in a wide variety of legal troubles over his alleged involvement in the assassination of Benazir Bhutto and his brazen disregard for the constitution of Pakistan during his tenure as president. Since his return in March this year, nothing really went as planned for Musharraf, who was driven back to Pakistan through a misguided bout of megalomania.
Musharraf's fate in Pakistan is starting to look a little clearer now as reports indicate that the Pakistani government will be looking to initiate a treason prosecution against him – a development that could result in him being sentenced to death. The move would be incredibly politically risky for Nawaz Sharif's government and could polarize national politics in Pakistan. If successful, the move would be a new high-water mark for Pakistan's civilian government and governance institutions, which have traditionally been subverted by military interests. The Pakistani military has ruled the country for around half of its 66-year history with no former military dictator facing such legal scrutiny to date. Sharif's victory in the elections earlier this year heralded the first successful transfer of power from civilian government to another in Pakistani history.
Sharif, who is increasingly facing criticism at home for his frequent tours overseas and his alleged mishandling of economic, security, and foreign policy matters, needs to tread softly in pursuing this prosecution against Musharraf. By all counts, the instinctive reaction in Pakistan to this announcement is one of revenge – Musharraf was the one to oust then-democratically-elected Sharif in a bloodless coup d'état back in 1999. Tensions between the two arose as a result of the political and military fallout of the Kargil War. Despite their strained history, the move isn't quite a surprise since Sharif had pledged to eventually hold Musharraf accountable for his actions. Earlier this year, Sharif told the Pakistani parliament that "Musharraf's actions came under the purview of high treason."
According to The New York Times, the timing of the prosecution is somewhat strategic and calculated. Sharif perceives Musharraf to be somewhat of a flight risk at this point, suspecting that he could leave Pakistan and go back into exile. The Times writes that Musharraf "had been under house arrest at his villa outside Islamabad until earlier this month, when he was released on bail on all cases and later requested permission to go to Dubai, United Arab Emirates, to visit his mother." Musharraf's lawyers are currently applying for a travel waiver for Musharraf that would allow him to leave the country.
Whatever the short-term political ramifications for Sharif and his government, this case will be one to watch as its outcome will be a watershed event in Pakistan's civil-military relations. The Pakistan military and the Inter-Services Intelligence (ISI) have long been accused of pursuing an agenda independent of the civilian government. Additionally, General Ashfaq Parvez Kayani's retirement as the Chief of Army Staff at the end of the month could precipitate an era of political alienation for the Pakistani military.