China Increases Purchases of LNG on Spot Market
Responding to a growing pollution crisis, China is becoming a bigger player in the LNG market.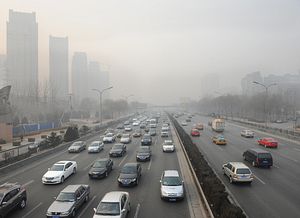 A push for cleaner air is driving China to become a bigger player in the global trade for liquefied natural gas (LNG). China relies on burning coal for over 65% of its electricity needs, and rapid growth means coal plants continue to proliferate. The growth-at-all-costs approach has led to ghastly images of cities suffocating in thick smog. In an effort to curb pollution, the Chinese government is putting added emphasis on natural gas for electricity generation. This is making China a much larger buyer of LNG.
LNG demand in China tends to be seasonal, according to Song Yen Ling of Platts. Colder temperatures in the winter often lead to demand spikes for natural gas, which people use for heating. PetroChina, for example, imports the bulk of its LNG purchases in winter months to meet residential heating demands. Then there is a summer spike as well. The Chinese National Offshore Oil Company (CNOOC), another state-owned oil and gas company, imports LNG in southern China to run power plants during summer months.
But the heightened emphasis on switching power plants from coal to gas in order to clean up the air is adding to demand, "We've seen the startup of two new terminals…one earlier last week, as well at the end of October, and we expect another one to come on stream probably this month or next month," Song Yen Ling said in a Platts podcast on November 26.
With more terminals, China can import more LNG. PetroChina, a state-owned oil and gas company, recently went to the spot market to purchase eight cargoes of LNG for delivery in the coming months.
CNOOC is hoping to double its LNG import capacity by 2015 by adding five new terminals. This is part of the country's plan to increase natural gas consumption, with the aim of using it for 8 percent of its energy needs in 2015, up from 5 percent today.
Moreover, China is eyeing opportunities abroad. It put down an initial $12 million for the rights to land in British Columbia to build an LNG export terminal.  CNOOC would own 60 percent of the project through its subsidiary, Nexen, which it purchased last year.
China, a voracious consumer of all types of commodities, has until now not been a major importer of LNG. China's first LNG terminal only came online in 2006, but by 2012 it had a total of six completed or under construction. Song Yen Ling of Platts predicts double-digit growth rates in natural gas consumption in China.
There is one major factor that may curtail LNG import needs: China's domestic shale gas reserves. China is believed to be sitting on top of the largest reserves of shale gas in the world. Many obstacles stand in the way, however, including water scarcity, lack of infrastructure, lack of technical expertise, and proximity to large population centers.
China's big push to expand LNG imports means that while LNG exporters around the globe have for years competed to sell to Japan, the world's largest LNG importer, they now have another massive market to tap into.
This article was originally published at OilPrice.com. It is reprinted with permission.