Asian Firms Shine at Sustainability Awards
The region's companies have an impressive presence in the latest green rankings.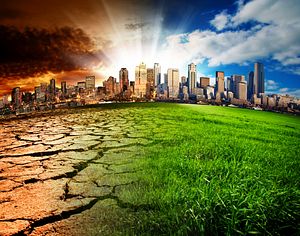 Asian businesses' improved environmental credentials have earned global recognition, with Australian, Japanese and other companies listed among the latest Global 100 index of sustainability leaders. Importantly for "green" investors, the list compiled by Toronto-based Corporate Knights also outperformed its benchmark index.
Announcing its latest rankings Wednesday at the World Economic Forum in Davos, Corporate Knights proclaimed Australia's Westpac Banking Corporation as its top-ranked company. It cited the Sydney-based bank's "long history of leadership and innovation in corporate sustainability," including its membership of the Australian government's Greenhouse Challenge Plus initiative.
Matching the performance of U.S. firms, businesses based in the Asia-Pacific region won 18 of the 100 spots on offer in the 10th year of the widely followed survey, which is based on a range of sustainability indicators.
Among them, Australian companies achieved five spots, comprising three of its Big Four banks in ANZ (placed 19th), Commonwealth Bank (25th) and Westpac, along with property group Stockland (32nd) and conglomerate Wesfarmers at 92nd.
Japan equalled Australia's performance with five companies recognized, consisting of property company Daiwa House (65th), engineering conglomerate Mitsubishi Heavy Industries (66th), pharmaceutical company Eisai (69th), automaker Nissan Motor (74th) and imaging company Ricoh (77th).
Property companies earned gongs for Singapore, with Keppel Land ranked 17th, City Developments 39th and CapitaLand 58th, while telecommunications company StarHub was placed 29th.
South Korean electronics heavyweights also featured, with Samsung Electronics ranked 34th and LG Electronics 82nd, while Shinhan Financial Group placed 30th.
Among emerging markets, Hong Kong's Hang Seng Bank was ranked 31st, although no firms from mainland China or India made the list.
Proclaiming its list as "the gold standard in corporate sustainability analysis," Corporate Knights said the index had outperformed its benchmark MSCI All Country World Index by 3.2 percent since its inception in 2005.
"The results speak for themselves. Topping a well-diversified benchmark is not easy, but the Global 100 has managed to squeak out marginal outperformance across a turbulent period in the history of the capital markets," chief executive Toby Heaps said.
"We attribute this excess return to the growing investment relevance of core sustainability themes, including water scarcity, rising energy prices and growing competition for human capital, all of which are captured in the Global 100 methodology."
According to Corporate Knights, the Global 100 are rated on 12 selection criteria comprising carbon, energy, water and waste productivity; innovation capacity; CEO to average worker pay; clean capitalism pay link; employee turnover; leadership diversity; pension fund status; percentage tax paid; and safety performance.
The ranking follows increasing debate over the "sustainability" of global firms and alleged tax-shifting by international technology companies such as Amazon and Google, with Australia pushing for an international agreement at November's Group of 20 meeting in Brisbane.
"The essential principle is that you should normally pay tax in the country where you've earned the revenue," Australian Prime Minister Tony Abbott said.
"My hope is to have a really frank leaders-only discussion in Brisbane about the biggest issues we face…because taxes need to be fair as well as low in order to preserve the legitimacy of free markets."
Governance experts have also warned over the "reputational risk" faced by Western businesses in entering emerging markets, with a global survey released by Deloitte last month rating it as the top risk for large companies, particularly given the impact of social media.
As protesters around the world have quickly discovered, smartphones and other internet-capable devices are a powerful weapon in the battle for corporate credibility.
"Damaging news spreads like the speed of light, it reaches a much wider audience easily, and it stays on record digitally for longer," Deloitte's Harvey Christophers said.
South Korea Top Innovator
In another win for Asia, South Korea has topped Bloomberg's latest rankings of the world's innovation leaders, ahead of Sweden, the United States and fourth-placed Japan.
Singapore placed seventh, Taiwan 10th and Australia 13th in the survey of 215 countries and regions based on seven factors comprising research and development intensity, productivity, high-tech density, researcher concentration, manufacturing capability, tertiary efficiency and patent activity.
South Korea earned its top score of 92.1 based on its second rankings for manufacturing capability and patent ability and third-place finishes for high-tech density, tertiary efficiency and R&D intensity.
China placed 25th, scoring the highest ranking in manufacturing capability but being marked down on tertiary efficiency and productivity.