Asia Leads Innovation Race
Asia fares well in a recent ranking of the world's most innovative countries.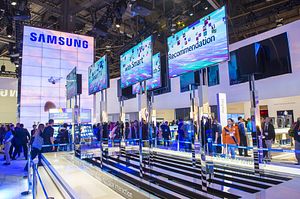 "Innovate or perish" may be a Western management mantra, but Asia is reportedly winning the race.
According to Bloomberg's 2015 ranking of the world's 50 most innovative countries, South Korea claimed top spot ahead of second-placed Japan, with Singapore ranked eighth, Australia 13th and New Zealand 18th. Other Asian countries that made the list comprised China (22nd), Malaysia (27th) and Hong Kong (34th), with Thailand in 46th place.
European and North American nations made up the majority of the survey, which ranked countries on six categories comprising research and development expenditure as a percentage of gross domestic product, manufacturing value-added per capita, number of high-tech companies, postsecondary education graduates, research personnel and patent filings.
According to the survey, South Korea ranked top in R&D spending, education and patents, although it placed fourth in the number of hi-tech companies and seventh in both manufacturing and research personnel.
South Korea's top ranking "is proof that countries can lift themselves up by their bootstraps through a combination of government support and private enterprise," the report said.
"In 1957, not long after the Korean War, the nation's GDP per capita was on the same level as Ghana's," it noted, pointing to the efforts of "research-intensive companies" such as Samsung that invested $14 billion in R&D last year.
South Korea's top ranking will undoubtedly please President Park Geun Hye, who previously warned that the nation had "no future" without significant reforms, including to its "chaebol" model of export-led growth.
Despite its smaller population, Singapore was Asia's highest-ranked nation in manufacturing, placed third behind Ireland and top-ranked Switzerland. This reflected Singapore's high-tech electronics industry, which accounts for a quarter of its total value-add, also helping the city-state gain Asia's highest rank of fifth for research personnel.
However, the world's top three economies – the United States, China and Japan – led in hi-tech companies, also reflecting the fact that the category was not adjusted for economic size or population. According to Bloomberg, as of January 16 the United States had nine of the world's top 10 largest tech companies by market value, led by Apple ($625 billion), Microsoft ($377 billion) and Google ($342 billion), with China's Tencent ranked 10th at $147 billion.
Apple, Google and Samsung were ranked the world's top three most innovative companies of 2014 in a separate survey by consultancy Boston Consulting Group, with Japan's Toyota Motor placed eighth and Sony 10th.
INSEAD: Europe Top
Bloomberg's findings differed from the broader 2014 Global Innovation Index, which ranked Switzerland first followed by the United Kingdom and Sweden, among 143 economies surveyed by Cornell University, INSEAD and the World Intellectual Property Organization. Asia's leaders were Singapore (ranked 7th) and Hong Kong (10th), with South Korea ranked 16th, Australia 17th, New Zealand 18th and Japan 21st, with China placed 29th.
The survey ranked nations on 81 indicators, with the leaders scoring highly in such areas as "innovation infrastructure, including information and communication technologies; business sophistication such as knowledge workers, innovation linkages, and knowledge absorption; and innovation outputs such as creative goods and services and online creativity."
However, the survey also found that middle-income economies such as China, Brazil and India were narrowing the gap on innovation quality with high-income leaders, comprising the United States, Japan and Germany.
"As innovation becomes a global game, a growing number of emerging economies are confronted with complex issues whereby 'brain gain' can only be generated through a delicate balance between talents outflows (e.g. citizens seeking an education abroad) and inflows (whereby high performers return home to innovate and create local jobs, and diasporas contribute to national competitiveness). Around the world, we see encouraging signs that this is happening," INSEAD's Bruno Lanvin said.
Yet according to Bloomberg, a key "missing measurement" is the hard-to-quantify value of government regulation, "which can either accelerate or impede the adoption of new ideas." It cited the examples of German automaker Audi, which reportedly does its testing of new automated systems in the United States due to Germany's strict driving rules, while the varying governmental approaches to transport app Uber are seen as another indicator.
However, it noted that its rankings were not aimed at awarding "bragging rights" to countries, but instead to "see whether a broad formula for innovation can in fact be identified, and what companies, and governments, need to do to reproduce it."
As Thomas Friedman famously wrote: "In today's world, anything that can be done will be done. The only question is, will it be done by you or to you?"