Beijing Pushes For China-EU Free Trade Deal
At a meeting with his EU counterpart, Yang Jiechi expressed hope for a China-EU free-trade agreement.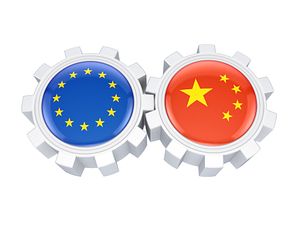 Chinese State Councilor Yang Jiechi is in Brussels this week for meetings with Belgian officials as well as the fourth China-European Union strategic dialogue, which Yang co-chaired Monday with EU foreign affairs chief Catherine Ashton. Though the main focus of the dialogue is strategic and security issues (including regional affairs, non-proliferation, and climate change), perhaps the biggest news to come out of the meeting was economic — Yang's enthusiasm for a free-trade agreement between China and the European Union.
According to Reuters, Yang told the press that China and the EU should "work jointly to create conditions for launching a feasibility study of a China-EU free-trade agreement." The global repercussions of such an agreement would be huge — during his December visit to Beijing, UK Prime Minister David Cameron estimated that an FTA between China and the EU "could be worth tens of billions of dollars every year." He predicted it would boost the UK economy alone by £1.8 billion ($2.98 billion) per year, which explains why Cameron enthusiastically offered to "put [his] full political weight behind such a deal."
The EU is China's largest trading partner, and only the United States does more trade with the EU than China does. The EU's Trade Commission notes that China-EU trade is worth over €1 billion ($1.37 billion) a day, reaching €433.6 billion ($593 billion) in 2012.
Still, despite (or perhaps because of) the massive volume of trade the two have a history of nasty trade disputes. Last year, the European Union accused Chinese firms of dumping solar panels, and threatened to add duties to these products. The Chinese government retaliated by opening investigations into EU wine exports. Reuters called the row "the biggest trade dispute by far" between China and the EU.
That particular dispute reached a negotiated settlement, but not before revealing something of a schism within the EU when it comes to China trade. In part, the EU Trade Commission was forced to negotiate because many EU member states (led by Germany) were against applying punitive tariffs. As the possibility of an FTA between China and EU moves forward, it will be difficult for the EU to balance its interests with the competing and at times conflicting interests of its member states.
Past trade disputes provide a picture of likely sticking points in any FTA negotiations. The EU Trade Commission has specifically mentioned concerns over access to China's service industry, discrimination against foreign companies, and lack of IP protection as areas of concern — in addition to its issues with pricing on specific types of goods. Meanwhile, China seeks more investment access to the EU market as well as eliminating restrictions on high-tech exports to China.
Discussion over a potential China-EU bilateral investment agreement, seen as a precursor to a possible FTA, began last week in Beijing. Yang Yanyi, China's Head of Mission to the EU, told New Europe that concluding a bilateral investment treaty (BIT) "would be mutually beneficial, offering each side what it needs, financing for Europe and quality for China." China already has separate BITs with every EU member state except for Ireland; however, the new China-EU BIT would be expected to supersede the previous individual agreements.
As Jiang Shixue, the Deputy Director of the Institute of European Studies at the Chinese Academy of Social Sciences, wrote for Ching.org.cn, "The existing China-EU BITs were signed at a time when China was mainly the recipient of foreign investment coming from Europe and other parts of the world. Nowadays, the situation has changed." Indeed, China is more interested in investing in Europe than vice versa — Jiang called the EU "the most favored [investment] destination of Chinese investors among all developed countries."
Ironically, in her remarks after the Strategic Dialogue, Ashton noted that the EU and China "started of course from a largely trade-driven agenda, but that has now matured as we engaged in a wide spectrum of different areas." Yet the "trade-driven" news of a potential China-EU FTA could have more global impact than any of the purely strategic areas of cooperation discussed at the meeting. There's potential for the momentum to keep building too, as Chinese President Xi Jinping plans to make his own visit to the EU headquarters in Brussels later this year.