Chinese Doctor Who Sold Newborns to Human Traffickers Sentenced to Death
Zhang Shuxia forged test results to make parents believe that their children were gravely ill.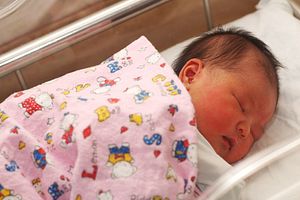 A Chinese doctor who was convicted of stealing seven babies and selling them to human traffickers has been handed a suspended death sentence by the Weinan Intermediate People's Court in Shaanxi province.
Former obstetrician Zhang Shuxia, 55, convinced parents to give up their children by claiming that they were born with serious birth defects or illnesses. In one case, Zhang went as far as fabricating the death of an infant in her care so that she could exchange it for cash.
Zhang's crimes came to light last year after telling a new mother that she had passed syphilis and hepatitis B infections on to her newborn son. Zhang pressured her to release the baby to the care of the hospital, but instead brought the healthy boy home and contacted a "middleman" with connections to human traffickers.
The parents filed a report after testing negative for both diseases at a separate clinic. Police later examined hospital surveillance camera footage that showed Zhang leaving with the baby.
For selling seven infants, Zhang earned more than 100,000 yuan ($16,500), while the middleman made more than 200,000 yuan ($33,000). Six were found and reunited with their families, but a sick girl who was sold for less than $200 died. A court-issued statement claims that the child, whose body was never recovered, was thrown into a garbage ditch by traffickers.
Zhang admitted to stealing and selling the newborns last December. Despite her confession and public apology to the victims – as well as a petition signed by former patients that begged for leniency – the Weinan court cited her crimes' "negative impact on [Chinese] society" as deserving of capital punishment.
The South China Morning Post, however, said that the two-year suspended death sentence could be reduced to life imprisonment if Zhang behaves during her initial term.
The case shined a light on China's burgeoning child-trafficking market, a byproduct of China's strict one-child policy. Some families are willing to purchase a male heir – the baby boy who Zhang claimed was infected with syphilis and hepatitis B was sold to a farmer with three daughters for nearly $10,000.
"China does not publish figures on how many children are seized every year but said it rescued 24,000 in the first 10 months of 2013, probably a fraction of total cases," said AFP. "Police have sometimes refused to open inquiries because the low chance of success might hurt their performance record, and have resisted pursuing families who buy the babies."