Review: Untouchable: Children of God
A new documentary exposes the horror that faces many young Nepali girls.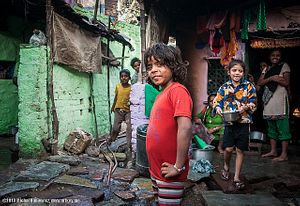 I recently had the opportunity to attend the documentary Untouchable: Children of God, screened by EmancipAsia.
Produced and directed by Grant Knisely, the film sheds light on the abhorrent treatment of young girls in the notorious Red Light districts of India. Many of these girls are drugged, sold and trafficked from neighboring Nepal. The victims are held captive and raped repeatedly for sexual and commercial exploitation. Many die quickly – murdered, perhaps, or by their own hand – while others suffer more slowly from diseases like HIV/AIDS.
Knisely is the driving force behind Code Red Films, an organization whose motto is "take risks to tell the truth." The organization has been investigating and documenting the human trafficking syndicate in India and Nepal for several years.
Untouchable: Children of God begins with the revelations of two thirteen-year-old Nepali girls, who were duped and drugged to be sold into prostitution in India. They are the one per cent of sex slaves who manage to escape or be rescued. The film features rare footage from inside the brothels of India, along with valuable interviews with survivors and those trying to help them.
The team behind the documentary travelled to Kathmandu and Western Nepal to interview survivors and activists residing in villages, along with NGOs. They also went to India to conduct research and document the sex trafficking of lower caste girls.
Who are the untouchables?
There is a strong correlation between the Nepali caste system and trafficking cartels. The untouchable caste is the Badi tribe, who exist at the very bottom rung of the social hierarchy in Nepal. The castes are ostensibly professional divisions that are baked firmly into place by birth. The untouchables were once named Harjians – the Children of God – by Mahatma Gandhi in a conscious effort to break the social curse.
In recent generations, many members of the Badi tribe have turned to prostitution as a means to survive. Hence, the word "Badi" has become synonymous with "prostitute." Even those do not work as prostitutes face discrimination, exploitation, and an unbreakable cycle of poverty.
Knisely's documentary exposes atrocities, but also speaks with grassroots experts in prevention and intervention, as well as in the rehabilitation and reintegration of victims. Roughly 10,000 girls are trafficked from Nepal to India every year, driven over the border through coercion or lured by false promises of work.
Untouchable: Children of God is a painful reminder that slavery is hardly a matter of history; it is a modern-day phenomenon that occurs in almost every country, even the wealthy ones. Sex slavery occurs whenever lives are considered cheap, and any notion of equality fails. Social activist Sunitha Krishan has said that the nature of human trafficking is changing, with a growing demand for child prostitution. The average age of trafficked girls is just thirteen.
While the genuine effort that went into the making of this documentary is certainly admirable, it might have benefited from delving further into the rescue operations and the risks that rescue workers confront. What the documentary does do is give some cause for skepticismBottom of Form about the prospects of the rescued girls and workers. It is reminder, if one was needed, that the red light districts in India are lawless and dangerous, dominated by mafia and gangs.
Roshni Kapur is an independent journalist based in Singapore.