Considering Kashmir: A Radical Possibility
Despite regional concerns, stability in Kashmir remains contingent on local realities.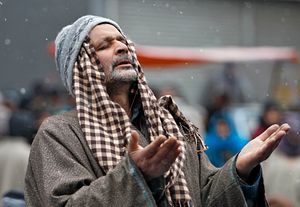 Street-talk is often boorish. Graffiti scrawled across Srinagar's dilapidated buildings, many charred and derelict from 25 years of sporadic insurgency and often brutal repression, is telling. Reading "welcome Taliban," the message provides some evidence to suggest analysts and Indian officials are correct in predicting a troubled year. The extent to which the sentiment resonates is, however, questionable.
Speaking to The Diplomat, Raashid Maqbool, a senior journalist and scholar at Kashmir University explained, "The Taliban is everywhere and nowhere at the same time. It is a concept more than anything." He added, "People that are agitated need a banner, a slogan, an identification. Politics, as much as anything, is symbolic."
Given NATO's pending Afghan "withdrawal," few gestures, however symbolic, could be as provocative.
Statements made earlier this year by Pakistan-based militants have compounded anxieties. Whilst a West Point paper released in May reported that 94 percent of militants in Lashkar-e-Taiba – widely believed to take its orders from Pakistan's Inter-Services Intelligence – consider Kashmir a frontline struggle, claims by a senior Hizb-Ul-Mujahideen fighter that Afghan militants owe Kashmiri's "a debt" have circulated widely.
In an oft-repeated statement made in August, Syed Salahuddin, Chairman of the United Jihad Council, an umbrella organization of more than 13 militant groups, threatened to "flood Kashmir with fighters." Of somewhat less interest has been Salahuddin's subsequent assertion that his group has no physical links with the Taliban, nor does he want the Taliban operating in Kashmir, labeling the discourse an attempt to "malign the Kashmiri struggle."
Despite high-level discussions between Indian Prime Minister Manmohan Singh and his Pakistan counterpart Nawaz Sharif in September, in excess of 200 ceasefire violations in 2013 have ensured that relations between the nuclear-armed countries remain tense.
As talk of a "deadly" Indo-Af-Pak triangle fashioned by the Kashmir conflict provides consolation for ISAF's modest achievements in Afghanistan, reports warning of the threat posed by "thousands of armed, violent, radicalized" militants have gained traction.
Speaking to The Diplomat under house-arrest, Syed Ali Shah Geelani, chairman of the hardline separatist Hurriyat Conference (G) emphasized that, "This dispute is not a territorial dispute between India and Pakistan, this is a dispute of 13 million people. Whether they are Muslims or Hindus or Sikhs or Christians, all the citizens of Jammu and Kashmir have a right to self-determination."
"We are telling the people that we should continue the struggle on the basis of peaceful ways. But India is not taking any notice."
He further warned, "At this juncture we are fighting as far as the Jammu and Kashmir people are concerned, but if anybody is coming to help the suppressed nation, it is also natural."
In a recent statement to Kashmir Dispatch, Asiya Andrabi, leader of the hardline separatist women's movement Dukhtaran-e-Millat (Daughters of Faith) said, "We have to think that our brothers are coming to help us, to liberate us from India."
She clarified, "When Afghan Taliban or al Qaeda comes to Kashmir we should keep in mind that the road-map or agenda should be ours."
Though separatist leaders in Indian-administered Kashmir have fallen shy of advocating a return to arms, there appears little appetite to thwart its onset.
Yasin Malik, chairman of the politically committed Jammu and Kashmir Liberation Front, dismissed talk of the Taliban as "vague."
He told The Diplomat, "When in 2008 millions of people came onto the street the Indian state again used military force to corrupt that non-violent movement. Rather than respect this transition they used military force and the whole international community was watching as mute spectators. They have not broken their criminal silence."
"In Afghanistan the whole world under the command of NATO used military force against the Taliban. Ultimately they realized that the military option is not a solution so they started a negotiating process. The same people who used to bomb the Taliban opened an office for them in Doha and have engaged them in negotiating a settlement."
"So what is the message of the withdrawal from Afghanistan, not only to Kashmir but to all the conflict zones across the globe. Is the message that only violence can deliver?"
Though increased militancy seems plausible, and foreign elements may play a supporting role, the catalyst for any outbreak is almost certain to be local.
Given reports of a new breed of educated, committed militants operating in the valley, recent events at Kashmir University (KU) are ominous.
The December 4 attack on a cafeteria waiter, allegedly committed by Junaid Javid Mir, the president of the Congress-affiliated National Students' Union of India (NSUI), has caused outrage. Though Chief Proctor Naseel Iqbal described it as a "minor scuffle," many see the incident – which left the victim in intensive care – as indicative of a broader institutional policy.
Speaking on condition of anonymity, a representative of the banned Kashmir University Student Union (KUSU), remarked, "These hooligans get every kind of support."
"The cafeteria owner was being told 'no you don't file a First Information Report (FIR) we have pressure we cannot file an FIR'."
He added, "We still don't know if there is only an internal report there or an official FIR. Nobody knows what happened."
Though the cafeteria owner filed a complaint with the police, no formal case was registered.
Despite an official ban on student politics at the university, Mirwaiz Abdullah Farooq, who heads the moderate Hurriyat Conference (M), recently accused authorities of making KU a "hub of mainstream activities," arguing that "Deliberate attempts are being made to muzzle the popular sentiment of Kashmir of which youth and the students are major stakeholders."
The Higher Education Minister, Mohammed Akbar Lone, labeled these allegations baseless and unfortunate, claiming that "there is no political activity going on at Kashmir University."
"Whether they give a space or don't give a space we will still go on with protests, peaceful protests, even though knowing the repercussions," the KUSU representative asserted.
The same representative, when questioned on likely perceptions of the arrival of foreign militants, was effusive: "We will welcome them."
Ongoing human rights violations and official impunity are likewise undermining support for political engagement.
In September, the state government's obstruction of DNA testing of 2,730 corpses, many believed to be victims of extrajudicial execution and enforced disappearances, drew condemnation from international rights groups.
Recent moves to reopen a case investigating the alleged rape of over 30 women by Army personnel in Kupwara's Kunan Poshpora village in February 1991 – currently being contested by the military – will prove telling.
According to a Kashmir University student who requested anonymity, "When a woman has been raped by the Indian Army and she doesn't get justice, there is only one option but for her brother to pick up a gun."
The continued use of the controversial Armed Forces Special Powers Act (AFSPA) – which grants authorities wide-ranging powers in the line of duty, including the use of lethal force with little censure – has come under immense criticism. In a damning statement in May, UN Special Rapporteur Rashida Manjoo said "In testimonies received, it was clear that the interpretation and implementation of this Act, is eroding fundamental rights and freedoms."
"Unfortunately in the interest of state security, peaceful and legitimate protests often elicit a military response, which is resulting in both a culture of fear and of resistance within these societies."
Though People's Democratic Party leader Mehbooba Mufti has committed to removing AFSPA and other 'black laws' if elected in 2014 State Assembly elections, many are skeptical.
Geelani claimed, "They are not against the black laws. They cannot remove the AFSPA. They cannot withdraw the PSA. They are toothless tigers."
With the death of as many as 61 security force personnel in 2013, there remains some official support for the laws, however muted in the pre-election context.
Expressing despair with the political process, veteran political commentator Shah Abbas told The Diplomat, "Governance, destitute management, prisoners, human rights and a pro-people government are surely some of the burning issues for the people. But these are very old issues and have not been addressed by any of the regimes so far."
With both State Assembly and Lok Sabha elections due in 2014, many fear that whilst little will change on a policy level, the elections will be used to validate Delhi's static position on Kashmir.
On April's Lok Sabha elections, Abbas said, "Honestly, at a larger level, there's nothing at stake." He added, "Going by experience, New Delhi in all likelihood will celebrate the elections as a 'victory for democracy in Kashmir'. I don't see any major changes occurring in Kashmir as a result of the elections."
Despite this pessimism, new battlegrounds are emerging for a more sophisticated mode of engagement and resistance.
September's Haqeeqat-e-Kashmir festival, promoted as a counter to the Indian-approved, German-organized Zubin Mehta concert, revised the binary of political engagement and violent struggle.
Organized by Khurram Parvez of the Jammu & Kashmir Coalition of Civil Society, the festival featured a wide array of local artists using both folk and contemporary mediums to express their opposition to Indian rule. Many have called it historic.
Parvez told The Diplomat, "We see this as a huge alternative which will help young people feel that there are alternatives. Violence is not the only way to go about it. Besides of course trying to spread our message, this is also a way of absorbing these young minds who otherwise feel pushed to the wall. These small initiatives make them feel that there is still some space which could be creatively used and which it would be very difficult for the Indian state to close."
Parvez continued, "The culture of resistance has created a space for itself as an organized resistance against the Indian occupation."
The extent to which this space grows, and is permitted to grow, has consequences beyond politics.
As official Indo-Pakistan attempts to foster greater trade in the region move forward, tourism remains vital to local livelihoods. With a record number of visitors in 2012, and the U.K., Germany and Japan lifting negative travel advisories, the economic incentives for stability are compelling.
Abdul, a street-tout who relies on the custom of independent travellers, told The Diplomat, "We need to get more tourists here. Tourism is the backbone of the economy. Who will like to come here if there is violence? Nobody."
As incidents of unrest increased in 2013, due largely to outrage at the hanging of Afzal Guru in Delhi's Tihar jail in February, a corresponding decline in visitor numbers occurred.
Abdul emphasized, "Unless and until a political solution to the Kashmir issue is achieved, there is always the prospect of renewed hostilities."
Though street-talk is indeed, often boorish, crude and menacing, it also contains much that is of use. If this basic fact – that Kashmir requires a political solution that speaks to Kashmiris themselves – is discounted, the prospect of security, both in Kashmir and the region, will remain slim. So too, will the ability of India, Pakistan and the West to contain trans-national militants and the ideologies they espouse.
Michael Vurens van Es is a Kathmandu-based journalist.