India to Procure Israeli Barak-I Missiles
A few defense and security links to round off 2013. Happy New Year!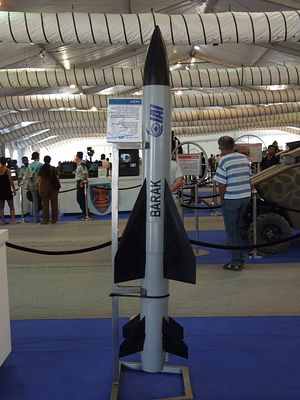 A few defense and security links to round off 2013:
Indian Defense Minister A. K. Antony finally closed on a deal with Israel for the procurement of 262 Israeli Barak-I missiles  The Central Bureau of Investigation in India closed a pending case on the Barak procurement which allowed the Defense Acquisitions Council (DAC) to proceed with the purchase. According to the Indian Defense Ministry, Antony also approved "two other delayed naval projects for 16 anti-submarine warfare (ASW) warships capable of operating in 'shallow waters' … and two diving support vessels meant for rescuing sailors from disabled submarines."
Both the U.S. Department of Defense and the Afghan government have responded to the bleak National Intelligence Estimate report that sees a pessimistic future in Afghanistan, with a Taliban return likely. I covered the content of that report yesterday for The Pulse. The Department of Defense said that the NIE report will not affect postwar plans in Afghanistan; a department spokesman told the press that Afghanistan NIE is "just one input into the … decision-making process"  at the Defense Department. Afghan President Hamid Karzai rejected the NIE report.  A spokesperson for the Afghan government said "We strongly reject that as baseless as they have in the past been proved inaccurate."
The recent bombings in Volgograd, Russia raised fears that terrorists could target the upcoming 2014 Winter Olympic games that will be held in Sochi – not too far from Russia's unstable Chechnya region. While Vladimir Putin vowed to "annihilate" the terrorists and increased security in major urban areas, the United States said it would back Russia both in terms of counterterrorism operations and specifically for Olympics security.
South Korea's F-16 modernization process will move ahead with BAE Systems pegged to lead the charge with upgrades and system integration for over 130 of the aircraft. Additionally, South Korea finalized its purchase of three additional Aegis ships. It intends to accomplish this long-stated objective by 2020.
Russia's Mi-28N Night Hunter combat helicopter officially entered service on New Year's eve under orders from Defense Minister Sergei Shoigu. The helicopter was in use by Russian Armed Forces prior to its official entry into service. The Night Hunter is known for its advanced maneuverability in addition to its reliability as a combat helicopter.
The U.S Navy's unmanned carrier launched airborne surveillance and strike (UCLASS) program is rehashing its original vision in favor of a larger jet of about 70,000 to 80,000 pounds. According to Dave Majumdar, "the Navy hopes to use the UCLASS as an aerial refueling tanker to extend the range of the tactical fighter fleet—particularly the Lockheed Martin F-35C Joint Strike Fighter." The UCLASS could also fly with manned fighters as a wingman, aiding in combat operations.
Kevin Baron, writing for DefenseOne, attempts to situate the relocation of Futenma air base in Okinawa within the broader framework of the U.S. pivot to Asia. He writes that the difficulty of attaining the relocation permit "should be a poster child for just how difficult the U.S. vision for Pacific security has been to craft, much less achieve."
A very Happy New Year to our loyal Flashpoints readers across the world.