Lawyers, Activists Condemn Xu Zhiyong's Trial
The trial of Xu Zhiyong highlights the limits of rule of law and the anti-corruption campaign in China.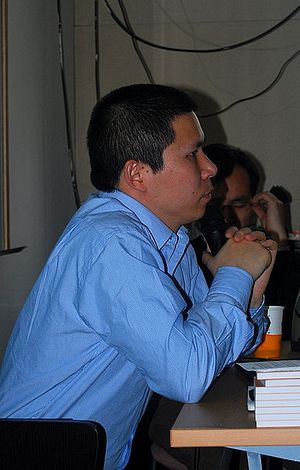 "We don't want to take part in a piece of theater, we are not actors, we can't act," Xu Zhiyong's lawyer,  Zhang Qingfang, told Agence France-Presse following Xu's trial on Wednesday. Xu remained silent throughout the trial, but attempted at the close of proceedings to read a statement entitled, "For Freedom, Justice, and Love." After only a short time, he was interrupted and prevented from reading out the statement. With that, his trial closed; prosecutors are demanding heavy punishment, a sentence that could lead to five years.
Xu is the most visible member of the New Citizens Movement in China, a wholly peaceful movement that has suffered dozens of arrests over the past 10 months. The trial of Xu is suspect due to procedural matters, not the least of which was the judicial officials telling defense lawyers that they will not be allowed to cross-examine prosecution witnesses. Defense lawyers were also prevented from calling more than two witnesses (of five, all under "police guard"). For this reason, Xu refused to speak in his own defense as a matter of protest. Moreover, the other members of the New Citizens Movement are not being held on trial together, meaning that they are incapable of corroborating each others' testimony.
When asked if she considered the charge of "gathering crowds to disrupt public order" a legitimate accusation, Roseanne Rife, East Asia Director for Amnesty International, told The Diplomat: "No we don't. We are calling for the immediate and unconditional release of Xu Zhiyong. We think this is clearly just an attempt to silence them, and again, it seems completely farcical if it's something the government wants to accomplish themselves."
Regarding those trials yet to come, expectations are not high. Rife says, "We've actually seen a number of people over several months last year that were connected to the New Citizens Movement brought to court. We're waiting for some of the results of those trials. The activists themselves don't expect their trials to be fair … The media has been cut out so the chances of this being an open and fair trial are very slim."
As to the media blackout, the trial scene was not a good place to be a reporter. Ed Flanagan of NBC News says there was a three-block cordon of the area; David McKenzie of CNN claims he was "manhandled, detained" and tweeted a photo of his busted camera; and the BBC reported that Martin Patience was "bundled by thugs and cops while broadcasting live." BBC World went "to black" as censors cut transmission before a report on the case aired, according to Mark Stone of Sky News. Many other protestors and activists were detained in police stations and detention centers around the city. Reporters weren't the only ones under suspicion; Raphael Droszewski, a first secretary of the European Union diplomatic delegation to China, claims 17 diplomats were denied access to the court: "They said that Xu Zhiyong is not a foreigner, so there was no reason for us to be there." He also commented, "The EU is deeply concerned about these cases — the Xu Zhiyong case, and the ones that will happen later this week."
From Xu Zhiyong's arrest to yesterday's trial, events surrounding the charges leveled against Xu have lapsed into farce. Under house arrest since April 12th 2013, he was detained by the Public Transportation Safety Protection Branch in mid-July on the current charge of "gathering crowds to disrupt public order," with his phone, computers and other items confiscated immediately. Xu then called on the government to release all citizens who were arrested for advocating for asset disclosure. Ironically, in December, the government enacted legislation on asset disclosure for new officials. However, not only did the authorities not release those who were already in prison for their advocacy, but even more faced trial and arrests continue unabated.
Xu's lawyers claim the trial has been wholly unfair. The charges are widely considered ludicrous and the trial and arrest seem to cast laughable scorn on China's already ailing anti-corruption efforts. All of this contributed to the media firestorm that surrounds Xu Zhiyong's trial.
Sadly, the state media has not let this incident pass without comment, insisting that any and all controversy stemming from the arrest and trial of Xu Zhiyong is nothing more than the West interfering in China's judicial process. On Thursday, the Global Times ran an editorial blaming the West for any controversy: "Respecting China's rule of law is the basic principle for the West to have dealings with China. Trying to intervene or even threaten China by 'tarnishing its international image' is old news. China won't overreact to this special attention from the West."
The state-run paper also did everything it could to discredit the cause of the New Citizens Movement, stating that it is "not widely known to the Chinese public … Its influence can mainly be felt in academia and some groups of activists." The editorial went onto state: "By painting themselves as 'democracy fighters,' they want to step out of the jurisdiction of the law. Any charges against their violations will be interpreted as 'oppression' of democracy."
One of the strangest blows at this trial was actually struck at the central government. Though supposedly dedicated to anti-corruption efforts, Beijing must rely on activism and grassroots movements to overcome its own censorship and state run press. Rife commented, "I think it makes the central government a bit hypocritical. If they're saying that that's their goal, and then you have a bunch of activists, legal scholars, people pushing for the same judicial reform, and you charge them and take them to court, then it's contrary to your stated goal."
This asset disclosure controversy is particularly important considering the recent allegations that China's nominally socialist leaders' families are hoarding cash in the British Virgin Islands.
The CCP seems to share the view that foreigners, despite also being human, can't comment on China's human rights situation. The government regards foreign media coverage as little more than Western interference. Secretary of State John Kerry commented on both Liu Xiaobo and Xu Zhiyong in December of 2013, which earned him a response from Foreign Ministry spokesman Hong Lei: "I want to reiterate that only the 1.3 billion Chinese people are qualified to speak on China's human rights situation."
Others think international organizations belong in the arena of China's human rights debate. "The goals we've seen in these reforms — the push for open courts, independent judicial proceedings — I think it's fair game for organizations like mine … to ask the questions about the trials and questions about why we can't observe," Rife states.
This overly-aggressive response to Xu Zhiyong — as well as the obligatory Western boogeyman scapegoating — serves only to strengthen the New Citizens Movement, as Teng Biao, a close friend of Xu, told The Guardian: "From the perspective of keeping stability, officials felt threatened — so they overreacted. They used severe tactics."
Described as a soft spoken man and "too moderate" by other activists, Xu, a respected human rights attorney and activist, is being painted as the ringleader who led others to disrupt public order. Months of advocacy from human rights organizations and political powers seemed all for naught at the close of proceedings on Wednesday. And, while the photos of protestors at the trial being dragged from the streets and reporters harangued and harassed by plainclothes police may have helped the overall cause, it does little to help Xu Zhiyong or the others who will face trial for the same offense this week.