Robert Gates: Pakistan 'Really No Ally At All'
Robert Gates doesn't trust Pakistan and neither should the United States.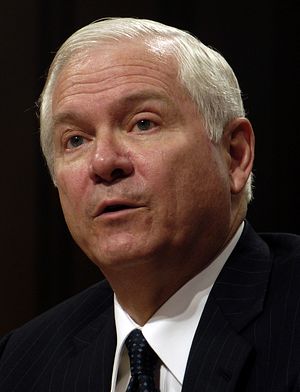 Former U.S. Secretary of Defense Robert Gates has been making splashes in the media ahead of the release of his memoir of his time in office, Duty: Memoirs of a Secretary at War. While much attention has been drawn to Gates' critiques of the Obama administration, including the president's leadership style, relatively little attention has been given – at least in the U.S. press – to Gates' thoughts on the ever-troubling U.S.-Pakistan alliance. Gates reveals that in the final years of his tenure, he was convinced of Pakistan's pursuit of objectives that were directly contrary to U.S. interests, including supporting the Afghan Taliban, the Haqqani network, and anti-India terror groups.
In Duty, Gates writes: "Although I would defend them in front of Congress and to the press to keep the relationship from getting worse – and endangering our supply line from Karachi – I knew they were really no ally at all." Gates qualifies his beliefs about Pakistan's intentions by referring to a January 2010 visit to the country, when he interacted with President Asif Ali Zardari, Prime Minister Yousuf Raza Gilani, and Chief of Army Staff Ashfaq Parvez Kayani – men who are no longer in power in Pakistani politics. Gates, however, remained silent about his reservations on Pakistan during his tenure as Secretary of Defense– always appearing to support the alliance.
Gates describes how his thinking changed even earlier – in March 2009 – when President Obama "held a series of meetings" to discuss a report on the Af-Pak situation, authored by former CIA analyst and South Asian expert, Bruce Riedel. Gates writes that the report "recommended disrupting the terrorist networks in Afghanistan and especially Pakistan, promoting a more effective government in Afghanistan, developing the Afghan security forces, ending Pakistan's support for terrorist and insurgent groups, enhancing civilian control in Pakistan, and using US diplomatic, military, and intelligence channels to reduce enmity and distrust between Pakistan and India. It was breathtaking in its ambition."
In 2011, former Chairman of the Joint Chiefs of Staff, Admiral Michael Mullen, accused Pakistan's Inter-Services Intelligence agency (ISI) of supporting Haqqani network insurgents in planning an attack against the U.S. Embassy in Kabul, Afghanistan. While Gates remained silent then, he now writes that he "doubted we could persuade the Pakistanis to change their 'calculus' and go after the Afghan and other extremists on their side of the border. … Their continuing toleration of the Afghan Taliban, including harboring their leaders in Quetta was a hedging strategy based on their lack of trust in us, given [the] unwillingness to stay engaged in Afghanistan in the early 1990s."
The Osama bin Laden raid, an area where the former secretary praises President Obama's leadership, had huge implications for the U.S.-Pakistan relationship, according to Gates. Gates notes that his distrust of Pakistan colored his decision-making ahead of the raid, which took place in May 2011, just two months before Gates ended his tenure at the Pentagon. Gates writes that he was "worried that Pakistani Inter-Services Intelligence was aware of where Bin Laden was and that there might be rings of security around the compound that we knew nothing about or, at minimum, that ISI might have more eyes on the compound than we could know."
Most interestingly, Gates reveals that there were plans in a worst-case scenario – where the Pakistani military managed to intercept SEAL Team 6 – to have the elite commandos do "whatever was necessary to escape." There was no consensus on this tactical choice. Gates writes that should the Pakistan military detect them, the team was supposed to wait inside the compound and not shoot at any Pakistanis. Gates says that he then "asked what they would do if the Pakistanis breached the walls: 'Do you shoot or surrender?' Our team couldn't surrender, I said." He adds that "After considerable discussion, there was broad agreement to this, and as a result, additional MH-47 helicopters and forces were assigned to the mission."
Even against the controversy emanating from Gates' memoirs and charges of partisanship against the former secretary, the Obama administration should heed his words. Current Pentagon chief Chuck Hagel hasn't had the easiest of times dealing with Islamabad, even though all the key political and military actors in that country have retired or been removed from power since Gates' time. All in all, Gates' experience with Pakistan and the trajectory of U.S.-Pakistan political-military relations since then suggests that Pakistan is an incompatible ally for the United States on a grand strategic level.
Gates' memoir adds another powerful voice to a growing chorus of analysts and experts with intimate experience in the development of the U.S.-Pakistan relationship, including Bruce Riedel, Daniel S. Markey, and Husain Haqqani, who now express great skepticism about the value of the alliance for the United States. It's only a pity that Gates didn't offer his sage advice during his time in office.