Shinzo Abe At World Economic Forum: 'Restrain Military Expansion In Asia'
Shinzo Abe's speech to the World Economic Forum reveals his thinking on the Senkaku-Diaoyu dispute.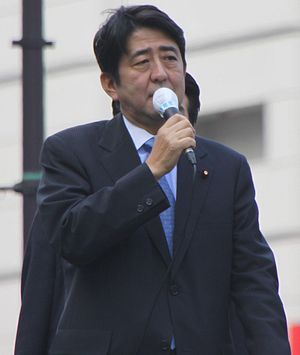 At his address at the World Economic Forum Annual Meeting 2014 in Davos, Japanese Prime Minister Shinzo Abe openly acknowledged the possibility of the situation in the northeast Asia descending into conflict in the future due to miscalculations. Although Abe did not name China, his comments alluded indirectly to the tensions in the East China Sea, and specifically the Senkaku/Diaoyu islands. Additionally, speaking to Gideon Rachman of The Financial Times, Abe compared the current situation between Japan and China to that of Germany and the U.K. prior to the first World War. Diplomat readers can listen to Abe's complete remarks at Davos here.
Abe's comments about peace in Asia came at the end of a speech on Abenomics' promise for Japan and the region. After describing his economic vision for Japan and the challenges ahead, Abe moved his speech onto strategic issues:
The dividends of growth in Asia must not be wasted on military expansion. We must use it to invest in innovation and human capital which will further boost growth in the region. Trust not tension is crucial for peace and prosperity for Asia and the rest of the world. This can be only be achieved through dialogue under the rule of law and not through force or coercion.
Abe continued his speech with an appeal for peace in Asia, although it's safe to say that the following appeal is intended almost entirely for China. Every proposal he puts forth is directed at China and could be used to diffuse the tension currently surrounding the East China Sea island dispute:
I would like to make an appeal to Asia and the world: we must, ladies and gentlemen, restrain military expansion in Asia which could otherwise go unchecked. Military budgets should be made completely transparent and there should be public disclosure in a form that can be verified. We should create a mechanism for crisis management as well as a communication channel between our armed forces. We must lay down rules that promote actions based on the international law of the sea, only then, I believe, can we achieve growth and prosperity in Asia, where all of us can realize our great potential.
Overall, Abe framed his concerns as one based around the preservation of "public goods" which could be safeguarded with respect for the "rule of law." Abe explicitly referred to the UN Convention on the Law of the Sea, indicating that he might be ready to use this as a basis for conversation with China about the final status of the disputed islands. China would likely not be receptive to any such overture, preferring instead to handle the matter on a bilateral basis based on earlier understandings between Chinese and Japanese leaders, going further back in history. This might be difficult considering that China has said, following Abe's visit to the Yasukuni shrine, that it would not speak with Abe. Additionally, no high-level diplomatic contact of any significance has occurred between China and Japan in more than 15 months.
Abe's speech at Davos is essentially an appeal to the international community to side with Japan's approach to resolving the dispute. Abe notes that "If peace and stability were shaken in Asia, the knock-on effect for the entire world would be enormous."
While Abe's opening speech was a carefully calculated appeal to the international community, it appears that his comments to the FT's Gideon Rachman were less planned and referred directly to China. Abe troublingly compared China and Japan to the United Kingdom and Germany just before the onset of the first World War. The comparison is, of course, dubious given the differences between contemporary northeast Asian alliance networks and those of early-20th century Europe, and the fact that Europe wasn't balanced by a nuclear hegemon. On the other hand, Abe's remarks seem to rebuff the misguided notion that conflict would be impossible given the vast economic stakes between China and Japan. Above all, what is troubling is what the analogy might tell us about Abe's perception of the situation–that conflict may be inevitable.