China Offers To Finance 30 Percent Of Indian Infrastructure Spending Through 2017
The offer would see $300 billion of Chinese funding flow into India through 2017.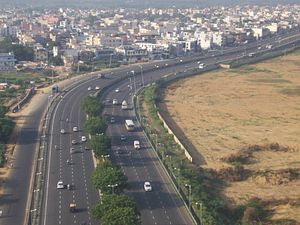 According to a report in India's Economic Times, China has offered to finance a large portion of India's infrastructure development via loans. A Chinese working group has reportedly submitted a five-year trade and economic cooperation plan to the Indian government that offers $300 billion of India's $1 trillion targeted infrastructure investment during its 12 Five-Year Plan from 2012 – 2017. The investment would amount to 30 percent of India's planned infrastructure spending through 2017. For comparison, China contributed a mere 0.15 percent of India's total FDI inflows between April 2000 and December 2013. India has in the past refused Chinese investment in critical infrastructure, particularly telecom and power, over national security concerns.
The investment offer from China, if accepted, would be the largest single foreign investment India has received on infrastructure projects, far exceeding the funds contributed by Japan–a country with which India shares far fewer disputes. One government official told the Economic Times that India's commerce department will hold an inter-ministerial meeting to discuss the investment proposal. Officials will surely be interested in deducing Chinese motivations for such a large offer for investment.
The Chinese working group's roadmap highlights key sectors in Indian infrastructure including railways, roads, telecom, nuclear and solar power, and several others. "China has expressed a strong desire to invest in India's infrastructure sector," one anonymous official said, according to the Economic Times. "However, it needs to be assessed how to leverage that. We need to identify sectors from where we can gain, such as software or IT, pharma, among others."
The report notes that China is particularly interested in railways, "in particular electrification, high-speed trains, wagons, last-mile connectivity and gauge conversion." Additionally, the working group identified sewage treatment and tunnel-building as potential areas where its expertise could be beneficial.
While India's federal government remains anxious over accepting generous offers for Chinese financing, state governments appears less inhibited. One report in the International Business Times notes that state governments are reducing regulatory barriers for investment inflows from China and elsewhere. Beyond investment, India-China trade ties stand at a total present volume of around $60 billion with a target of $100 in bilateral trade by 2015. The trade balance is tilted in China's favor.
The inter-ministry meeting will have to weigh the benefits of accepting the generous financing offer against India's ongoing disputes with China, particularly over Kashmir and Arunachal Pradesh. The notion of accepting Chinese investment could additionally cause national identity issues in India  as well. Generally, Indian leaders have pitched India as a rising power on the caliber of China. China for its part makes its largest investments in infrastructure in poor, developing countries. For India, accepting Chinese financing could cause a perception problem. Given the current UPA government's electoral concerns, this could play a factor in determining the fate of the financing offer.