Engaging Myanmar's Navy
While the critics watch ties with the country's army, foreign navies are stepping up their maritime engagement.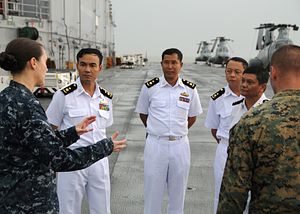 For the past year and a half Myanmar's ports have been busy, and not just with aging fishing boats delivering the day's catch or overcrowded ferries taking passengers across the Yangon River. The port is welcoming an increasingly wide range of international naval vessels – an indicator perhaps that military engagement on the water is a less critically viewed means of reaching out to the Myanmar armed forces.
The most recent of these foreign visits took place on January 20 when Australia's HMAS Childers became the first warship from that country to visit Myanmar since the HMAS Quiberon in 1959, according to the Australian government.
While its 27 crew members took part in sporting competitions and enjoyed reciprocal visits with their Myanmar counterparts, Royal Australian Navy Captain Jon Dudley was named Australia's resident defense attaché to Myanmar, a position that had remained vacant since 1979. The appointment underscores the role that Canberra believes the navy will play in its military engagement with Myanmar.
The Australian vessel was only the latest arrival in a string of ships that have docked in Myanmar. In mid-November, Russia marked the 65th anniversary of the establishment of diplomatic relations with Myanmar by bringing three ships from its Pacific Fleet to Yangon.
In late September, three Japanese Maritime Self-Defense Force (MSDF) vessels – two training ships and one destroyer – docked at Thilawa Port, the site of a major Japanese-backed special economic zone currently under construction south of Yangon. The visit was a first for MSDF vessels.
The foreign interest in Myanmar's navy (Tatmadaw Yay) is hardly surprising given its strategic maritime position in the Indian Ocean. Myanmar has its own desire to modernize and update its maritime security forces as its lucrative oil and gas reserves in the Bay of Bengal are set for major exploration.
These visits were meanwhile coinciding with initial steps being taken by the U.S. and U.K. towards reengagement with the Myanmar military. Looking to broaden their Myanmar cooperation, the U.K. and U.S. have offered Myanmar military officials classroom-based courses focused on the proper functioning of a military in a democracy.
But even the academic spin, classroom settings and multiple reassurances from government officials that current engagement will not enhance the army's tactical abilities have not quelled the vocal criticisms from influential Myanmar watch groups and politicians.
In contrast, scrutiny of naval engagement has been substantially less rigorous. Interactions with Myanmar's navy have largely skirted any of the backlash that has been aimed at its land-based counterpart.
This is certainly not due to lack of visibility. Ship arrivals are often actively promoted to the press by embassies. They take place in a very open environment. Sailors pose for photo-ops on the deck and flag-waving onlookers stand at the dock's edge, creating an almost festive atmosphere. While there is no doubt that the high-level meetings are happening behind closed doors, the openness of these arrivals has proven beneficial in generating positive publicity.
The U.S. and U.K. training, on the other hand, have taken place in closed confines of Naypyidaw, largely closed to the media and certainly off limits to the public. This approach has done little to dissuade the rumors and speculation that surround the every move of the opaque Myanmar military, nor has the setting helped build public confidence in Myanmar that the military is on the path to reform.
Though its record is certainly not unblemished, Myanmar's navy benefits from a better reputation, due in part to a degree of greater international exposure during the country's time of relative isolation. Allegations of widespread sexual violence continue to dog the army, only adding to its already dismal human rights record.
Additionally, continued fighting in Kachin and Shan State pose a significant issue for international stakeholders, which are engaging with the military but at the same time working towards a ceasefire with armed ethnic groups. The navy, though part of the larger armed forces, itself is not actively involved in a conflict.
Countries looking to engage with Myanmar's military appear to have found a more palatable route in the form of the navy. Given the seemingly low risk and lack of negative media attention that comes with navy-to-navy engagement, the ports in Yangon look set to continue to see an increase and diversification of naval traffic in the coming year.
Tim McLaughlin is a Senior Reporter for the Myanmar Times in Yangon covering Myanmar international relations and politics. His writing on Myanmar has been published in the Democratic Voice of Burma, Southeast Asian Globe Magazine, Huffington Post and Phnom Penh Post.