Hong Kong Brothers Plead Not Guilty to Transformers 4 Extortion Attempt, Assault
The two men stormed the film set last October, demanding money and attacking director Michael Bay.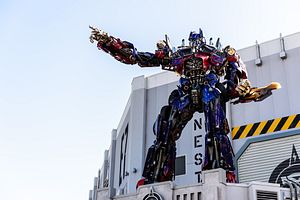 Two brothers, charged with trying to extort nearly $13,000 from Hollywood director Michael Bay on the set of Transformers 4, went on trial yesterday in Hong Kong. Both have pleaded not guilty to charges of blackmail and assaulting a police officer in a bizarre October incident that Bay likened to a "zombie" attack.
According to Paramount Pictures, the studio behind the blockbuster Transformers series, Mak Chi-shing (27) and Mak Chi-hang (28) initially attempted to extort a location manager who was interested in filming near their Quarry Bay shop, Hang Far Air Conditioner and Water Electrical Co. The manager, Cheung Ngo-yeung, offered $100 as compensation, but one of the brothers demanded $130. After Cheung agreed on the increased fee, the other brother insisted that it be doubled to $260 – which was refused.
According to The South China Morning Post, the brothers then told Cheung, "You will not be able to shoot if someone asks you for protection fees tomorrow. Let's see if you will be blackmailed."
On the following morning, the Transformers crew was welcomed to the filming spot by blaring music coming from the brothers' shop. When Cheung attempted to re-negotiate the compensation offer, Mak Chi-shing demanded HK$100,000 ($12,900) – which was flatly denied.
"The elder brother then uttered abusive words to Cheung [and] also said they would gather other 'brothers' to 'do something.' The two then made noises by hitting objects… then moved bricks out of the shop to obstruct the crew from filming," added the Post.
Police arrived on the scene just as Mak Chi-hang stormed on to the set, swinging an air conditioning unit at Bay's head.
"I ducked, threw the air [conditioner] unit on the floor and pushed him away," Bay told AFP. "That's when the security jumped on him. But it took seven big guys to subdue him. It was like a zombie in Brad Pitt's movie 'World War Z' – he lifted seven guys up and tried to bite them."
Bay, who wasn't harmed in the attack, released a statement on his website claiming that, "Every vendor where we shot got paid a fair price for our inconvenience."
Just a week after the first extortion attempt, a separate crew member was "intimidated" by a group of four men demanding money. Local media reported that the men were involved with China's organized crime syndicate, known as the Triad. One of the men was arrested but the others remain at large.
The president of the Hong Kong Directors Guild said that both incidents were "ridiculous" and "more unusual than getting a jackpot." He said that the international popularity of the Transformers franchise likely played a part. The most recent Transformers movie grossed $165 million in China.
Bay, who is best-known for directing Bad Boys, is likely to avoid Hong Kong for future films.
"Hong Kong was very hard," he said. "I've had difficult locations in my life, but shooting in the market with so many people watching… it made it very challenging."
Transformers 4, also known as Transformers: Age of Extinction, will star Mark Wahlberg and is scheduled for a U.S. release in June.