Blizzard and Mei: Makings of Online Protest
The Overwatch character Mei is taking center stage as online support for the Hong Kong protests overflows.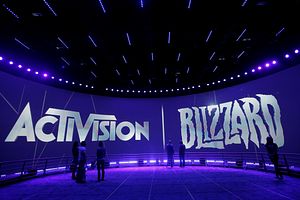 Sparked by an esports tournament and an outspoken victor, an unlikely series of events have brought online support to the Hong Kong protests with more fervor than ever. On October 8, professional gamer Chung "Blitzchung" Ng Wai won the Hearthstone "Grandmasters" competition in Taipei. In his post-win interview with two commentators, Chung sported a mask and exclaimed in Mandarin, "Liberate Hong Kong, revolution of our age!"
The interview was broadcast via Twitch, a live streaming platform where users can watch live gamers compete, was cut off midstream. Hearthstone then issued a statement revoking Chung's victory and monetary winnings. He was also banned from esports for one year, citing a rule violation that Chung had "[brought himself] into public disrepute, offend[ed] a portion or group of the public, or otherwise damage[d] Blizzard image." The two commentators were also fired and will not be allowed to work with Blizzard in the future.
As a result, Activision Blizzard, the parent company of Hearthstone and other extremely popular global games such as World of Warcraft, has been widely criticized as supporting censorship within the United States and abroad. A large reason for Activision's strong response may lie in its relationship with Chinese investors, with Chinese company Tencent owning 5 percent, or $2.5 billion, of Activision's stakes. Users have also criticized Blizzard's actions as hypocritical considering its own attempts to promote an inclusive atmosphere, including being more accepting of the LGBTQ+ community, limiting toxic behavior, and addressing racial abuse and slurs. Each of these violations results in considerably less severe penalties than Chung's punishment.
Gamers, however, are responding in mass. Streaming viewership of Hearthstone on platforms like Twitch has taken a hit, and many gamers are deactivating their Blizzard memberships. Most recently, users took to Reddit — a global forum known for its threads of conversation, or "subreddits" — to protest Activision and use its own products against the company. The r/Blizzard subreddit is now dominated by pro-Hong Kong and anti-Blizzard content, including a photoshop of the Blizzard logo onto the Chinese national flag. Most prominently featured is a videogame character named Zhou Mei-Ling (周美灵), or Mei.
Mei is an explicitly Chinese character in Overwatch, another one of Activision's successful games. Mei appears Chinese and is bilingual in English and Mandarin; she even has Mandarin quotes in the English-only version of Overwatch. As one of the original and the first Chinese character of the game's now 31 "Heroes," Mei's backstory explains her occupation as a climatologist with goals to protect the Earth's ecosystems. Although Mei's character profile remains limited in terms of political revolutions and her abilities do not specifically lend themselves to protests, users have transformed Mei from a simple Overwatch character to a symbol of the Hong Kong demonstrations. Mei's appearance has been edited to include a face mask similar to the protestors, giving her an umbrella, adding quotes that she "stands with the revolution," accessorising her snowsuit to mirror the Hong Kong flag, and even covering her eye to reference recent acts of police aggression. Beyond Reddit, Mei has now been used as part of the #BoycottBlizzard hashtag on Twitter.
The spread of Mei as a symbol, however, is limited. Chinese users cannot access Reddit or Twitter without the use of a Virtual Private Network (VPN) that jumps the Great Firewall. Some users have found Reddit to be intermittently blocked based on location, even with the use of a VPN. Reddit's role in this is notable considering Tencent, the same investor in Activision, recently invested $150 million in Reddit. Reddit has recently deleted posts supporting the Hong Kong demonstrations, but the connection to Tencent's investment remains unclear. As long as users on both platforms can continue to post, the media will continue to pick up and broadcast Mei's image beyond the confines of subreddits and Tweets. While censorship could temporarily halt support, the online community has so far demonstrated its ability to unite in order to creatively evade and overcome these obstacles. 
While Overwatch's Mei now stands as a symbol of the protests in Hong Kong, she is also the heart of the movement that seeks to push China to ban Activision products from the country completely. With reportedly over 400 million egamers in China, esports constitute a vivid part of daily life. If Mei comes to widely symbolize revolution, freedom, and democracy, China's censors may have no choice but to remove the game entirely to maintain control over the messages reaching its population. By hijacking Mei as a Chinese Overwatch "Hero," users — both in Hong Kong and abroad — have made a fictional character a tangible part of the movement.