India's Indigenous Nuclear Submarine, Agni-V ICBM Set To Launch In 2015
India's DRDO confirmed that its new SSBN and ICBMs are on schedule for 2015.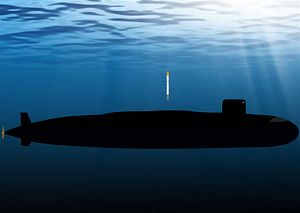 Last Friday, India's Defense Research and Development Organization (DRDO) said that that India's first indigenously developed nuclear submarine, the INS Arihant, and the 5,000 km-range Agni-5 ballistic missile will be operational and ready for use in the armed forces in 2015. DRDO chief Avinash Chander confirmed that he was confident that the submarine and the missile would both be ready by next year at India's biennial defense exposition Defexpo.
The Arihant is a 6,000 ton nuclear-power ballistic missile submarine and is the first of five planned ships in its class. It is powered by an 83 MW pressurized light-water reactor, which operates with enriched uranium fuel. Arihant's inclusion in the Indian Navy will solidify India's bid to field a credible nuclear triad. The Arihant will be equipped with the12 nuclear-tipped variants of the K-15 underwater ballistic missile, which was tested in January 2013. The K-15 (also known as the BO-5) has a range of around 750 km.
The Agni-V is a three-stage, solid fuel intercontinental ballistic missile (ICBM) with a range of 5,500-5,800 km. According to Livemint, the Agni-V is the most advanced iteration of the Agni series of ICBMs with "new technologies incorporated with it in terms of navigation and guidance, warhead and engine."
The Agni-V has already been test-fired from mobile launchers successfully. Earlier reports from 2013 indicated that India is reconfiguring the Agni-V to carry Multiple Independently Targetable Re-entry Vehicles (MIRVs), essentially allowing it to carry multiple nuclear warheads. The Times of India notes that the Agni-V "brings the whole of China within its strike envelope."
The INS Arihant was delayed going into its sea trials after its reactor went critical last August. "The submarine is undergoing the power-raising (in the miniature nuclear reactor) phase, which I am sure will be completed in a month or two. Thereafter, it will go for sea trials. The K-15 missiles (nuclear-tipped with a 750 km strike range) are fully ready and will be tested from the submarine this year," Chander confirmed.
He added that ""All weapons are ready. INS Arihant is going through the steps of induction, and we are slowly raising the power to 100 percent. After that, it will be ready to go to the sea. The process is a fairly elaborate exercise which will take several months. Once Arihant is in the sea, there has to be a trial phase of six to eight months."
The Agni-V and the INS Arihant have been some of the highest profile and most anticipated projects out of India's DRDO, which has traditionally faced bureaucratic slowdowns and delays in delivering projects on schedule. DRDO fields over 50 labs across the country with 532 research and development projects spread between them. Chander argues that 2013 was a year of "internal transformation" for the DRDO and it should be able to deliver these highly anticipated systems fully tested and operational on schedule in 2015.