Japan Seeks Chinese Compensation Over 2010 Boat Collision Incident
Japan's government is suing the Chinese fishing boat captain involved in a 2010 collision with Japan's Coast Guard.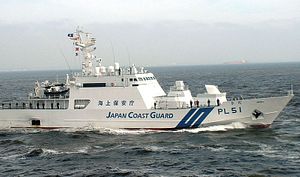 Once again, history is rearing its head in the ongoing feud between China and Japan. This time, though, the focus is on recent history, not the legacy of World War II. Japan has officially filed a damages suit against a Chinese fishing boat captain who allegedly rammed two Japanese Coast Guard ships in 2010.
The incident, which occurred September 7, 2010, sparked a bitter diplomatic spat between China and Japan. Japanese Coast Guard vessels confronted a Chinese fishing boat in the waters near the disputed Diaoyu/Senkaku Islands. The confrontation led to a collision, with Japanese officials accusing captain Zhan Qixiong of purposefully ramming two Japanese ships. Zhan was arrested and held for nearly two weeks.
Zhan himself remained adamant that he had done nothing wrong. "The Diaoyutai Islands are a part of China. I went there to fish. That's legal," he said upon his return to China. "Those people grabbed me – that was illegal." China's government shared Zhan's stance, and demanded his immediate release. Beijing considers Japan's Coast Guard patrols to be illegal, since China claims the disputed islands and surrounding waters as its territory.
Zhan's arrest led to economic retaliation from Beijing, as China cut off its exports of rare earth metals to Japan. Eventually, Japan decided to release Zhan without pressing charges, sparking criticism of then-Prime Minister Naoto Kan for 'giving in' to Chinese demands. Kan had said that releasing Zhan was supposed to promote "mutually beneficial" relations with China. However, Kan did refuse to issue the formal apology or provide the compensation that China had demanded.
Now, three years (and two prime ministers) later, Japan is revisiting the issue. According to the Japan Times, Japan decided to take legal action on Wednesday, one week before the legal right to claim damages would have expired. The government has filed a suit with the Naga District Court in Okinawa seeking ¥14.29 million ($140,000) to pay for repairs to the damaged Japanese vessels. Japanese officials said that they have requested compensation from Zhan 11 times in the past two years, but have received no response.
China fired back at Japan in Tuesday's regular Foreign Ministry press conference. Spokesperson Hua Chunying told reporters that the 2010 collision "was a severe incident when the Japanese side grossly infringed upon China's territorial sovereignty and damaged Chinese fishermen's legitimate rights and interests." Hua also reiterated Beijing's position that "any judicial measures adopted by the Japanese side against Chinese fishermen and fishing boats, including detention and investigation are illegal and invalid."
It's an interesting move by Japan to reopen old wounds at a time when there are plenty of fresh ones to worry about. The court case has only symbolic value, as it's extremely unlikely Zhan will ever pay a cent in damages. The popular interpretation of the 2010 incident was that Japan crumpled under political and economic pressure from China. As Hiroshi Nakanishi, an international relations professor at Kyoto University, told the New York Times back in 2010, the incident raises "questions about why Japan pushed the issue in the first place, if it couldn't follow through with meeting China's challenges."
By revisiting the case, Japan's government may be trying to do exactly what China loves to accuse it of doing — "rewriting history." In 2010, China 'won' the confrontation when Japan returned Zhan without pressing charges. Now, Japan is reopening the issue by pursuing damages in a court case. The decision to sue for damages over the 2010 incident seems to be largely a piece of political theater designed to increase domestic support, similar to Prime Minister Shinzo Abe's visit to the controversial Yasukuin Shrine. By showing himself 'tough on China' (and also provoking China into increasingly belligerent responses), Abe can solidify support within his base. It also provides an easy way to differentiate himself from previous prime ministers, including Kan, who placed a higher premium on cordial ties with Beijing. By visiting the Yasukuni Shrine last December, Abe has already proven that he is willing to face China's wrath. With this new court case, the implied message is clear: in 2010, Japan backed down; in 2014, it won't.