Singapore Diplomat Jailed for Inflating Tarts
The city-state makes good on its promise to root out government corruption.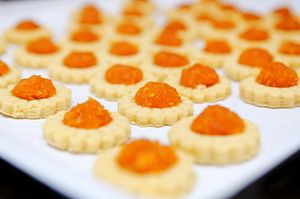 Singapore has long been ahead of its neighbors within the Association of Southeast Asian Nations (ASEAN) on several fronts. Finance, technology and standards of living have been first world since the late 1990s and the island-state has profited handsomely as a result.
But perhaps its greatest achievement was in curtailing and prosecuting corruption. This was rammed home this week when a diplomat was jailed for 15 months after pleading guilty in court to inflating the costs of pineapple tarts and alcohol acquired as gifts for foreign dignitaries.
Lim Cheng Hoe, 61, the former head of protocol at the Ministry of Foreign Affairs, pleaded guilty to 10 charges of submitting falsified claims. It was alleged he bought gifts for foreign officials during overseas visits worth more than $70,000.
In another case, an assistant director at the Corrupt Practices Investigation Bureau, Edwin Yeo Seow Hiong, was jailed for 10 years after pleading guilty to misappropriating $1.4 million worth of government funds.
This came after Peter Lim – former head of the civil defense force – was jailed for six months for receiving oral sex from a female executive of a defence supplier in return for favors.
Their arrests and subsequent jailing followed a tightening of rules and a get tough stance by the Singapore government designed to deter graft.
"This case has caused public disquiet as it involved a high-ranking public officer who deceitfully obtained public funds by virtue of his position and the trust reposed in him," Judge Eddy Tham said while sentencing Lim.
Lim claimed for more than 10,000 boxes of pineapple tarts but only 2,200 were used as gifts. He also asked vendors for blank receipts and claimed for 248 bottles of wine but only bought 89.
No country can escape corruption, particularly in Southeast Asia where most members of the 10-nation ASEAN bloc perform poorly on the Transparency International (TI) perceptions of corruption index and usually take a dim view of journalists and whistleblowers who highlight their inability to deal with the crime. Vietnam, Cambodia and Laos are among the worst offenders.
However, Singapore was ranked fifth out of 177 countries listed by TI alongside Sweden, Norway, Switzerland and the Netherlands and with its latest crackdown on what some might call unacceptable frivolity, that ranking could improve even further.
Luke Hunt can be followed on Twitter @lukeanthonyhunt