Amid Ukraine Crisis, Russia Pursues Energy Deals With Asia
Igor Sechin, CEO of Rosneft, is on a tour of Japan, India, South Korea and Vietnam.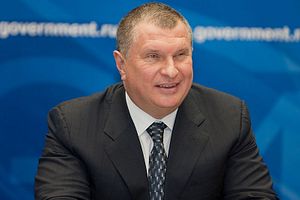 Amid tensions with the West over Russia's annexation of Crimea, Russia has been trying to expand its energy exports to the Asia-Pacific region.
According to reports in India's media, Igor Sechin, a close ally of President Vladimir Putin and the head of Rosneft, Russia's largest oil company, headed a delegation of twelve officials to India this week. They met with Saurabh Chandra, India's new oil secretary.
Press Trust India reported that Rosneft offered Oil and Natural Gas Corp (ONGC), India's largest state-run oil and gas exploration and production company, ten offshore oil and gas blocks. Nine of those blocks were located in the Barents Sea while the remaining one was located in the Black Sea.
"India is a very important country for Russia…. We want to expand our cooperation," Sechin told Press Trust India. He added: "We are (also) looking at supplying crude oil to Indian refineries."
Currently, India does not consistently import crude oil from Russia, the Press Trust India noted, but does occasionally get some limited quantities from a project ONGC has in Russia's Far East. ONGC is also studying a previous offer from Rosneft to help explore the Magadan 2 and Magadan 3 blocks in the northern part of the Sea of Okhotsk.
One of the major barriers to greater energy cooperation between India and Russia — particularly for crude oil — is the lack of infrastructure to transport the crude. An Indian official told Press Trust India that Russia and India had decided to set up a working group to explore building pipelines for that purpose. Such pipelines would presumably have to be extremely long and cut through numerous other countries, however, potentially limiting their lucrativeness. Indeed, Delhi has already rejected five of the ten offered oil blocks because it viewed them as economically unworkable.
Sechin's trip to New Delhi follows a similar one he took to Tokyo last week to attend the sixth Russian-Japanese Investment Forum. While in Tokyo, Sechin sought to woo Japanese investors by stating that there was the potential for billions of dollars of economic deals between Japan and his company alone.
"The prospects for bilateral co-operation expansion are huge," Sechin said, according to Russia's state media. "According to our estimates, it's tens and even hundreds of billions of dollars through our company alone." Sechin also explained that when it came to Japanese investors: "We are interested not only in attracting partners to certain projects. We are ready to look into joint investments into all the technological chain: in output, infrastructure, refining and transportation of energy."
Notably, Sechin made his remarks in Tokyo even after Japan — unlike India — had announced that it was imposing some sanctions against Russia for its actions in the Ukraine.
Unlike India, Russia already has fairly substantial energy ties with Japan, which are almost certain to grow in the coming years due to Tokyo's greater needs and the fact that the warming of the Arctic will ease logistical constraints. According to Russia Today, last year Japan was Russia's seventh largest trading partner with bilateral trade reaching nearly $33 billion. Energy makes up a substantial portion of this trade, with Rosneft alone accounting for ten percent of it.
Other reports out of Russia suggest that Sechin will also be visiting South Korea and Vietnam in the near future in a bid to ramp up Moscow's energy exports to those countries. South Korea, much like Japan, is an energy starved Northeast Asian state that is close enough to Russia's Far East to make stronger energy ties completely palatable. This is especially true if Moscow is able to get the two Koreas to agree to pipelines that would deliver Russian oil and natural gas to South Korea via North Korea.
Vietnam, on the other hand, is also attractive to Russia for a number of reasons. To begin with, Russia and Vietnam have long-standing diplomatic ties. Moreover, Vietnam's coast is accessible from ports in Russia's Far East. For that reason, Russia sees Vietnam as an attractive energy partner not only in its own right but also as a gateway for Russian exports to other Southeast Asian nations. Using Vietnam as a corridor to Southeast Asia would allow Moscow to avoid becoming overly dependent on China for its energy export needs, which remain critical to the Russian economy.
Sechin has made no secret that his recent oil diplomacy in the Asia-Pacific region is motivated in part by the current tensions between Russia and the West over the Ukraine in general, and Crimea in particular. Essentially, Russia is seeking leverage over the West by demonstrating that it has other export markets besides Europe for its oil and natural gas exports should Brussels impose too strident of sanctions against Moscow.
That being said, regardless of the current tensions with the West over Ukraine, Russia is in the process of reorienting its energy posture to Asia owing to the growth in energy demand in that region coupled with the likely stagnation or decline of demand in Europe over the next few decades. Indeed, Sechin's efforts to link his trip to Asia to the Ukraine crisis is largely for show. For example, Rosneft had already offered India the ten offshore oil and natural gas blocks it touted this week.