Can Abenomics Survive Tax Hike?
Japanese consumers face higher sales taxes from April 1. Will this derail the recovery?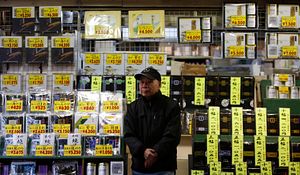 The last time a Japanese leader raised the consumption tax, the economy tanked and he was forced out of office by an angry electorate. Will history repeat itself, or can Prime Minister Shinzo Abe manage to continue the nation's revival with Abenomics, as his economic program is called.
On April 1, after years of political wrangling, Japan's consumption tax will increase from 5 percent to 8 percent. Another hike to 10 percent is currently scheduled for October 2015. According to government estimates, the fiscal tightening by the indebted Japanese government could cost the economy up to 2.5 percent of gross domestic product (GDP) this year and another 1 percent in 2015, cutting GDP growth from 2.5 percent last year to just 1.4 percent.
The last time the tax was raised was in 1997, when Ryutaro Hashimoto's government increased it from 3 percent to 5 percent. Despite cutting personal income taxes to compensate, the hike hit consumers hard amid the fallout from the Asian financial crisis, and Hashimoto resigned a year later after his conservative Liberal Democratic Party (LDP) lost its upper house majority.
Fortunately for Abe, his ruling LDP-New Komeito coalition currently controls both chambers of parliament, and his government has maintained popular support. The latest Yomiuri Shimbun poll gave his Cabinet a 59 percent approval rating, with 40 percent of those surveyed backing the LDP compared to only 4 percent each for its rivals.
Last-Minute Rush
Late buying ahead of next month's tax hike has been strong, with retailers reporting decade-high sales of white goods in January along with a nearly 30 percent jump in car sales. However, Japan Automobile Dealers Association chairman Shigeki Sakurai said dealers "have to prepare ourselves for a fall…after April," with new car sales expected to drop by almost 10 percent this year.
The Japan Times has warned against optimism, noting that the tax hike combined with higher pension premiums and reduced benefits could cost households 7.5 trillion yen ($74 billion), along with higher imported goods costs due to the weakening yen. Since household spending accounts for 60 percent of GDP, lower expenditure could quickly hit the wider economy.
A recent Bloomberg News survey of 34 Japan economists showed mixed results on the tax hike's expected impact. Eleven said the government only had four years or less to address its fiscal deficit, which is still forecast to exceed 240 percent of GDP by the end of 2014. Japan's Ministry of Finance expects the government will fail in its attempt to achieve a surplus in the primary balance by 2020, although bond yields have remained at record lows even with headline inflation reaching 1.4 percent in January.
Reuters columnist Anatole Kaletsky has warned of a crisis in the world's third-biggest economy, saying "the Japanese government bond market is in an enormous financial bubble that could burst catastrophically if Prime Minister Shinzo Abe's audacious economic program is seen to have failed."
According to Kaletsky, two of the three "arrows" of Abenomics comprising fiscal and monetary expansion are already "veering off course," while the third arrow of structural reforms "have disappointed expectations."
On March 10, Japan's Cabinet Office announced the economy expanded by an annualized rate of 0.7 percent in the fourth quarter compared to the previous quarter, below the 0.9 percent increase median forecast by economists. The current account deficit also blew out to 1.59 trillion yen, the largest deficit since 1985.
"Capital spending remains weak and exports are not coming back to strengthen the recovery…without support in these areas, Japan's economy is going to contract significantly in the second quarter," Itochu chief economist Yoshimasa Maruyama told Bloomberg News.
"The negative effect from the sales tax rise could be worse than the BOJ [Bank of Japan] and government expect," he added.
With the Japanese stockmarket also underperforming since the start of the year – the Tokyo Stock Exchange's Topix index has lost more than 10 percent – Japan watchers could be forgiven for anticipating harder times ahead.
'Job Creation Machine'
But longtime Japan resident and top-rated economist Jesper Koll, director of research at JP Morgan in Tokyo, told The Diplomat that Abenomics was far from finished.
"The latest GDP data is very encouraging as it shows domestic demand growth is becoming more balanced. For the first six to nine months of Abenomics, it was only the consumer and housing which was a consistent engine of growth. Now business investment is beginning to contribute, particularly by small and medium-sized enterprises (SMEs), and this is confirmed by some of the leading indicators such as machinery orders," he said.
"Loan growth to SMEs over the last four months has started to go from negative to positive for the first time in six years. At the end of the day, it's the SMEs which are the belly of the economy and their strengthening is the reason why you should be optimistic on the outlook for the Japanese economy."
Koll said the consumption tax hike would cause "some volatility" but not derail the ongoing recovery. Unlike in 1997-98, credit growth is accelerating and unemployment falling due to "genuine tightness" in the labor market.
"Japan is currently the biggest job creation machine in the OECD…there's now in most sectors of the economy more demand for jobs than there is supply," he said.
The economist said a generally unpublicized 8 percent wage hike for government workers in April, along with growing pay rates in the SME sector, would help cushion the blow of April's tax hike on consumption, along with potential additional stimulus measures by the central bank.
Land prices have started showing the effects of BOJ's easy money, with prices in the nation's three largest metropolitan areas of Tokyo, Osaka and Nagoya posting gains for the first time in six years in the year to January, up 0.7 percent compared to the previous year's 0.6 percent decline.
Acupuncture, Not Third Arrow
Abe is expected to unveil further pro-growth measures in June, amid skepticism over the pace and direction of his government's "third arrow" structural reforms.
Yet according to Koll, economists should not expect a "big bang" but rather a wave of individual measures.
"It's the coordination of fiscal, money and regulatory policy which is what Abe brings to the table…what people refer to as the third arrow should rather be called 10,000 needles like acupuncture – which all add up to something that feels good," he said.
Koll pointed to reforms in agriculture, energy, healthcare and labor policy as evidence that the third arrow had been fired, albeit perhaps more slowly than demanded by financial markets.
"In November, they passed a bill that breaks up the generation monopoly of the utility companies…we estimate the equivalent of about 2.5 nuclear power plants worth of independent providers have applied for licenses to generate power," he said.
"They will also soon pass a bill which effectively opens the door to immigration in the form of a new visa category for temporary workers in the construction, healthcare and retail industry," he added, noting also reforms allowing the leasing of agricultural land that should boost farm productivity.
Koll said corporate restructuring such as the tie-up between Mitsubishi Heavy and IHI Corp. in aircraft production would further aid Japanese industry through consolidation. He said the Topix index could post gains in 2014 on the back of a weaker yen and a forecast rise in corporate earnings to a record high of 115 yen average earnings per share, compared to its previous high of 103 yen.
"For investors, it's always important to have a knight in shining armor like Mr Abe. But much more important than any one politician is that corporate Japan has restructured, they have taken out costs and invested in new businesses and consolidated…the creation of 'national champions' is now very much on the agenda," he said.
Asked to rate the success of Abenomics thus far, Koll said it "probably deserves an eight out of 10."
"They can always be more aggressive, policies can always be implemented faster with a greater sense of urgency, but overall it's the one country where the government is focused on promoting economic growth, not just by printing money but by also having a growth policy…Concrete changes are happening – unlike what's happening in Europe," he said.
Only time will tell, but Abe's fate – and Japan's – may hinge on how "Mrs. Watanabe" deals with an extra 3 percentage points impost on everything from food to gas prices.