China to Malaysia: 'Speed Up' Search for Missing Plane
China's new emphasis on protecting overseas citizens is driving Beijing's response to the disappearance of Flight 370.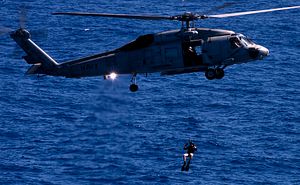 In his first regular press conference after the disappearance of Malaysia Airlines Flight 370, Foreign Ministry Spokesman Qin Gang noted that "the Chinese Communist Party and government are highly concerned" about the flight. "Relevant Chinese departments are conducting search and rescue with all their strength," Qin added. However, as there continued to be little progress in the search, signs of frustration were creeping in.
China and Malaysia have been in close contact since the flight disappeared. Premier Li Keqiang has spoken with his Malaysian counterpart, Prime Minister Najib Razak, and Foreign Minister Wang Yi also held a conversation with Foreign Minister Anifah Aman. In Monday's press conference, Qin told reporters that "we can sense … the Malaysian side attaches high importance to the incident and is trying its best with a sincere attitude." "But," he added, "two days have passed, [and] we hope that [the] Malaysian side can fully understand the anxiety of the Chinese side and families of the Chinese passengers in particular." He called for Malaysia to "speed up investigation, step up the efforts for search and rescue and give an answer to the Chinese side and families of the Chinese passengers as soon as possible."
Qin noted that, since over 150 of the passengers on Flight 370 were Chinese, China's government "has the responsibility to require and urge the Malaysian side to step up efforts in search and speed up investigation, and provide China with accurate information at any time." There seems to particularly be some issues with the "accurate information" part—there was initially a lot of confusion about exactly when the jetliner vanished from radar, and how Malaysia Airlines responded in the immediate aftermath. Xinhua, on its microblog, questioned why the airline waited hours to announce that they had lost contact with the flight. Plus, later in the press conference, Qin said that speculation a stolen Chinese passport had been used to board the flight was "a misunderstanding caused by the mistaken passport number provided by Malaysia Airlines."
Chinese media was more direct in its criticisms. The Global Times, well known for not pulling any punches, castigated Malaysia. "The Malaysian side cannot shirk its responsibilities. Until yesterday, it could not even ensure accurate information about the passengers," the article said. In particular, the article continued, "The initial response from Malaysia was not swift enough. There are loopholes in the work of Malaysia Airlines and security authorities."
Despite dissatisfaction with the lack of results, China still supports Malaysia's role in leading the search. On Tuesday, Qin Gang, when asked which country was coordinating the search and rescue efforts, responded, "The Malaysian side ought to play the leading role and coordinate the search and rescue operation." However, Qin also repeated his call from Monday for Malaysia "to speed up and step up search and rescue."
In what some saw as an attempt to prod Malaysian action, China's government sent a joint working group to Kuala Lumpur Monday to "handle the aftermath of the missing Malaysia Airlines flight," according to Xinhua. The group, 13 people in all, included officials from China's Ministry of Foreign Affairs, Ministry of Public Security, Ministry of Transport, and the Civil Aviation Administration of China. China also sent a separate delegation from the Ministry of Public Security, which arrived in Malaysia earlier on Monday to help with the investigation as well as to assist family members of the lost passengers.
The first batch of Chinese family members of the missing passengers arrived in Kuala Lumpur on Tuesday morning, and met with the Chinese working group. According to Foreign Ministry Spokesman Qin Gang, the working group has specifically asked "leading officials of Malaysia Airlines … to attend to families of the Chinese passengers and keep them informed of relevant developments."
Those family members are understandably upset and angry, and their public condemnations of Malaysia Airlines are probably driving China's criticism of the way Malaysia has handled the crisis. On Saturday, the relatives of Chinese passengers on Flight 370 claimed that a Malaysia Airlines representative supposed to brief them on the situation never showed. "There's no one from the company here, we can't find a single person. They've just shut us in this room and told us to wait," one unnamed family member told Reuters. Later, Malaysia sent an official working group to China in an attempt to improve communication with the families of Chinese passengers. Malaysia is currently overseeing transportation to bring family members to Kuala Lumpur.
The as-yet unexplained disappearance of a passenger jet has provided an unwelcome test for China's new emphasis on protecting and caring for overseas Chinese citizens, whether tourists, students, or workers. Focus on overseas Chinese interests appeared as a priority in both the foreign policy section of Li Keqiang's government work report and Wang Yi's foreign policy press conference. The Global Times suggested the loss of Flight 370 should be taken as a lesson: "Countries have to act independently to keep their citizens safe … A little improvement in [China's] ability to protect its citizens will help save countless lives." With such an unexpected tragedy following so closely on the heels of China's promise to provide for its overseas citizens, it's no surprise that China is both actively engaged in the search and pressuring Malaysia to ramp up its efforts.