China's Legal Reform: A Balancing Act
China has plans for another wave of legal reforms, but no plans to give up Party control.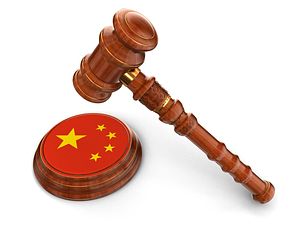 Reuters, citing "scholars with knowledge of the situation," reported this week that China's government plans to reduce the Communist Party's Political and Legal Committee's ability to intervene in typical legal cases. The committee would still have authority to shape verdicts in sensitive cases, such as last year's trial of former party official Bo Xilai. According to Reuters, the decision has been announced in internal meetings, although it has not yet been made public. Legal scholars interviewed by Reuters said that, for example, judges would no longer be able to "coordinate" with police, prosecutors, and CPC officials to pre-determine verdicts.
The decision would be in line with Xi Jinping's previous statements on legal reforms. At a speech in January, Xi highlighted the need for "the establishment of an impartial and authoritative socialist judicial system." As I wrote then, Xi's speech underscored his twin goals for China's legal system. Xi wants to create a more smoothly functioning, trustworthy system that will legitimize the rule of law in China. But he also wants to keep the legal system, from lawyers to judges, firmly under Party control—thus Xi's ideal is a "socialist judicial system." It's unclear whether Xi can achieve both of these goals—"an impartial and authoritative" legal system that is still ultimately loyal to the Party, not the law—but he's determined to try.
The reforms mentioned in Reuters' report would be in a step in that direction. The government would effectively give up the ability to intervene in all but the most sensitive cases, in theory removing external interference from the vast majority of court cases. How this would work in practice—for example, who would get to decide which cases are "sensitive" and which aren't—is still unclear.
Though the specifics have not been confirmed, the general sense of the reported reforms is in line with statements to the press by Zhou Qiang, the Chief Justice of the Supreme People's Court, as part of this year's National People's Congress session. Zhou noted that "some courts were not efficient and delivered wrong verdicts." He announced that in 2013, 381 judges and court staff had been "caught misusing their power," by accepting bribes or other disciplinary violations. Zhou promised  that China will "work hard" to solve problems with the judicial system. He listed potential areas for reform such as "reducing the government's influence on jurisdiction, improving transparency of trials and exploring a way to set up a jurisdiction system of courts that is not completely based on administrative divisions."
An article in Xinhua also championed the notion of judicial reform. The article suggested that the rule of law would be a critical tool for the CPC to use in all of its reform efforts. "In the 1980s many reforms were adopted without proper legal arrangements, but times have changed," the piece stated. Now, China plans to pass legislation for each of its reform packages, from the economic to the environmental sphere. According to Zhao Bingzhi, the head of Beijing Normal University's law school, "Emphasizing the guiding and guaranteeing role of the rule of law in reform shows the CPC's commitment to the rule of law. It is an important part of the CPC's initiative to build a modern government." The Xinhua article suggests that, rather than being part of Xi's reform package, legal reforms should be seen as a prerequisite. Xi intends to codify his reforms in the law, and then use the legal system to enforce them—which will require Xi's vision of a strong yet Party-controlled system to come to fruition.
However, firming up the "rule of law" in China will be easier said than done. First, as noted China law expert Jerome Cohen told Reuters, Zhou Qiang is "not all-powerful, and whatever he says doesn't necessarily take place at the local level." Corruption among local judges especially continues to be a problem. Meanwhile, Party officials previously allowed to freely intervene in court cases will be reluctant to give up this sort of power.
Even if the reforms that Xi and Zhou have spoken about are implemented flawlessly, China still faces a larger question: how "impartial and authoritative" can a legal system be when it is firmly under Party control? In order words, can China establish a reputation as a country under the "rule of law" when the Party, as its discretion, reserves the right to interfere in cases? As with Xi's general attempts to restructure the Party and clean up corruption, the efficacy of legal reforms hinges on the question of how far Xi is willing to go, and whether that will be enough to result in lasting change.