Could the Flight MH370 Rescue Bring China and Japan Closer Together?
If Japan had volunteered to join the search for Flight 370, could that help thaw tensions between Tokyo and Beijing?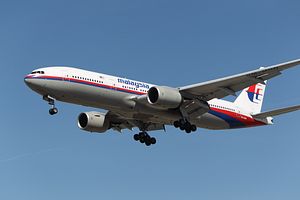 For China and Chinese leaders, the past week was not an easy one. The terrorist attack in Kunming left at least 29 dead and more than 130 wounded. Now, the disappearance of Malaysia Airlines flight MH370 inevitably has made the situation more anxious.
As hours turn into days, a multinational rescue team has started searching for the missing plane. According to China Daily (Chinese), as of March 9, 11 countries have joined in an international search and rescue operation after this flight mysteriously disappeared from radar. China Daily says vessels and aircraft in this international rescue operation come from China, Malaysia, Indonesia, Thailand, Singapore, Vietnam, the Philippines, Australia, New Zealand, the United States, and Britain. The 239 people on board, including 227 passengers, are from 11 different countries, according to a Malaysia Airlines press briefing. 154 of the missing passengers are Chinese, including one from Taiwan. There are no citizens from Thailand, Singapore, Vietnam, and the Philippines, aboard the missing plane, but all four countries are close to the incident site and have joined the search efforts. Other countries, such as Britain, participated in the search for MH370 despite not having any citizens involved and a large geographical distance.
There are no Japanese citizens on MH370, and given the current situation on East China Sea, Japan certainly has no obligation to join the rescue. However, Japan has the most advanced technology and facility in Asia-Pacific region, highly trained rescue personnel, and extensive experiences in disaster management. So what if Japan had volunteered to join the MH370 international rescue operation?
China has been closely watching Japan's overseas operations. If a Japanese civilian rescue team participated in the search, would Beijing  regard it as at least a positive and friendly gesture in the enduring Sino-Japanese standoff? Such a gesture might just help to promote bilateral dialogues and ease the tensions that have been created by historical and territorial disputes. Both China and Japan did enjoy a symbolic friendship when then Chinese Premier Wen Jiabao visited Japan's earthquake-hit area on May 21, 2011 "to convey the Chinese people's sympathies for the local people and to demonstrate China's support for Japan's reconstruction efforts." However, the Sino-Japanese relationship hit the rocks again in 2012 after this period of brief amity.
The Sino-Japanese bilateral relationship has reached a deadlock and there seems to be no panacea for this conundrum in the near future. Under these circumstances, more indirect approaches might help to make some changes, if not outright diplomatic achievements. Such indirect actions could simply serve to send intended messages, especially at a time when high-level inter-governmental channels have basically failed. One such notable case, reported by media from both countries, took place in mid-November 2013, when the Japanese government recognized a Chinese student for saving a Japanese boy from drowning.
Unfortunately, that moment was just a flash in the pan, and reconciliation between these two neighbors is still nowhere to be seen. According to Xinhua (Chinese), on February 28, Japan's Foreign Ministry held a meeting with Japan's 30 ambassadors to Asia-Pacific countries such as China, South Korea, and Australia. The Foreign Ministry urged the ambassadors to "defeat the opposite side [China] by substantially utilizing their personal charm and hit hard on those governments." Obviously, Japan's Foreign Ministry intends to fight back against China's previous round of public diplomacy in global media.
However, a spiraling escalation of confrontation ultimately is not what can help to solve territorial disputes, especially between China and Japan, both of which are giant economies with growing military capability. At this moment when war preparations seem to appear in both countries, it is critically urgent to find all possible opportunities to take a step back and to give each country a way out. It may not be another award for a notable deed, but could be something more emotionally and intuitively acceptable and thus helpful to ease the bilateral confrontation. Both China and Japan should find or create these opportunities.