Kerri-Ann Jones
The Diplomat's Shannon Tiezzi interviews Dr. Kerri-Ann Jones, the U.S. Assistant Secretary of State for Oceans and International Environmental and Scientific Affairs, about poaching and illegal wildlife trafficking, including the ivory trade, and how the U.S., China, and the world are working together to protect wildlife and the environment.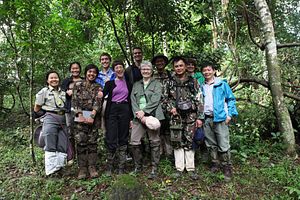 What would you say is the biggest recent breakthrough in the global effort to cut down on poaching and illegal wildlife trafficking?
The world has become increasingly aware and concerned as poaching and trafficking levels have escalated.  This is a conservation, security, economic and health issue. President Obama's Executive Order to Combat Wildlife Trafficking and the recently released National Strategy for Combating Wildlife Trafficking demonstrate the priority our top leadership makes of this issue and its commitment to a whole-of-government approach.  In addition, a number of countries have taken concrete steps domestically: Thailand announced a ban on domestic trade in ivory in March 2013, and Gabon, the Philippines, and the United States destroyed stockpiles of confiscated ivory in 2013; China and France did so in 2014.  Most recently, Hong Kong has committed to destroying 28 tons of ivory over the next two years.  2013 saw increased policy commitments by governments to counter wildlife trafficking, including through resolutions and national declarations before the United Nations and the African Development Bank, and from concerned range, transit, and market states at a Summit on African Elephants in Botswana.  The UK hosted the London Conference on Illegal Wildlife Trade in February 2014 to continue the global momentum on cooperation against wildlife trafficking.
Despite such progress, challenges remain.  Economic and social factors, knowledge gaps, governance challenges – including corruption, law enforcement, and capacity – and the low-risk, high-reward nature of wildlife trafficking are all important drivers.  The spike in demand for ivory and other products from protected species stems in large part from a rising middle class in Asia that perceives them as a status symbol, causing prices to rise along with profit margins.
The issue of ivory and elephant poaching has been in the news fairly frequently.  What other wildlife and conservation issues are at the forefront of global efforts, especially U.S.-China cooperation?
The illegal trade in protected wildlife and wildlife products fuels organized crime, undermines rule-of-law, funds corruption, and hinders economic growth and development in all of the countries it touches.  Range states, transit states and demand states are all negatively affected.  The trade involves a wide range of species and products and is truly global in scope.  In addition to seeking concerted international efforts to stop this trade, the United States and its partners are working to address additional, vital conservation challenges such as habitat loss, deforestation and desertification, invasive species, and pollution.  The United States and nations around the world recognize the profound threat of global climate change and its broad impacts on the planet, including effects on wildlife and conservation.  All of these challenges increase the risks of wildlife extinction and merit our continued attention and action. To this end, the United States works with a broad range of partners – other governments of course, but also with multilateral organizations and non-government organizations (NGOs), and through support for projects in critical regions.
In addition to our growing cooperation with China on wildlife trafficking, our two countries have a long history of collaboration on a wide range of conservation challenges through various multilateral and bilateral fora.
To address habitat loss, the U.S. Fish and Wildlife Service and China's State Forestry Administration (SFA) cooperate under the U.S.-China Protocol on Cooperation and Exchanges in the Field of Conservation of Nature to promote conservation of wetlands, river ecosystems, and other habitat.
The U.S. Forest Service works with its counterparts to restore healthy forest ecosystems, address invasive species, and promote sustainable forest management.
There are long-standing sister park agreements between the U.S. National Park Service and the Chinese SFA [State Forestry Administration] and Ministry of Housing and Urban-Rural Development.
Through the U.S.-China Ten Year Framework for Energy and Environmental Cooperation the U.S. Geological Survey and the Chinese SFA cooperate on wetlands conservation.
The State Department works with China to promote forest conservation and combat illegal logging bilaterally under the Memorandum of Understanding on Illegal Logging and Associated Trade, regionally through the APEC Experts Group on Illegal Logging and Associated Trade, and multilaterally in the International Tropical Timber Organization and the UN Forum on Forests.
How is U.S.-China cooperation on wildlife issues structured? Are most efforts organized through multilateral bodies like the UN, or are bilateral initiatives equally important?
The United States and China address wildlife trafficking both at the multilateral and regional level as well as in direct bilateral cooperation.
A key mechanism for global cooperation is the Convention on International Trade in Endangered Species of Wild Fauna and Flora (CITES).  At the 2013 CITES meeting, China and the United States successfully co-sponsored five resolutions protecting more than 40 Asian species of hardshell and softshell turtles.
We are also cooperating with China and other interested countries in Asia-Pacific Economic Cooperation (APEC), which China chairs in 2014, and the Association of Southeast Asian Nations (ASEAN) to build capacity on demand reduction and strengthening Wildlife Enforcement Networks in the region.
The United States, China and African and Asian countries conduct investigative training on the linkages between wildlife trafficking and other crimes, e.g., money laundering, trafficking in arms or humans, and other illicit trade.  Law enforcement entities of China and the United States joined other countries, including several African nations, in collaborating and exchanging information through a joint operation, coined "Operation Cobra 2", which targets wildlife traffickers at all points in the trade chain.  This is a follow-on operation to the highly successful "Operation Cobra 1" in 2013.  Under our bilateral MOU on illegal logging, the United States and China address wood legality verification and engagement with "third party" countries that supply timber for China's extensive wood products industry.
Bilaterally, the United States and China conducted the first-ever dedicated session on wildlife trafficking at the U.S.-China Strategic and Economic Dialogue (S&ED), our highest regular bilateral policy dialogue with China, in 2013.  Senior officials explored enhanced cooperation on law enforcement, demand reduction, and collaboration with other governments, including range states.  We are looking to increase this engagement further through the 2014 S&ED.
Under the China-U.S. Joint Liaison Group on Law Enforcement Cooperation, we explore law enforcement collaboration to combat wildlife trafficking, among other transnational criminal threats.
Earlier this year, the Chinese government held a ceremonial destruction of 6 tons of ivory. This was taken a signal that China is getting more serious about confronting the problem of elephant poaching. Does this match with what you've seen from China in recent months?
The United States welcomes China's crushing of 6.1 tons of ivory January 6, demonstrating its commitment to addressing the illegal trade in ivory — an illicit commodity that impacts security, fuels corruption, and is decimating elephant populations across Africa and Asia.  The United States has longstanding cooperative engagement with China on a wide range of conservation-related issues.
In the face of these challenges, there is some reason for hope.  The Chinese tradition of serving shark fin soup at government banquets has taken an enormous toll on shark populations, shrinking some by more than 90 percent in the last 20 years.  In large part due to NGO-led public awareness campaigns in China, involving Chinese celebrities such as Yao Ming, the government declared a prohibition against shark fin soup at official banquets. NGOs now estimate consumption of shark-fin soup in China has fallen by 50 to 70 percent in the last two years.
When we think of high-profile topics in U.S.-China relations, wildlife trafficking is not the first thing that comes to mind.  Does this make it more difficult to get traction on joint efforts, or is it easier to work together with less media and public attention?
Both countries have agreed that wildlife trafficking is an important and urgent challenge – the stakes are getting higher as poaching and trafficking have significantly worsened in recent years.  For our part, President Obama has made wildlife trafficking a priority, releasing the U.S. National Strategy in February.  The Strategy spells out a whole-of-government approach and highlights the importance of working with international partners such as China.   The United States and China represent the two largest markets for trafficked wildlife.  The United States hopes that working together with China, we will be able to make progress.  As part of the National Strategy, we will continue to work with China and other partners to engage the array of ministries necessary to tackle such a challenging cross-cutting issue, and to bring together conservation, law enforcement, security, judicial, anti-corruption, and many other branches of government that will be needed if we are to solve this problem.
Finally, some commentators expressed hope that China might ban the ivory trade altogether. Do you think this is a possibility in the near future?  If so, how much of a difference would it make in global efforts to protect elephants?
A Chinese ban would send a strong signal to the world that China is very serious about curbing demand for ivory, and would potentially have a dramatic and positive impact on global efforts to protect elephants.  NGO polling in China suggests that the Chinese public would understand a ban as being a definitive statement by the government that ivory is not to be purchased.
For example, the United States hopes our decision under the National Strategy to close the loopholes on commercial elephant ivory trade in the United States will catalyze action by other governments to ban ivory trade in their countries.  The U.S. ban will impose new restrictions on the import, export, and commercial sale of elephant ivory within the United States, with some limited exceptions. Yet, this is a global problem that can only be solved through a global solution.  Actions by other governments to ban commercial elephant ivory trade could make a pivotal contribution to the global efforts to halt the decline of this iconic species.