Putin to Visit China In 'Near Future'
President Xi told Putin he is looking forward to his visit during a phone call discussing Ukraine.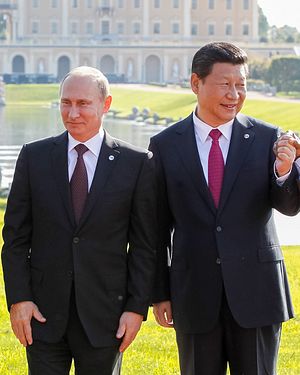 Russian President Vladimir Putin will apparently be visiting China in the "near future."
A news article that appeared in China's state media said that Putin and Chinese President Xi Jinping had talked by phone on Tuesday. It noted that during the phone call Xi said that he "is looking forward to Putin's visit to China in the near future." This seemed to suggest that planning had begun for a Putin trip to China, although the wording was rather ambiguous.
This would make sense, however, as a trip from Putin seems long overdue. The last time Putin was in China was in June 2012, before Xi had officially taken the reins of the Chinese Communist Party and the Chinese state. He had also visited China in 2011.
By contrast, Xi Jinping has made Russia a top priority of his foreign policy, and has traveled to the country on at least three separate occasions since becoming General Secretary of the CCP and President of the PRC.
The first time, in March 2013, Xi traveled to Russia for his first trip abroad as China's president. He had officially assumed the position just eight days before arriving in Moscow. Xi returned to Russia last fall to attend the G-20 Summit. He was then back in the Kremlin last month to attend the opening ceremony of the 2014 Olympic Games in Sochi.
It seems rather unusual that the Chinese president would make three separate trips to Russia without the Russian President making a single reciprocal visit to China. It should be noted, however, that one of Xi's visits was for a multilateral conference and another was a special trip for the Olympic Games. Still, if Putin does not travel to China soon, it will likely be taken as a snub by the Chinese government.
And Putin can hardly afford to alienate Xi at a time when Russia's relations have deteriorated sharply over the political unrest in Ukraine, and Moscow's decision to beef up troops in Crimea as that region seeks independence from the central government in Kiev.
Not surprisingly, the Xinhua report said that Xi and Putin discussed the events in Ukraine during their phone call on Tuesday, however it did little clarify China's position on Russia's actions in that country. According to the report, after Putin briefed Xi on Ukraine and Russia's positions, "Xi said the situation in Ukraine, which seems to be accidental, has the elements of the inevitable."
It seems nearly impossible to decipher what this means with any degree of certainty. It's possible that Xi meant that the Russian military presence in Crimea seemed to have happened almost by accident, but now that Russian troops are patrolling the streets of the region that their continued presence is nearly inevitable. This interpretation would certainly suit Russia's interests in the region.
At the same time, the report said that Xi felt that international mediation efforts could be conducive to peace, and further stated that "China believes that Russia can coordinate with other parties to push for the political settlement of the issue so as to safeguard regional and world peace and stability." This seemed more at odds with Russia's interests in the region, although again the statement is rather cryptic.
In general, then, China seems paralyzed by the situation and Ukraine and is resisting taking a strong position, possibly because of conflicting interests in the country.