Beijing: No Meeting Between Chinese, Japanese Naval Chiefs
China stressed there would be no one-on-one contact with the visiting Japanese delegation at this week's symposium.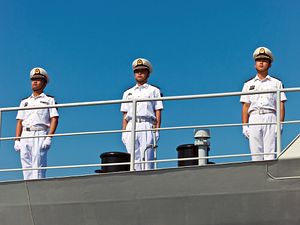 On Sunday, a spokesman for China's navy announced that naval commander Admiral Wu Shengli will not meet with Admiral Katsutoshi Kawano, the chief of staff of Japan's Maritime Self-Defense Forces, during the Western Pacific Naval Symposium this week. This announcement contradicts earlier reports that the two men would meet during the symposium, marking the first such meeting between China and Japan's naval chiefs since 2009. The snub also calls into question the possibility of a détente between China and Japan, despite some positive recent signs.
The Western Pacific Naval Symposium, to be hosted this year in Qingdao, China, has provided a miniature picture of the conflicting signals in China-Japan relations. First, Japan announced that it had not been invited to participate in a fleet review to take place in Qingdao alongside the symposium. In response, the U.S. said it would not send any ships to participate in the review. Ultimately, China cancelled the entire review in deference to the continuing search for Malaysia Airlines Flight 370. "Under such a special situation and atmosphere, China decided to cancel the multinational naval parade," naval spokesman Liang Yang said in a statement.
However, China does intend to hold a joint maritime drill alongside the symposium, and Japan was pointedly not invited to this event. According to China Daily, Liang said that Japan was excluded from the drill because "a series of inappropriate actions by the Japanese government and leaders have severely hurt the Chinese people's feelings."
The obvious (and purposeful) snub regarding the joint drill is at odds with earlier attempts to downplay the lack of an invitation. Last week, China's navy issued a statement trying to separate the joint drill from the symposium, which would lessen the insult of Japan being invited to one but excluded from the other. "This joint naval drill is not an activity within the framework of the symposium, but to mark the founding day of the Chinese navy," the statement said. "China invited countries participating in the symposium, and also countries not participating were invited to send ships."
Despite the confusion surrounding the fleet review and the joint drill, hope for a meeting between Wu and Kawano remained. In a press conference last week, Japanese Defense Minister Itsunori Onodera was specifically asked to confirm that Kawano was planning to meet "with a Chinese naval commander." Onodera said he did not know the specifics "as to what kinds of meetings are scheduled," but confirmed that Kawano "plans to attend meetings that are held during the symposium."
However, People's Liberation Army Navy spokesman Liang Yang made it clear that the meeting will not take place, for the same reason Japan was not invited to join the military drill: "the wrong words and deeds by the Japanese leaders… which have substantially hurt the feelings of the Chinese people and undermined bilateral ties." Accordingly, Liang said, "no one-on-one meeting between Admiral Wu Shengli and Marine Self Defense Forces officials has been planned."
The preemptive announcement that Wu and Kawano will not meet dashes the hopes of those who thought the drought in high-level China-Japan summits might be finally coming to an end. A meeting between Wu and Kawano would have been an especially strong signal, given that much of the current tensions between China and Japan involve the on-going maritime dispute over the Senkaku/Diaoyu Islands.
China was well aware of this symbolism, and purposefully chose not to grant it, Professor Jin Canrong of Remin University told Global Times. Jin said that Japan had been "maneuvering to pressure China by hyping up a 'meeting' between Wu and Kawano." Such a meeting could not take place, Jin argued, until Japan stops its provocations of China.
Despite recent signaling that China-Japan ties might be taking a turn for the better, Liang's comments show that China maintains its position that Japan must take the first steps to soothe the situation.  As Foreign Ministry spokesman Qin Gang told reporters today, "an important political basis for China-Japan relationship to rebuild and develop is that Japan should honestly face up to and reflect upon its militarist history of aggression and make a clean break with militarism." Taken together, Qin and Liang's statements send a clear message: until Japan takes concrete action to mollify China, Beijing will not be offering any official olive branches.