China's Delicate Pursuit of Natural Gas
As it seeks to reduce its dependence on coal, Beijing's return to the Silk Road raises some unfamiliar security concerns.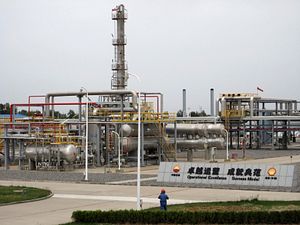 Confronted with generation capacity shortages, logistical bottlenecks, and unsustainable emissions and health effects, ever-increasing coal consumption represents a pertinent, pressing concern for China's central government.
Accounting for roughly 30 percent of the world's total energy use, coal remains the cornerstone of global energy supply and demand. Behind this dependency, China embodies the global driver for consumption patterns – a trend that an evolving economic juggernaut finds difficult to control.
With an urban population projected to swell beyond 1 billion by 2030 and growth in coal demand mirroring that of GDP, stresses on state power grids and the effects of coal reliance are becoming increasingly salient.
Electricity demand in China grew more than twelve-fold between 1980 and 2009; however, perhaps more alarming is the assertion that between 2011 and 2025 China's electricity sector will be required to add the equivalent to that of the entire United States at present in order to meet rising demand. A government with a mandate heavily reliant on developmental goals therefore confronts dilemmas in the domain of coal combustion: full steam ahead or factor in non-traditional externalities.
Despite boasting an abundance of coal, more than 90 percent of China's reserves are located in its interior, primarily in the provinces of Shanxi and Inner Mongolia. According to the Ministry of Land and Resources, Inner Mongolia, Shanxi, Xinjiang, Shaanxi and Guizhou provinces alone hold roughly 1014.8 billion tons of recoverable deposits. Therein lies one of many domestic supply drawbacks: large disparities between centers of supply and demand. Long transportation distances to load centers remain a characteristic of China's downstream supply chain, and a compounding cause of inefficiency, pollution and waste.
Geographic mismatch means that resource exploitation occurs to the west, whilst value-added practices occur in eastern commercial centers. Consequently, coal transportation accounts for roughly forty percent of railroad use and thirty percent of river and sea freight transportation. Natural water distribution is also incompatible, with eastern coal reserves accounting for a mere 7 percent of total supplies, whilst these areas hold approximately 72 percent of water resources.
China's coal reliance is further highlighted by its emerging import ratio dependence. With demand outpacing self-sufficiency, bridging the deficit has required foreign coal imports, mostly from Australia and Indonesia, meaning the traditional desire for self-sufficiency becomes increasingly unrealistic.
Perhaps the central concern with China's coal dependency remains its most observable: environmental.  According to the World Health organization, fewer than one-fifth of China's cities meet the standards for SO2 and NO2 levels, with close to none meeting particulate matter benchmarks. Home to 16 of the world's 20 most polluted cities, it is not surprising that China is now responsible for almost a quarter of total global CO2 emissions, and is also the largest contributor to SO2 emissions. This is not to say policy discourse and action is not nascent. The turn away from coal, however, brings with it renewed energy dichotomies.
With a demonstrated record of adaptation, China's technocratic central government is already displaying transformations in energy policy. Energy-specific policy outlines in the 12th Five Year Plan highlight central policymakers' active encouragement of a diversified energy generation mix geared toward the greater use of natural gas. The policy document reveals the introduction of national targets for reducing CO2 intensity by seventeen percent by 2015, a figure in line with commitments made at the Copenhagen Summit of 2009.
On the ground, policy is already in evidence. In October of 2013, the Ministry of Finance's Economic Construction Department announced 5 billion RMB ($800 million) in funding for air pollution control in Beijing, Tianjin, Inner Mongolia, Shanxi, Hebei and Shandong. Almost simultaneously, China's State Council revealed that the construction of new coal-fired power plants in the vicinity of the megapolises of Beijing, Shanghai and Guangdong would no longer be permissible.
As has become convention, the eastern provinces are paving the way with pilot policies. Zhao Lei, the deputy director of Beijing's Development and Reform Commission recently announced that Beijing's four major coal-burning plants are to be replaced with natural gas alternatives. This coincides with the almost $2 billion investment in replacing coal-fired heating systems, as a distinct shift toward natural gas employment.
To facilitate this energy revolution, China's domestic natural gas production is expected to increase substantially in coming years, accounting for one-fifth of increased global demand leading to 2035. However, domestic supply will only account for half of increased demand, denoting that deficits again be met by imports.
Indeed, changes to the eastern seaboard's energy landscapes are already underway, with numerous gas reception terminals and plants already displacing coal use alternatives. However, coal substitution strategies are occurring on two fronts, with Beijing also facing west, returning to the Silk Road in a quest to slake its energy thirst. This push to the borderlands of Russia's former satellites is taking place at a time when Russia's foreign policy is becoming more assertive and China's domestic social problems are profound.
In December 1991, after the fall of the Soviet Union, China recognized the Central Asian states, shortly thereafter establishing diplomatic relations. Engagement has since expanded rapidly, particularly in security and energy. To date, Beijing has been strategically patient in developing an energy corridor, but progress is gathering momentum.
In 1996, the "Shanghai Five" was created as the precursor to its current incarnation, the Shanghai Cooperation Organization (SCO), formed in 2001. The importance of this relationship for China rests in regional security, but most palpably in energy security. The SCO has assisted in the facilitation of closer ties, in turn opening corridors to energy deals and increased regional clout.
Central Asia rests atop a major stockpile of energy resources. Kazakhstan's natural gas reserves are estimated at 2.4 trillion cubic meters, Turkmenistan 7.94, and Uzbekistan more than 1.8 trillion. Like most neighbors, resisting the gravitational pull of Beijing seems more difficult to achieve, especially with China's stance of non-interference in sovereign issues.
On December 14, 2009, regional leaders inaugurated the Central Asia-China pipeline, which snakes from Turkmenistan through Central Asia and into China. Arriving in Xinjiang, it connects with the Second West-East Pipeline, currently the longest gas pipeline in the world. According to China National Petroleum Corporation (CNPC), Turkmenistan's gas exports via the Central Asia-China pipeline accounted for a fifth of natural gas used by China in 2012. Thus, the region has become increasingly important to Beijing's energy security strategies.
The effectiveness of China's employment of an asymmetric power balance in the region is bolstered by the provision of investment and common goods. China is already the main source of investment and largest trading partner of four out of five of the former Soviet republics. Notably, China's total bilateral trade between Central Asian States (excluding Afghanistan) grew 46-fold between 2000 and 2012.
Linguistic, cultural and historical ties with the geopolitical contender Russia pale in comparison to the draw of the Chinese manufacturing powerhouse. Increasing trade and investment are evidence of Central Asia's gradual swing from Moscow to Beijing. In Tajikistan, China has become the largest investor in the State's transport and communications industries. Even greater investment in Kazakhstan has led specialists such as Shamil Midkhatovich Yenikeyeff from the Oxford Institute for Energy Studies to suggest that, "China has become the real great power in the region . . . China represents the future [while] Russia represents the past . . . China has an upper hand . . . in terms of its cash power and [its] implementation of large-scale projects."
Beyond energy securitization, cooperation with Central Asian states is also intended to strengthen the borderlands with the volatile Xinjiang Uyghur Autonomous Region, the domestic region seminal to Beijing's push westward. Herein lies one of many trade-offs in Beijing's western gas drive: social marginalization.
Xinjiang represents a delicate balance for China, distant from Beijing but central to security and party stability. As the largest Chinese administrative region and rich in natural resources, Xinjiang is the gateway to Central Asia and correlated energy security. Xinjiang accounts for one-sixth of China's landmass, whilst sharing a potentially porous 5,600 km of borders with unstable states.
In 1999, the Chinese Communist Party proposed the "Great Western Development Drive" (GWDD) to attenuate regional disparities in compensation for structural imbalances caused by the earlier "East Coast First Policy" initiated during China's opening up and reform period. Coincidental or planned, the GWDD works in tandem with the political and economic objectives of the SCO.
For the Uyghur population however, the net result of the influx of interstate workers, capital, and even military personnel has been economic and political marginalization. Even before the declaration of the GWDD, Han Chinese were arriving en masse. Between 1990 and 2000, the Han population in the region grew by 31.6 percent, twice as fast as the ethnic population. By 2000, the capital Urumqi had already began to display resettlement side affects. Of the 1.72 million inhabitants, 77 percent were Han, 14.2 percent Uyghur, and 5.8 percent Hui.  Regionally, by 2007, the ethnic ratio of Han to Uyghurs had risen to 46:61.  Movements to cities such as Shihezi and the energy-centered Kawamay have resulted in the Han population becoming an absolute majority, the product often labeled starkly as "demographic annihilation."
The experience of the affected Uyghurs is cohesive with established signs of marginalization: vulnerability, social exclusion, relative social and material deprivation, living at the end of a system, and trailing in developmental terms. Increasingly, social tensions are reaching tipping-points with violent activities becoming more prevalent.
On the surface, investment westward would seem a positive aspiration. However, despite growth of gas industries and increasing local GDP, large projects are often disjointed from the everyday lives of minorities, as one local wishing to remain anonymous notes, "I have clearly seen that development benefits only the Chinese [Han] . . . There are a very, very limited number of Uyghurs getting jobs . . . The difference between poor and rich is getting larger. Uyghurs are losing fast."
Han are particularly overrepresented in the energy sector and also the Xinjiang Production and Construction Corps, with 95 percent of workers being Han Chinese. The composition of the workforce in these areas is also met with economic disparity. In the early stages of the GWDD (2003), the Han-dominated energy-centered city, Kawamay had already established a per-capita income of about $8,000, whereas in ethnic minority-concentrated prefectures such as Kashgar and Hotan, average incomes were $500 and $340, respectively.
As the central government pursues measures to maintain economic growth, energy policy must consider non-traditional externalities. The challenge beyond energy securitization becomes redefining energy security itself to encompass non-traditional externalities and the human element. The much-needed diversification away from abundant domestic coal reserves toward gas is already underway, and once again, eastern provinces are leading the way.
But the question remains, how prepared are government planners to consider the social side of economic progress and can Beijing kick coal without hurting its own foot?
Mark Eels is completing a master's degree in international affairs at Peking University.