India: Urgent Defense Reforms Needed
After years of bungling, India's next prime minister will need to move quickly on both foreign policy and defense reforms.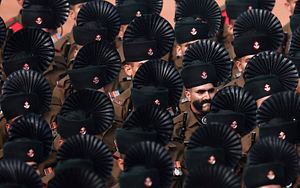 On April 2, India's outgoing Prime Minister Manmohan Singh, told a conference that: "As a responsible nuclear weapon state that remains committed to non-proliferation, India supports the idea of a nuclear-weapon-free world because we believe that it enhances not just India's security, but also global security."
Less than a fortnight later, the Bharatiya Janata Party (BJP), largely expected to lead the next government, sprung a surprise by declaring in its election manifesto that it will "study in detail India's nuclear doctrine, and revise and update it to make it relevant to [the] challenges of current times."
That was a surprise, because India's 15-year old nuclear doctrine that decrees "no-first use" of nuclear weapons was put in place by the last BJP-led National Democratic Alliance government. If the BJP indeed comes to power and then delivers on its promise, it would mark a major shift in India's nuclear policy.
Tweaking or changing the course of India's nuclear doctrine will surely alter India's foreign policy too. The challenge for the new government will be to balance India's own national interest with the current – and fast-changing – geopolitical situation in Eurasia.
The outgoing United Progressive Alliance government has had a mixed record on strategic issues. It vacillated between unusual firmness on some issues (the Devayani Khobragade affair with the U.S. for example) but was erratic in dealing with China and Pakistan and sent out mixed signals in its interactions with other smaller neighbors like Sri Lanka, Myanmar, Maldives, Nepal and Bangladesh. In several instances, New Delhi failed to deliver on promises made to its neighbors, often putting the local leaders in those countries in awkward positions. For instance, New Delhi, despite its best intentions, could not fulfill two major promises made to Dhaka on concluding a land boundary agreement and sharing the waters of the Teesta river. Bangladesh Prime Minister Sheikh Hasina faced a major political embarrassment at home because of New Delhi's failure to keep its word.
With Colombo too, India swung between two different positions during the vote against Sri Lanka in the UN Human Rights Council, and paid the price by losing considerable ground to China in terms of influence with the island nation. New Delhi's failure to calibrate events in the Maldives is also seen as a setback for its own clout in the region.
India's next prime minister – and everyone believes Narendra Modi will be the man, post-May 16 – will need to step up and reboot foreign policy as a priority if India is to regain the influence it had acquired at the turn of the century and even during the first term of the UPA, but which was frittered away by its ineffectual leadership since 2010.
However, a greater challenge awaits the new prime minister. The Indian military is in shambles not least because it is stuck with a largely 19th century mindset, is mostly armed with 20th century weapons, but has a 21st century ambition. The stark mismatch, topped by a risk-averse Defence minister, has left India's military forces at their lowest ebb in decades.
Two years ago when a letter written by the then Army Chief Gen VK Singh to Prime Minister Manmohan Singh found its way into the media, there was much outrage and anger over the state of Indian Army's preparedness. "The state of the major (fighting) arms i.e. mechanised forces, artillery, air defence, infantry and special forces, as well as the engineers and signals, is indeed alarming," the General wrote to the prime minister. The army's entire tank fleet is "devoid of critical ammunition to defeat enemy tanks," while the air defence system is "97% obsolete," he wrote. The infantry is crippled with "deficiencies," while the elite forces are "woefully short" of "essential weapons." Singh has since joined the resurgent BJP and is hoping to win a seat in parliament when results are declared on May 16.
Since then, urgent steps have been taken to improve the deficiencies in some areas, especially in improving the stock of fresh ammunition. Still, many critical shortages remain unaddressed. For instance, the Army's light helicopters are more than 40 years old; it has not bought new artillery guns since 1987; it is also short nearly 600,000 hand grenades. The list is endless.
The Indian Navy, too, is short of conventional submarines. Its fleet of diesel-powered submarines is down to a single digit. Submarines in production in Indian shipyards are at least four years behind schedule. The Indian Air Force is down to 33 squadrons of fighter jets against the required strength of 39 squadrons. Its eight-year-old plan to purchase 126 new combat jets is yet to come to fruition, although a contract negotiating committee is currently talking to French manufacturer Dassault Aviation and hopes to ink a mammoth 15 billion dollar deal as soon as the next government gives it the green light. Even then, the first lot of 18 aircraft will enter service only in 2017, and only then if the contract is signed before the end of 2014.
Acquiring critical weapons platform is but one of the facets of defense management. India has been found to be woefully inadequate in reforming its higher defense management structure. A combination of bureaucratic lethargy and cumbersome systems topped by a timid minister has weakened the Indian military alarmingly. The biggest hurdle in the Indian military's quest for rapid modernization has been the country's defense minister AK Antony. As a politician concerned solely with preserving his squeaky clean image, Antony has time and again put his personal obsessions above national interest.
His record as India's longest serving Defence minister (he's held the post since October 2006) is a clear testimony to this. During his tenure, Antony has already barred or blacklisted half a dozen major international defense firms at the first hint of wrong doing and bribery and has cancelled contracts in the very last stage of the process leaving the three armed forces to battle with shortages and obsolescence.
And so the three services continue to suffer. The new government and its leader will have to urgently press the reset button to put defense modernization on the fast track, equipping the Indian military with the teeth it needs to match India's ambitions to become an important regional if not global player.