Japan, Mongolia Exchange Views on Regional Issues
Japan may be seeking Mongolia's help in approaching North Korea.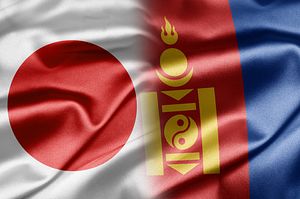 Japanese Prime Minster Shinzo Abe held an unscheduled meeting with Mongolian President Tsakhiagiin Elbegdorj on Wednesday, according to the Global Post. The meeting suggests that Abe may be seeking Mongolian assistance on the issue of the past abductions of Japanese citizens by North Korea — a high priority item on Tokyo's diplomatic agenda. While North Korea and Japan have no formal diplomatic relations, Japanese diplomats and negotiators have unofficially approached North Korea about the abduction issue several times. All Abe had to say about the meeting was that he and Elbegdorj discussed "various issues." Chief Cabinet Secretary Yoshihide Suga noted that they "exchanged views on regional situations" during their 75-minute lunch meeting.
Furthermore, the defense ministers of Japan and Mongolia met on Thursday and agreed to oppose any efforts to change the status quo with the use of force. The announcement comes as tensions persist over China's claim to the Japanese-administered Senkaku/Diaoyu Islands and, more pressingly, as Russia continues to remain embroiled in a crisis with the West over Crimea and Ukraine. Japanese Defense Minister Itsunori Onodera met his Mongolian counterpart Bat-Erdene Dashdemberel in Tokyo, and the two affirmed their common position on the use of force in settling international disputes.
The two defense ministers also discussed North Korea, where Japan has several key issues of interest, including the North's nuclear program and the issue of Japanese abductees. Mongolia maintains a particularly developed diplomatic relationship with North Korea; its president, Tsakhiagiin Elbegdorj, visited North Korea last year. Mongolia purports to present itself as a model of economic development for North Korea. Both countries have significant mineral and natural resource wealth, and Mongolia leveraged its resources for significant economic growth. "Japan will be able to establish friendly relations (with North Korea) if we can solve the nuclear, missile and abduction issues in a comprehensive manner," Onodera told reporters.
Mongolia's outreach to Japan is part of its activist foreign policy under the leadership of President Taskhiagiin Elbegdorj. Long overlooked as a security player in Northeast Asia, Mongolia is eager to involve itself in regional affairs, even serving as a sort of mediator if need be. Further, Mongolia is seeking admission into the Six Party Talks on North Korea's nuclear program.
This recent affirmation between Mongolia and Japan, however, is drawing little attention from both local and international media, suggesting that Mongolia's role as a security player in the region continues to be underdeveloped. The meeting between the two defense ministers comes on the heels of U.S. Defense Secretary Chuck Hagel's visit to Mongolia earlier this month, where he discussed deeper defense ties between Mongolia and the United States.
Japan and Mongolia have not had close diplomatic ties historically. Following the Second World War, the two countries did not begin interacting diplomatically until 1972, following which they remained distant until Mongolia's Democratic Revolution in the early 1990s. In recent years, Japan and Mongolia have made some progress, mostly on the economic front. In 2008, the Japan Bank for International Cooperation offered Mongolia $385 million in financing for a new international airport. In 2005, Mongolian President Nambaryn Enkhbayar visited Tokyo after Japan successfully convinced Mongolia to bow out of the race for a non-permanent seat on the UN Security Council, allowing Tokyo to fill the role instead. Since then, relations have steadily been improving.