Japan Orders Military to Shoot Down North Korean Missiles
Japan's decision to shoot down North Korean missiles comes as Pyongyang readies its fourth nuclear test.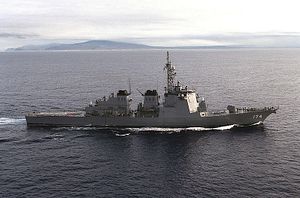 Japan's defense minister has ordered the Japanese Self Defense Forces (JSDF) to shoot down any North Korean ballistic missiles that are tested in the coming weeks, Reuters reported on Saturday.
According to the Reuters report, which cited an unidentified government source, Japanese Defense Minister Itsunori Onodera issued the order on Thursday, which directed the Japanese Maritime Self Defense Forces (JMSDF) to shoot down any missiles that North Korea launches between April 3 and April 25. An Aegis destroyer has been deployed to the Sea of Japan to carry out the order, the report said.
Defense Minister Onodera's order comes as tensions steadily escalate on the Korean Peninsula. As The Diplomat previously reported, North Korea tested two Rodong-class (Nodong) mid-range ballistic missiles last week in what was its longest range missile tests since December 2012, and the first time a Rodong-class missile had been tested since 2009. The missiles traveled 650 kilometers (km) before falling into the Sea of Japan. Their maximum range is roughly twice that distance.
South Korea responded by testing its own new, longer range ballistic missile, Seoul announced on Thursday. The two Koreas also exchanged artillery fire across their maritime border earlier this week, although no damage was caused by either side.
North Korea's mid-range ballistic missile test immediately raised concerns that it was laying the groundwork for its fourth nuclear test. North Korea first tested a Rodong-class ballistic missile a few months before its first nuclear test in 2006. Its 2009 test of the missile came just months after its second nuclear test. Its third nuclear test in early 2013 also followed a ballistic missile test in December 2012. In these cases, North Korea portrayed the nuclear tests as a response to international criticism of its prior ballistic missile tests.
Every indication since last week's missile test have suggested that the initial concerns that North Korea is gearing up for another nuclear test were well founded. After the UN Security Council criticized the tests, which violate UN Security Council resolutions against the nascent nuclear state, Pyongyang warned that it might conduct a "new form" of nuclear test. Then, on Friday, a North Korean envoy to the UN announced Pyongyang had drawn a "red line" against the United States, ordering it stop pushing for regime change in North Korea. "The DPRK has drawn already a red line in response to U.S. hostile policy against the DPRK," the North Korean diplomat said. "The United States should not go beyond, step over, this red line, and the U.S. already knows what the counter-measures (are) in case they cross the red line." The diplomat then reiterated the earlier threat to conduct a new form of nuclear test.
This is entirely consistent with North Korea's usual pre-provocation behavior. This consists of the North demanding other states take actions that it knows those states will never agree too. When those states predictably fail to meet North Korea's demands, Pyongyang uses their  failure to justify its provocative action. In this case, North Korea's demands were excessively vague and it is entirely unclear what actions the U.S. would have to take to avoid crossing North Korea's supposed red line. This strongly suggests that North Korea is determined that the U.S. cross its red line, which Pyongyang will use to  justify its subsequent belligerence.
With regards to what a "new form" of nuclear test might mean, the phrase is most likely a reference to a nuclear bomb that is made using highly enriched uranium. All of North Korea's previous nuclear devices are believed to have had plutonium cores. However, a "new form" of nuclear test could mean a miniaturized nuclear warhead that can be placed atop a ballistic missile. It's possible then, albeit unlikely, that North Korea's next ballistic missile launch could be carrying a nuclear warhead.
The Diplomat has previously analyzed the legality, under current international law, of shooting down North Korean rockets. For more on the current tensions on the Korean Peninsula, check out this week's Asia Geopolitics podcast here.