Brunei Imposes Sharia Law
The country goes 'back to the Dark Ages' in a move that has sparked widespread international criticism.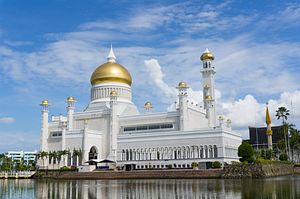 Brunei has ignored a chorus of international pleas and imposed Sharia law on the 416,000 people who live in the tiny, oil-rich country, which has been ruled by an absolute monarch, Hassanal Bolkiah, for almost half a century.
Bolkiah had attempted to justify the introduction of the strict Islamic penal code, arguing it was a type of special assistance from God to protect his Sultanate from outside, decadent influences, commonly found on the Internet.
"It is because of our need that Allah the Almighty, in all his generosity, has created laws for us, so that we can utilise them to obtain justice," he said. He also recalled the long gone days of the Divine Right of Kings, when he said that God himself "has said this law is indeed fair."
Stiff penalties, normally associated with countries like Afghanistan or Pakistan, that include stoning  to death, floggings and the amputation of limbs are to be introduced for theft, adultery and gay relationships. Sodomy, along with blasphemy, drinking alcohol and pregnancy outside of marriage are also illegal. Penalties can be imposed on people who were under the age of 18 when a Sharia crime was committed.
The Catholic church has suggested that local baptisms may no longer be able to be performed, as even this might contravene the new laws,  the International Commission of Jurists (ICJ) has ruled Brunei's Sharia laws were incompatible with international human rights law, and the UN High Commissioner for Human Rights has said he was deeply concerned by their introduction.
Rights groups were outraged as the first stage of the penal code was introduced on May 1. Two further stages will be phased in over the next two years.
"Brunei's decision to implement criminal Sharia law is a huge step backwards for human rights in the country. It constitutes an authoritarian move towards brutal medieval punishments that have no place in the modern, 21st century world," Phil Robertson, Deputy Director for the Asia Division of Human Rights Watch, said.
"The entire world should express its outrage and heap criticism on this ill-considered move and urge the Brunei government to immediately reconsider," he said. Rupert Abbott of Amnesty International, noted the laws carried the death penalty for acts that should not be considered crimes and would "take the country back to the dark ages."
"Brunei Darussalam's new Penal Code legalizes cruel and inhuman punishments. It makes a mockery of the country's international human rights commitments and must be revoked immediately," he said.
In a carefully worded statement the UN has said it considers some of the penalties to be "torture or other cruel, inhuman or degrading treatment or punishment" under international law.
As such their use could warrant an investigation from the International Criminal Court (ICC).
In the United States, television host Ellen DeGeneres and British actor and comedian Stephen Fry are leading a boycott of hotels, including the Dorchester Collection, owned by Bolkiah and his family.
"I won't be visiting the Hotel Bel-Air or the Beverly Hills Hotel until this is resolved," she Tweeted.
Britain is apparently considering the future of a permanent garrison of British troops stationed in Brunei, which is paid for by Bolkiah.
The laws also smack of double standards as the Sultan's family have a well-known history of Western vices which are frowned upon or simply outlawed under the Sharia penal code.
Robertson also said that Implementing such a cruel, abusive law on May Day, "a day that celebrates solidarity of humanity in common work-related endeavor, is a clear indication of Brunei's willingness to disregard human rights and offend human sensibility with this law."
Luke Hunt can be followed on Twitter @lukeanthonyhunt