Coup 'Favors' ANZ and Sumitomo Mitsui Bank Bid
The Thai junta has been quick to re-establish international banking ties.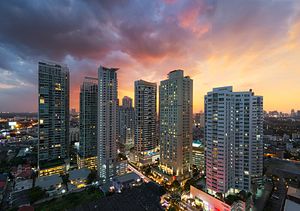 While politicians, activists and journalists are being rounded up by the junta in Thailand, an Australian and a Japanese bank have been quick to capitalize on fears that last week's coup will lead to an exodus of foreign investors.
Thailand's finance ministry has granted ANZ Bank approval to establish a subsidiary in the country, an important breakthrough in obtaining a cherished full banking licence in Thailand, and a major expansion of its Southeast Asian network.
"The development of a presence in Thailand is an important step for ANZ given the size of Thailand's economy, its importance as a regional manufacturing centre and Thailand's connection to other countries in our network including the greater Mekong and the rest of Asia," an ANZ spokesman was quoted as saying to the BBC.
Japanese-based Sumitomo Mitsui Trust Bank has also received approval to open a subsidiary, with Thai authorities considering applications from foreign lenders for as many as five licences to open up to 20 branches and 20 off-premises ATMs across the country.
Sumitomo Mitsui recently said it considered Asia an important strategic region due to its rapid economic growth, and that it would move to provide high-quality financial services to Japanese corporations and others in Thailand.
The approval also came amid a major regional banking shake-up, ahead of the launch of the ASEAN Economic Community (AEC) slated for the end of of 2015, but delays are now being anticipated.
As part of that shake-up, Melbourne-based ANZ Bank has indicated it wants out of its partnership with Cambodia's Royal Group. ANZ has a 55 percent stake in ANZ Royal, which it acquired in 2005, and 19 branches across the country.
Last year cross-border trade within ASEAN rose a sharp 26 percent to $323 billion. This figure is expected to grow further once the AEC is instituted, with ASEAN anticipating a combined gross domestic product of $2.1 trillion.
Regionally, ANZ has operations in Vietnam, Laos and Myanmar. Its expansion in Thailand was seen as part of a broader strategy announced in 2007. Under that strategy, the bank intends to source between 25 and 30 percent of its earnings from the Asia Pacific region, the U.S. and Europe by 2017. It has businesses in 30 countries.
In its Asia Pacific Economics Pacific Quarterly publication, ANZ said it was focusing on "financial deepening" – the process of developing broader, more liquid banks, institutions and markets to finance growth.
"At its core, this involves opening up different lending options and improving the size and range of financial markets so that corporates and individuals can fund projects or purchases at a fair and risk-weighted cost," it said.
The ANZ licence was apparently granted by the former Thai finance minister Kittiratt Na-Ranong, before his government was ousted this month after a ruling by the Constitutional Court, which preceded last week's coup.
But the decision will still lend the junta an air of legitimacy, indicating it's business as usual in Thailand, where the economy has buckled under the political instability which has racked the country for the past six months. Thailand's economy shrank 0.6 percent for the first quarter of the calendar year, indicating the country may heading for a recession.
ANZ opened a representative office in Thailand in 1985. A 2003 proposal to invest in Thai Military Bank was scuttled after investors objected and sold-off ANZ stock.
Luke Hunt can followed on Twitter @lukeanthonyhunt