Narendra Modi Clarifies Statements on Pakistan
Modi took to television to clarify several of his statements on Pakistan and other issues.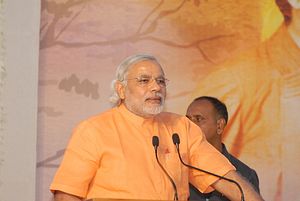 As Indian voters vote in the final stages of the elections to choose their next government, the Bharatiya Janata Party's (BJP) prime ministerial candidate took to television for an interview with Times Now's Arnab Goswami (the same man who interviewed a rather awkward Rahul Gandhi some months ago). In the interview, Goswami grills Modi on a range of issues, ranging from the candidate's economic policy to his rhetoric as well as his thoughts on Pakistan and foreign policy. Modi generally played it safe during the interview, and took the opportunity to make some clarifying statements about Pakistan.
In particular, Goswami asked Modi to confirm that he did not deviate from the BJP's stance on talks with Pakistan, which is essentially that India and Pakistan cannot engage in serious talks, including the Composite Dialogue Process, while cross-border incursions remain an issue and Pakistan-backed terrorists continue to attack India. Modi answered in a roundabout manner, refusing to explicitly confirm the BJP's stance on the issue. "Is it possible to have discussions amidst bomb blasts and gunshots? Do you think it is possible to have a discussion amidst the deafening noise of bomb blasts and gunshots? So to have a reasonable discussion, first the blasts and gunshots have to stop," he told Goswami. He further added, "The Indian Parliament holds a unanimous opinion and no political party has the authority to change this opinion."
Furthermore, Goswami fortunately asked Modi to clarify comments he'd made earlier that worryingly suggested that he may consider undertaking cross-border covert operations against Pakistan to pursue wanted terrorists such as Dawood Ibrahim (modeled after the United States' pursuit of Osama bin Laden). Modi grew defensive upon being asked about this, particularly in the context of comments by Pakistan's Interior Minister Nisar Ali Khan that Modi made an "irresponsible statement" and "should have first confirmed the whereabouts of Dawood." He told Goswami that he intended to solely address the shortcomings of India's incumbent Home Minister, Sushilkumar Shinde, with his remarks — not signal any possible foreign policy move should he come to power.
Overall, Modi seized the opportunity of this interview to show that he takes foreign policy issues — including India's relations with Pakistan — to be secondary to good governance and economic development in India. He told Goswami upon being asked about Pakistani incursions: "Why do you think negative? If the country looks strong, then even its companions will change, neighbors will change and the atmosphere will change." In this view, foreign policy is a function of India's domestic situation.
On one hand, this might be Modi's genuine approach to governing India should he become prime minister. On the other hand, a man so close to the country's top office might think it imprudent to reveal his foreign policy cards, especially on sensitive issues such as Pakistan, before it's necessary. In its final months in office, the UPA government has shown some tolerance for talks with Pakistan on trade and other issues even as border incursions continue and suspicions abound that Pakistan's Inter-Services Intelligence harbors known anti-India militants and terrorists. Should a BJP government come to power, that tolerance will likely decrease and India's relations with Pakistan will remain cool.